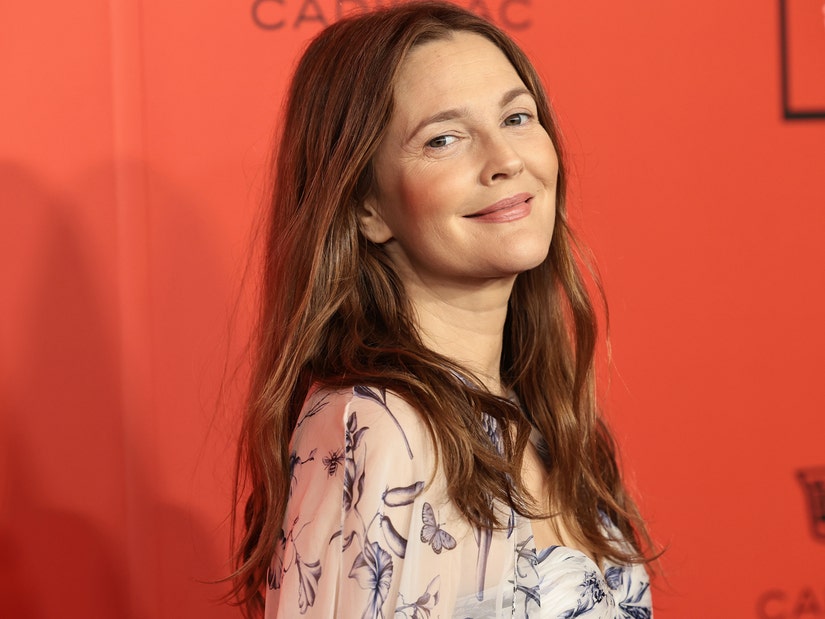 Getty
The actress and talk show host's tearful apology video -- in which she addressed the criticism over her decision to resume filming The Drew Barrymore Show during the strike -- was removed from her profile hours after it was posted.
It appears that Drew Barrymore is possibly having second thoughts about her recent apology.
On Friday morning, the actress and talk show host shared a tearful apology video, in which she addressed her decision to move forward with resuming filming of The Drew Barrymore Show amid the ongoing Hollywood strikes following backlash.
However, hours later, the video was taken down from her profile. In addition, the talk host's post from last week, in which she announced The Drew Barrymore Show was to resume taping, was also removed.
Barrymore has yet to offer any further explanation.
In the since-deleted clip, Barrymore issued a public apology, in which she maintained there was no "PR machine" behind her decision to apologize or her decision to resume production on her daytime talk show, telling fans she wanted to "take full responsibility" for the choice she's made.
"I believe there's nothing I can do or say in this moment to make it OK," she said. "I wanted to own a decision so that it wasn't a PR, protected situation. And I would just take full responsibility for my actions. I know there's just nothing I can do that will make this OK for those that is not OK with. I fully accept that. I fully understand that."
"I've been through so many ups and downs in my life and this is one of them. I deeply apologize to [the] writers. I deeply apologize to unions. I deeply apologize. I don't exactly know what to say because sometimes when things are so tough, it's hard to make decisions from that place."
The Charlie's Angels star said she "certainly couldn't have expected this kind of attention," adding that her show isn't "going to break rules, and we will be in compliance."
"I wanted to do this because as I said, this is bigger than me," she explained. "And there are other people's jobs on the line."
After six days of backlash, Drew Barrymore has uploaded this video responding to the news that she is bringing her talk show back during the writer's strike.

She says the reason she's bringing her show back is she managed to do it during the pandemic, so she feels the strike… pic.twitter.com/NVbIeSmdqI

— Yashar Ali 🐘 (@yashar) September 15, 2023 @yashar
Launching during the pandemic, Barrymore said the show has been "there for people in sensitive times" like the one Hollywood is currently in.
"So, I want to just put one foot in front of the other and make a show that's there for people regardless of anything else that's happening in the world," she concluded, "because that's when I think we all need something that wants to be there, being very realistic in very realistic times. So that is my why."
The Golden Globe winner was slammed in the comments section of her since-deleted post. Among those who shared their thoughts on Barrymore's apology was Debra Messing, who made a public plea for Barrymore to halt production on her show.
"You can choose now to halt production. You can choose to pay your employees like other talk show hosts who have stood in solidarity with the writers," Messing wrote.
The Will & Grace alum added, "There are thousands of union members jobs and livelihoods that are at stake (exponential more than those who work on your show) and the future of our beloved industry. I hope you will reconsider."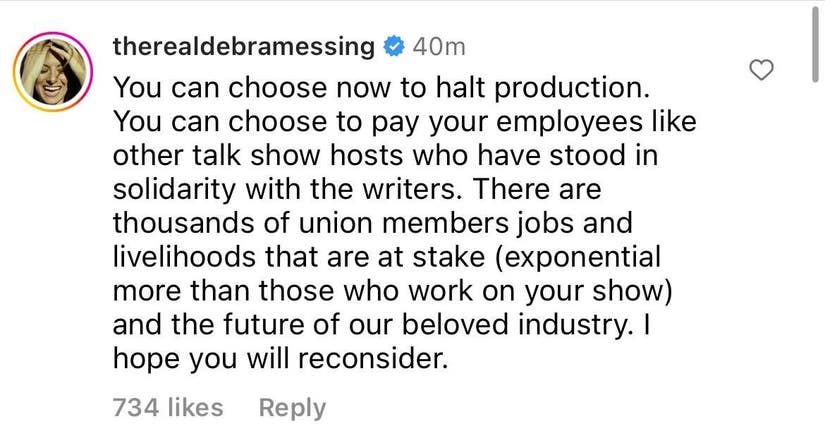 Instagram
Meanwhile, on Saturday, Rosie O'Donnell weighed in on the controversy by reposting some words of advice for Barrymore.
The comedian shared a screenshot of a photo that read: "Stop taping the show. Stop asking audiences to cross the picket line. Then ask someone to help you craft three declarative sentences. They should follow along these lines: - I made an error. - I apologize to the WGA for disrespecting the work of professional writers. - I apologize to all union members who are withstanding real hardship as I live a life of luxury."
"advice 4 @drewbarrymore - ❤️," O'Donnell captioned the post.
It all began last Sunday when Barrymore announced on Instagram that Season 4 of The Drew Barrymore Show would resume filming amid the writer's strike.
"I made a choice to walk away from the MTV, film and television awards because I was the host and it had a direct conflict with what the strike was dealing with which was studios, streamers, film, and television," she wrote in her lengthy statement. "It was also in the first week of the strike and so I did what I thought was the appropriate thing at the time to stand in solidarity with the writers. And to be clear, our talk show actually wrapped on April 20th so we never had to shut down the show."
Waiting for your permission to load the Instagram Media.
"However, I am also making the choice to come back for the first time in this strike for our show, that may have my name on it but this is bigger than just me," she continued. "I own this choice. We are in compliance with not discussing or promoting film and television that is struck of any kind."
"We launched live in a global pandemic. Our show was built for sensitive times and has only functioned through what the real world is going through in real time. I want to be there to provide what writers do so well, which is a way to bring us together or help us make sense of the human experience," Barrymore added, before concluding, "I hope for a resolve for everyone as soon as possible. We have navigated difficult times since we first came on air. And so I take a step forward to start season 4 once again with an astute humility."
After she was subsequently slammed for the controversial decision, the National Book Foundation removed Barrymore as the host of the National Book Awards, while the WGA East came out to blast the longtime actress, reminding audiences that they are picketing shows that continue during the strike.