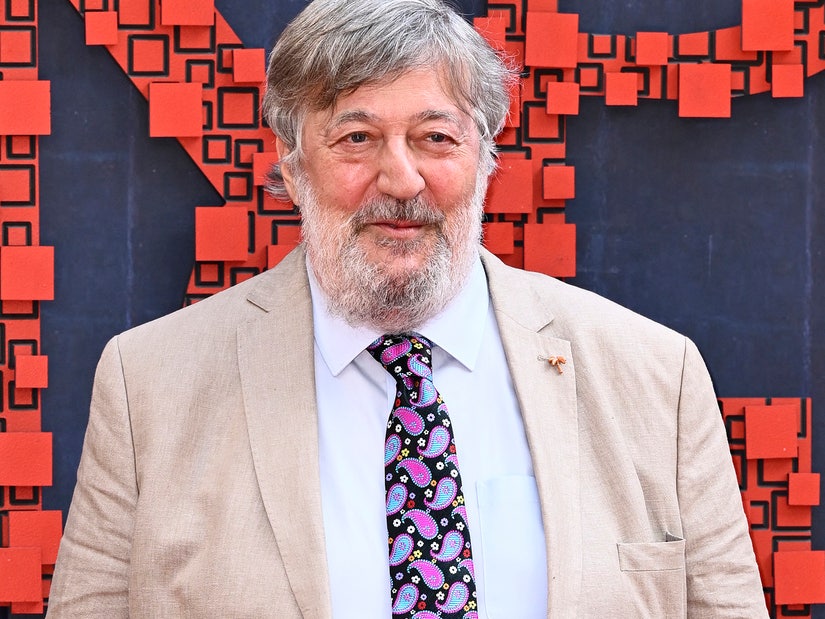 Getty
Stephen Fry played a short clip of his voice narrating a documentary before revealing he'd never recorded it -- instead, AI replicated his voice after analyzing his audiobook recordings of the Harry Potter books.
This is at least in part why writers and actors are striking. Stephen Fry brought home the shocking and horrifying possibilities of AI to disrupt the industry when he played a snippet of his voice narrating a documentary -- only it wasn't him. Not really.
The actor played the clip during an appearance at the CogX Festival last week in London, as detailed by Variety. After the audience heard his unmistakable tone for a few moments, Fry told them, "I said not one word of that -- it was a machine."
"Yes, it shocked me," he continued. "They used my reading of the seven volumes of the Harry Potter books, and from that dataset an AI of my voice was created, and it made that new narration."
He went on to explain just how sophisticated AI technology has gotten in this area. It's not just that they picked up his utterance of different words from throughout the thousands of pages he'd read and recorded.
"This is from a flexible artificial voice, where the words are modulated to fit the meaning of each sentence," he explained. "It could therefore have me read anything from a call to storm Parliament to hard porn, all without my knowledge and without my permission."
He noted that the recording he had played for them had, in fact, been done without his permission. In fact, it had been done without his knowledge. When he heard about it, he sent it to his agents both in the UK and US, "and they went ballistic -- they had no idea such a thing was possible."
Fry then shared a warning with the audience that he'd expressed to his agents about what this means. "This is audio," he said of the AI documentary narration that mimicked his voice. "It won't be long until deepfake videos are just as convincing."
AI has, of course, been one of the hot-button issues for both the WGA and SAG-AFTRA strikes that have halted nearly all productions in Hollywood. They're after the usual issues with pay and residuals and the influx of streaming changing the landscape, but AI is definitely in the mix.
The strikes came around the same time ChatGPT got the whole world talking about the potential of AI for storytelling, even as it exposed its limits. But those are limits for today.
Add to that the growing proliferation of deepfakes -- perhaps best exemplified by a series of viral videos superimposing Tom Cruise over someone else, and the growing penchant for de-aging actors and actresses in film and television, as well as AI background actors to eliminate/minimize the need for actual background workers -- and it's easy to see why actors big and small would be concerned.
Studios may see the benefits of using AI technology to tweak or alter a performance in edit, while actors are extremely concerned about their work being altered by computers. Sure, critics are still poking fun at the plastic, shiny look of the de-aged and digital composites, but again, those are today's limits.
As Fry suggested, things will only continue to advance, and where will that leave writers and actors when they can be replaced by technology? The hope for the labor side with these strike negotiations is to get ahead of this technology before it gets out of control and jeopardizes the integrity of their work.
Certainly, nobody wants to wake up one day and find out they starred in or lent their voice to a project they've never heard of and maybe would never agree to be a part of. In the case of Stephen Fry, It's already happening.