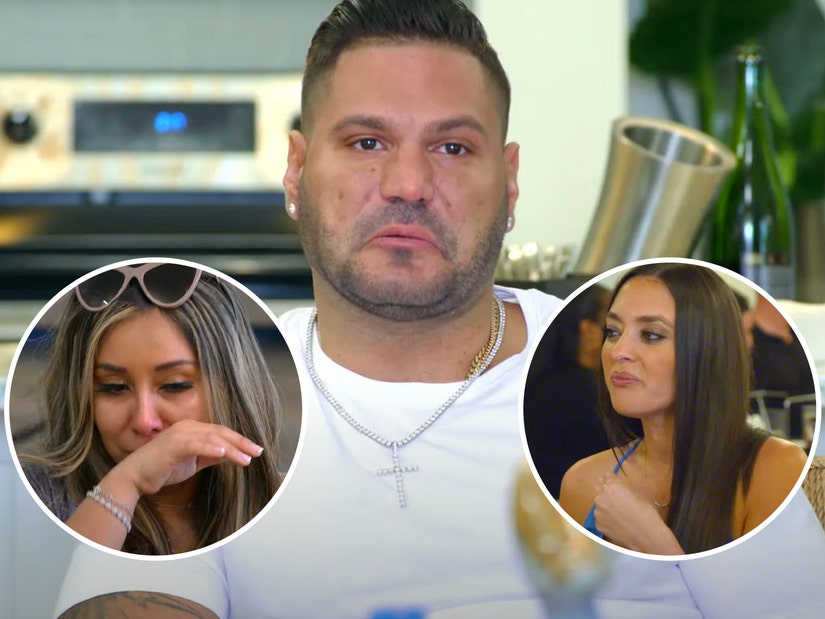 MTV
Sammi's boyfriend also makes his first appearance on the show in the footage, alongside more fights, strip club antics and a whole lotta alcohol.
After expressing his desire to apologize to them all to Mike "The Situation" Sorrentino earlier this season, it appears Ron will get the chance to do just that.
Ortiz-Magro left the show in 2021 to seek treatment for mental health issues -- a decision which came after a string of legal problems -- and has been itching to make amends since.
Based off this super-tease for the rest of the season, it appears Ron first sent his friends a handwritten note -- seeming asking if they would be open to speaking with him.
Nicole "Snooki" Polizzi is seen reading the letter, in which Ronnie says he "really missed everyone" and was happy to know they were all "doing well" in the time since he's been away. It also looks like he addresses how his past actions "affected everyone" in the group.
Later, he's seen actually speaking with the rest of the crew in-person, telling them, "I wanna start by apologizing to you guys." With tears in his eyes, he adds, "The last year I have lost a lot of what I love."
Both Nicole and Angelina Pivarnick are seen crying, with the former saying it was a very "emotional" day.
One person who isn't seen reacting to Ron at all is his ex Samantha "Sammi Sweetheart" Giancola, who says at one point, "I don't want any bad vibes or old boyfriends to show up." It doesn't look like she was in the room when Ron made his apology.
Her boyfriend, Justin May, also appears in the video -- with Sam admitting she was "nervous" to introduce him to the rest of the cast.
The rest of the footage teases some of the other wild moments to come, including a trip to a strip club, fighting between Mike and Angelina and a the entire group throwing back a whole lotta alcohol.
Jersey Shore Family Vacation airs Thursdays on MTV.