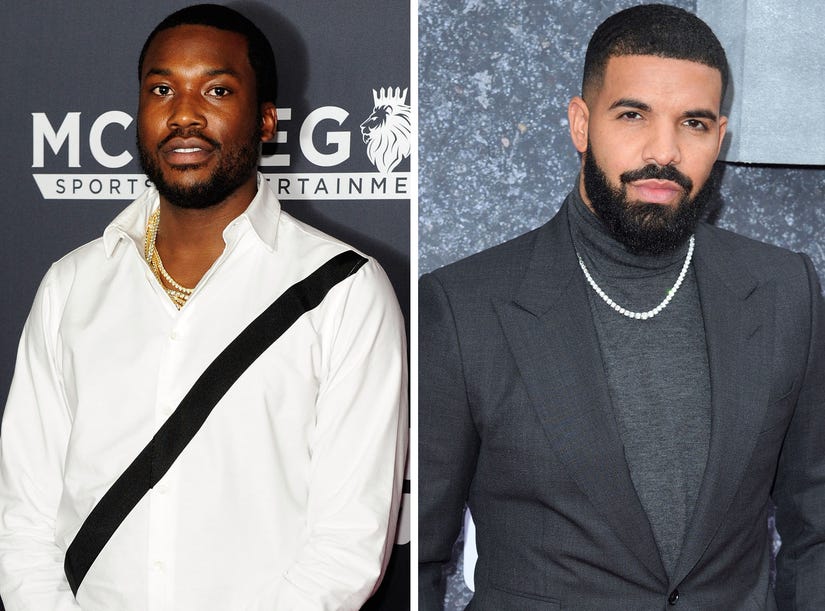 Getty
In a new interview with SiriusXM's Hip Hop Nation, Meek Mill shared just how far things with Drake have come since their very public feud in 2015.
During an appearance on SiriusXM's Hip Hop Nation Friday, the Philadelphia-born rapper said he and Drake talk "a lot," which is major departure from the bitter feud between the pair in years past.
"Me and Drake [are] talking to each other a lot," Mill said, before sharing that he reached out to the "Slime You Out" rapper after some labeled the single "corny."
"I see people saying stuff about Drake... I texted him. I was like, 'I don't think 'Slime You Out' is corny, and I would tell you if I thought it was corny.' I just ain't think the song was corny," the "Dreams and Nightmares" rapper said. "But on the internet now we got it like that, where we could, like, be brutal."
He continued, "If he thinks my song corny, he could tell me that," noting that he and Drake were never "at a space like that" before their beef.
"And now we got to a space where we can text each other and say anything. It could be about a female I like. 'Yo Drake, what's up? Who is this?' He going to definitely call me and say the same thing," Mill added of the newfound friendship. "We got that honesty where we can leave it on the table, and we can walk away and feel good about that. And we ain't had that before the beef."
The beef in question began in 2015, after Mill accused Drake of using a ghostwriter to write his raps.
"Stop comparing drake to me too... He don't write his own raps! That's why he ain't tweet my album [Dreams Worth More Than Money] because we found out!" Mill tweeted at the time. "The whole game know forreal they scared to tell the truth! I can't wait to [see] these guys and sit back and act like they don't know!"
He also alleged that Drake didn't even pen his verse for their joint track, "R.I.C.O" off the same album.
The pair would end up engaging in an all-out music war, with Drake first releasing the diss track, "Charged Up." Mill responded by seemingly taking shots at the "God's Plan," rapper in the music video for his song, "All Eyes on You" alongside then-love and Drake's longtime friend and collaborator, Nicki Minaj.
Drake was quick to respond, releasing his second diss track, "Back-to-Back," which was later met by Mill's "Wanna Know."
The track fell flat for hip-hop fans, who ultimately crowned the Toronto rapper as the winner in the weeks-long feud.
The pair would continue to make subtle jabs at each other in the years to come before squashing their beef in 2018, when Drake brought Mill out during the Boston leg of his Aubrey and the Three Amigos Tour.
"This really gave me peace of mind tonight. Healing and moving forward created one of the most electric and gratifying moments of my career," Drake wrote on Instagram of their reunion. Mill shared a similar post with his fans, writing, "MEEK MILL X @champagnepapi WE BOTH HAPPY AS SH-TTT! 😁😁."
The pair would go on to collab after reconciling, with Drake appearing on "Going Bad," a song from Mills' Championships album. Drake and Mill have also been spotted together in the years since, with Mill once again joining Drake on stage, this time during the Philadelphia leg of his It's All a Blur Tour in July.