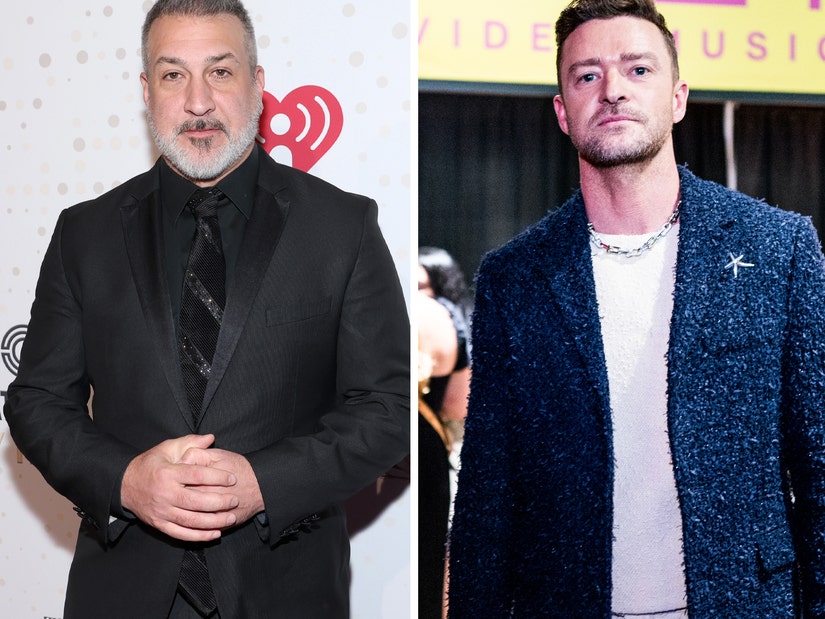 Getty
"I was not blindsided by the breakup; I was more blindsided as far as him coming out with music and not knowing that he was going to go and do an actual album/tour thing," Joey Fatone said of Justin Timberlake leaving NYSNC to record his 2002 album, 'Justified.'
*NSYNC may be in a "better place" now, but they went through a bit of rough patch after Justin Timberlake decided to go solo.
In a new interview with Yahoo Entertainment, group member, Joey Fatone, opened up about being "blindsided" by JT's exit, and shared how the group came together for their first single in 23 years.
"I was not blindsided by the breakup; I was more blindsided as far as him coming out with music and not knowing that he was going to go and do an actual album/tour thing," Fatone said of Timberlake separating from *NSYNC -- which in addition to Fatone and Timberlake includes members Chris Kirkpatrick, JC Chasez and Lance Bass -- to record his first solo effort, Justified.
He continued, "It was more of, 'Hey, I'm going to do some music, and then we'll get back together.' That's what that was. And it wasn't him -- it was the record company. If it was him, then I'd understand it. When you're younger, you think it's that person. But then you look at the whole bigger scheme of things, and you go, 'Oh, that's why I wasn't there for that.' That's the business. 'OK, I get it.'"
Justified was released in 2002, the same year the group went on hiatus before ultimately going their separate ways in 2004.
"We thought he was just going to go out and just come back after the [Justified] tour. I was like, 'OK.' But then when he went on tour and then things started going, I was like, 'All right, I'll go do Broadway.' That's when I did Broadway," Fatone shared. "I started doing Dancing with the Stars. I started hosting TV shows and doing my own thing, and that was what led me."
"That's the beautiful part about it: My career and my life led me somewhere else, and I'm good and I'm happy with it," he added.
Something else he's happy with? The group's recent reunion, which had longtime fans spiraling out of control after hopes of the group getting back together had begun to dwindle.
"Justin came up to us about the idea and... it only fit right for us to do this together as a group. I think the message, the meaning, everything just all around, came to him," Fatone said of their new track, "Better Place," done in part for Timberlake's upcoming film, Trolls Band Together.
The song was in the works for months, with many hopeful that the group would perform the single during their surprise reunion at the MTV Video Music Awards last month.
"Trust me, we all did. With the powers-that-be, we couldn't at the moment," he explained. "But I hope and pray that there will be a time that we'll be able to perform that song for everybody."
He is hopeful, however, for more music from the group in the future, adding, "You never know. I can actually say, 'You know what? That's a possibility -- 2025, that's a possibility.' But, there's four of the guys I have to talk to about that."