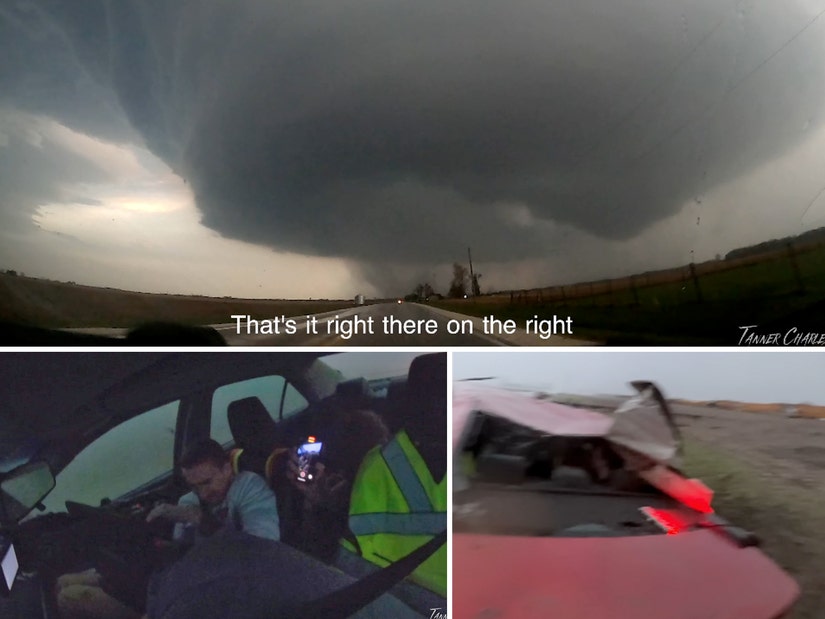 Tanner Charles/YouTube
The group of men break down sobbing in the terrifying video, after a power line which crashed to the ground in front of them trapped them in the path of a massive tornado.
A team of storm chasers are just happy to be alive after getting way close for comfort with a tornado they were hunting.
Tanner Charles uploaded video of the frightening incident -- which went down back in April in Lewistown, Illinois -- to YouTube this week. Calling it "the most intense experience of my entire life," Charles also explained the event was also "quite traumatic" and that's why it took him so long to share the footage.
"In the end, I'm just grateful that we made it out alive," he continued. "This has to be some of the most intense footage I have ever shot in my entire chasing career. I wish we didn't have to go through this to get this footage, but here we are."
The 8-minute video begins with a warning that the footage was filmed by "professional storm chasers with 14+ years of experience," telling viewers not to "attempt on your own."
It then cuts to Charles and his team inside a car, tracking a tornado off in the distance; hail and a storm alarm can both be heard, before one of the crew says, "It's coming right at us, we are immediately downstream of it."
As they get closer to the twister, someone warns Charles to "be cognizant" of their surroundings, as the funnel cloud was "coming towards us." They say they're on an "escape route" away from the storm when the strong winds then down a number of power lines ahead of them -- one of which hits the ground, sparks flying everywhere, before blocking their path entirely.
"Lord Jesus, please protect us in the name of Jesus ... I don't know where that tornado is right now, I don't like this," says the driver, before the crew looks behind them and sees the twister barreling toward them. While they debate getting out of the vehicle and into a ditch to hide, they opt to stay inside and close the windows.
As they all pray and scream in terror, the tornado passes over them ... as the windshield breaks and wind, rain and mud fill the car.
After a few minutes, the tornado finally passes over them completely. "Please Lord, have it be done," one of them shouts, before another says he's in an "utter state of shock right now" over what happened. "Most important is that we're alive," says one of them, before the driver breaks down sobbing.
As Tanner gets out of the car, he surveys the damage -- showing the blown out back window and dented roof of the vehicle. The car is also now on the roadside, presumably moved by the tornado. He too breaks down in sobs, as someone apologizes for their navigation issues.
According to the National Weather Service, there was a tornado and hail event in the area on April 4. "The supercell went on to produce baseball sized hail and a few tornadoes, one of which was a long-track EF-3 with peak winds estimated near 160 mph near Lewistown and Bryant in Fulton County," they added.
While the YouTube post has around 50K views, a cutdown of it was shared to X. That version of it generated nearly 18 million views, thanks to person who shared it writing, "I'm sorry but what did they expect???"