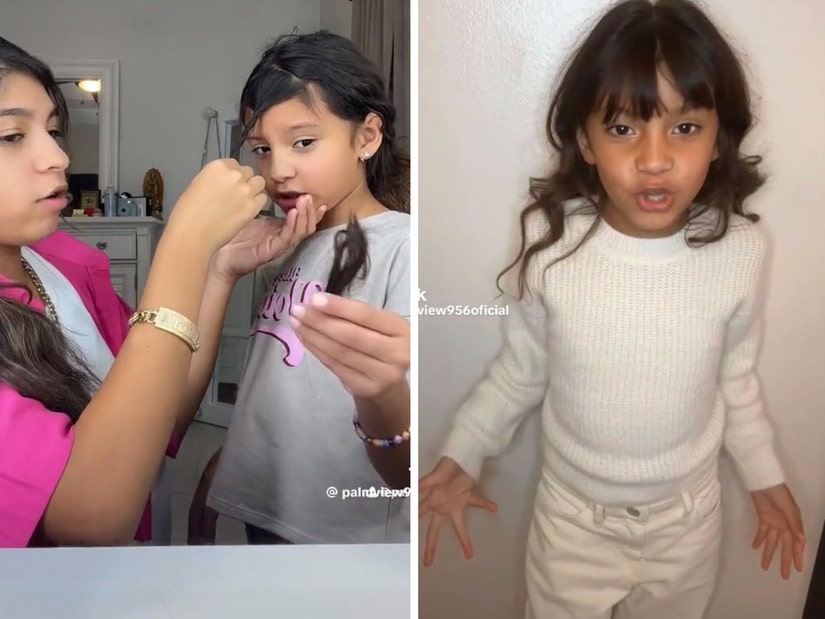 TikTok
The sisters freaking out at home went viral with many celebrities re-sharing the hilarious video -- including Halle Berry, Kerry Washington and Gabourey Sidibe.
These sisters did a banging job when it came to cutting their sibling's hair.
After a now-viral TikTok saw a group of Texas sisters banding together to fix a spontaneous haircut before their mother found out, the 8-year-old, whose hair was on the chopping block, is showing off the end result.
Taking to the social media platform via their family's TikTok account, Camelia, 8, said her bangs are "on point," after showing off her picture day photo.
"This was like, the best mistake that's ever happened," she quipped. "Shout-out to my sisters."
The original clip, which has amassed more than two million views on TikTok, starts with 15-year-old Valentina filming a "Get Un-Ready With Me" video in her Texas home, when she is interrupted by her 9-year-old sister Khaleesi.
"I need the scissors," Khaleesi says abruptly. When Valentina asks why, she responds, "Something. Just something."
It's not long before viewers hear a chilling scream, with Camelia rushing over to reveal freshly-chopped, and rather botched, bangs.
"Khaleesi cut my hair!" Camelia yells. "Tomorrow is picture day!"
A screaming match ensues, with the trio fighting over the haircut before Valentina devises a plan to fix her sister's bangs without their mom finding out.
As Valentina cuts Camelia's bangs -- with instructions she found online -- Khaleesi says, "Oh god, I hope mom doesn't find out.'"
"Wait, they're looking cute!" Valentina quips, admiring her work.
It's then their mother, Gresia Zamarripa, who was bathing her 2-year-old daughter Gabriella, walks in, blowing the group's plan to keep the botched 'do from the family matriarch.
"Go show your dad," Zamarripa tells her daughters after more back-and-forth from the girls.
"Pray for them," Valentina says to the camera.
The home haircut is nothing new for her girls, with Zamarripa telling Today, that Camelia asked Khaleesi to give her bangs so she could look like a character from the Prime series, The Summer I Turned Pretty.
"In May, she ruined her hair when she curled it with a comb (which got stuck) so she cut it off," Zamarripa shared. "And when Camelia was 3, Khaleesi cut her hair down to the scalp. They said, 'We played barber shop.'"
While the girls got a talking to over their latest stunt, the mother-of-five said she decided against punishing her daughters, though she did hide all the scissors in the house.
As for Camelia's bangs? She too agrees that her daughter's hair is "on point."