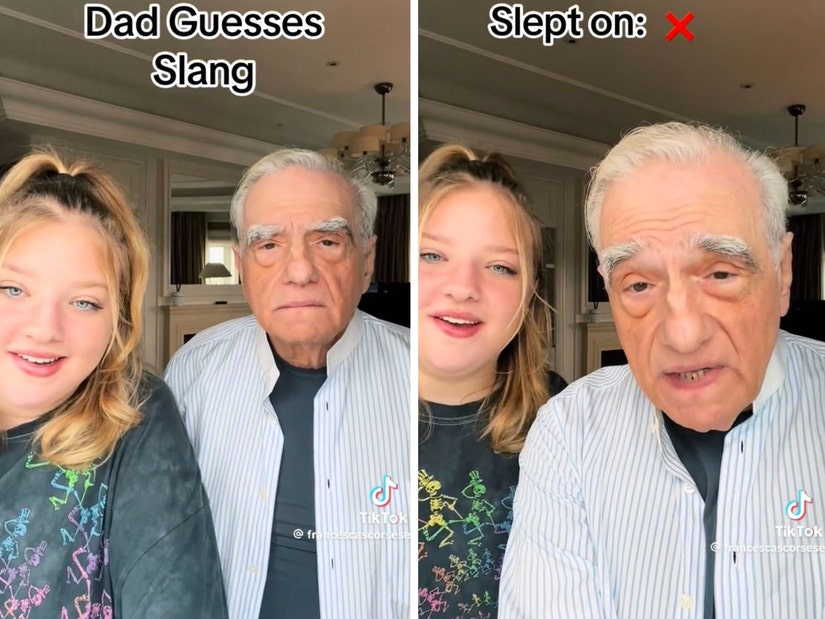 TikTok
Martin Scorsese's daughter, Francesca, quizzed her famous father on some of the internet's most popular Gen Z terms in a hilarious new TikTok from the father-daughter duo.
Martin Scorsese is back for another round of TikTok fun thanks to his daughter, Francesca.
In the latest clip from the father-daughter-duo, the 23-year-old quizzes the famed director on internet slang.
Complete with a high-pitched voice effect, Francesca's grills the 80-year-old on popular Gen Z terms like "ate," "slept on," and more.
Scorsese knew what might give someone the "ick" and was all about "spilling the tea," but he struggled with phrases like "sneaky link" (a secret hookup with a specific person) or as Francesca explained it, a "bootycall."
Admitting that he didn't "get that" one, Francesca awkwardly broke down the term for her dad, who said that hookups looked a little different in his time.
"We never saw specific people in my day," Scorsese shared. "Oh, you had a nice little variety?" Francesca quipped. "Yeah. What else you got?" the movie-maker shot back.
He also struggled with phrases like "slept on" but was able to grasp the term once his daughter related it to his work -- calling his 1982 film, The King of Comedy "slept on."
Scorsese couldn't help but agree, telling his daughter's TikTok followers, "It was the flop of the year. That's what it was called... it's Ok, it's alright."
Fast-forwarding to his most recent work, Francesca asked her dad to try his hand at the word "ate," using it in the sentence, "Lily Gladstone ate in Killers of the Flower Moon."
That one, Scorsese nearly got, noting that Gladstone "consumed the screen" in the soon-to-be released drama.
He continued, "They use to say 'ruled,' She did very well."
The duo rounded out the quiz by reflecting on the meaning of "slaps" and "slays." Francesca said, "This video slays... we slayed in this video," to which the Oscar-winning director responded, "That means it's really good."
Check out the full video below.