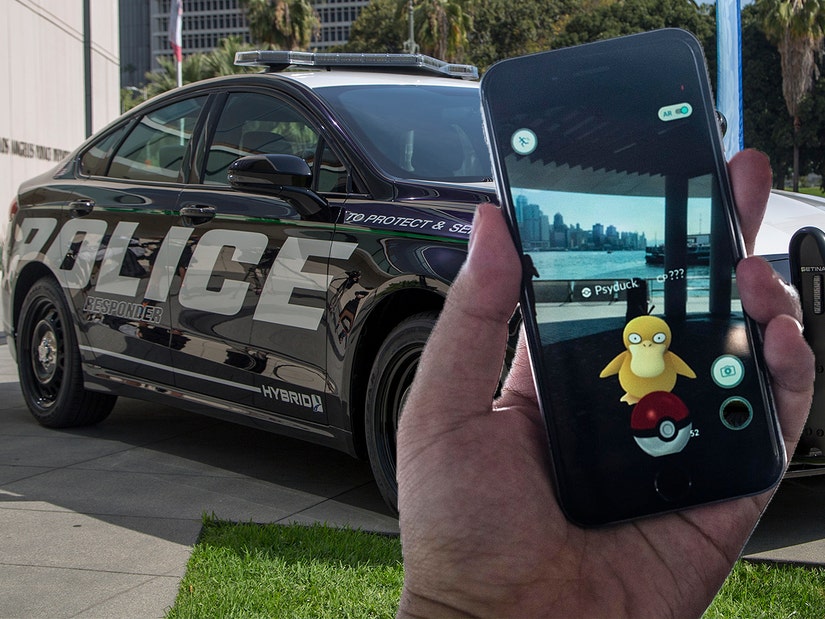 Getty
Pokémon Go was a cultural phenomenon when it was released in 2016, but the game may have been a little too addictive after two Los Angeles Police Department officers opted to go chasing after a Snorlax rather than respond to a backup call or a robbery in progress.
For a period of time in the mid- to late-2010s, you could not escape Pokémon Go. People were walking into lakes, traffic, walls -- pretty much anything and everything -- as they had their faces glued to their phones playing the AR version of the popular game. In the case of two LAPD officers, they were also not doing their jobs!
What started as an investigation as to why two officers ignored a backup call for a robbery just 200 yards away from their location uncovered a surprising connection to Niantic's popular augmented-reality game.
Now, the Los Angeles Police Department has released the video that exposed the two officers for not only ignoring the call, but lying about the reason.
It all went down back on April 15, 2017 around 5:45, according to FoxLA, when officers Louis Lozano and Eric Mitchell were dispatched to provide backup to a robbery in progress ... like, right there. The officers ignored the call.
When asked later by their supervisor why they didn't answer the call, they said it was because they were at a park with loud music and hadn't heard it. What they apparently had forgotten about was the dashboard camera on their patrol car. That footage did not back up their story.
In fact, the video broke down exactly what happened, including the officers discussing the call for backup and ultimately deciding to ignore it. "Should we ask to see if there is a message? Maybe they want us to go over there and help out," Lozano asked his junior partner after the call.
"It's up to you, senior," Mitchell replied. Lozano had been with the department for more 17 years, while Mitchell was approaching his eighth.
"Ahh, screw it," Lozano determined. Within 20 minutes of the ignored call, per the three-hour video (which you can view here), it became clear what might have been distracting the officers.
"Snorlax just popped up," Mitchell was heard saying. Snorlax is, of course, one of the more popular Pokémon characters, and one that was heavily sought after by players of Pokémon Go.
The partners continued talking about the game as they drove to where Snorlax had appeared in order to catch him. In the AR game, Pokémon hunters interacted with the real world as the creatures were overlaid live in actual locations -- thus the hazards of players walking blindly around ignoring the world around them ... and calls for backup.
After the department reviewed the video, the officers were brought up on misconduct charges and a disciplinary panel voted unanimously to recommend they be fired both for lying and disregarding their duties to play a video game.
The officers appealed their termination, according to the Los Angeles Times, but they lost those appeals. While not as popular as it once was, players are still playing Pokémon Go. Hopefully, they're making smarter and safer choices while doing so.