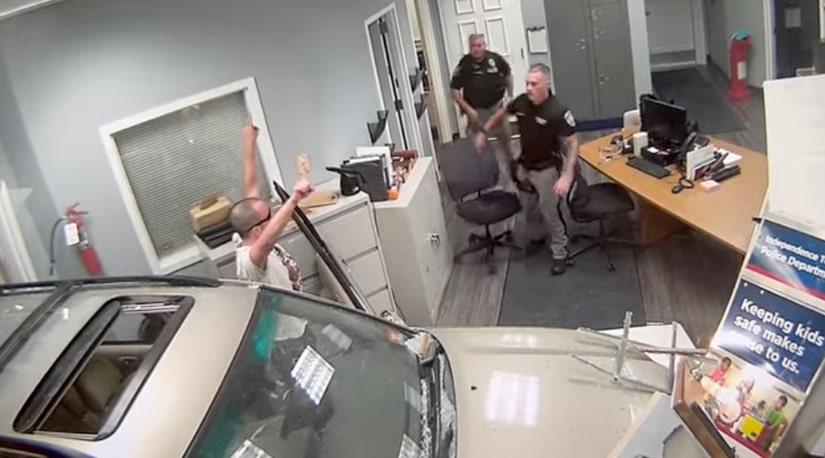 Independence Township Police
Prosecutors say the suspect "deliberately" plowed through the New Jersey station and "appeared to be celebrating" after coming to a stop inside the squad room.
A New Jersey man made it pretty easy for police to arrest him last month, after authorities say he "deliberately" crashed his SUV into the station.
His vehicle "came to a final resting point in the squad room," before he exited the vehicle and "appeared to be celebrating as he was apprehended by officers on scene as his car stereo blared the song, 'Welcome to the Jungle' by Guns N' Roses0", said prosecutors.
Waiting for your permission to load the Facebook Video.
Video from the scene shows Hargreaves' vehicle plow right through the wall, as debris goes flying throughout the squad room -- which was empty at the time. He immediately jumps out of the driver's seat, with his index fingers pointed into the air, as if celebrating a touch down, before two officers enter the room and place him under arrest.
For the police station stunt, he was charged with terrorism, causing widespread injury or damage, aggravated assault, burglary, possession of a weapon for an unlawful purpose and criminal mischief.
The station wasn't the only structure he crashed into that evening, however, said prosecutors.
Hargreaves is also accused of, again, "deliberately" crashing his Toyota into the garage door of someone "the defendant knew" in what Pfeiffer called "an attempt to scare or harass the homeowner." From there, he then drove to police.
For that first crash, he also faces additional charges of burglary, criminal mischief, possession of a weapon for an unlawful purpose and harassment.