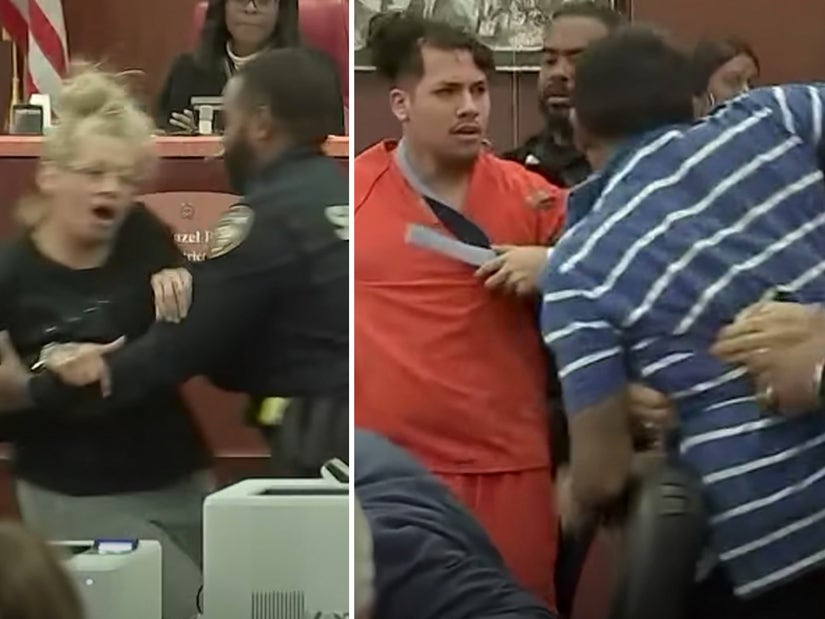 KHOU
"He was laughing at my face," the mom of the 16-year-old victim said after lunging at her daughter's killer -- also blaming his mother for raising him to be a "monster."
A brutal fight broke out in a Texas courtroom on Tuesday, after a man accused of killing his teenage girlfriend pled guilty to her murder. But that incident was only the beginning of the drama -- as that fight led to a suspect in a totally separate case escaping custody.
It all began when Frank DeLeon Jr. pleaded guilty in exchange for a 45-year prison sentence on Tuesday in Houston, following the January 2022 murder of Diamond Alvarez. She was shot 22 times, after allegedly finding out he had been cheating on her and didn't want her to tell the other woman about the relationship.
"Don't ruin this for me," he texted before the two met up to talk at a nearby park, where he then killed her.
On Tuesday, Alvarez's mother Anna Machado gave an impact statement in court, in which she reportedly called DeLeon Jr. a "monster" and blamed his mother for raising him to be that way. As she left the stand, she then lunged at her daughter's killer -- but was restrained -- before Alvarez's uncle did the same.
Per KHOU, a fight also broke out between Alvarez and DeLeon's mothers, before the families were separated and the uncle was taken into custody.
It's unclear if he will face charges.
After the hearing, Alvarez's family spoke with the press, with Machado apologizing for her actions.
"That was wrong of me, that was wrong of us, because we're not monsters. But it's so much hate, because I want my daughter back, and what he did was horrible," she said through tears. "Seeing my daughter there and looking at him, that he did that, and he's laughing at my face, it was very wrong and I'm so sorry for that. It should have never happened, but it happened."
"When I'm wrong, I'm wrong and I accept that," she added.
DeLeon won't be eligible for parole for at least 22.5 years. He'll be back in court on Thursday for his official sentencing.
As all this was happening, the suspect in another case, Michael Devon Combs, managed to escape custody.
According to ABC13, Combs was inside a bench in a separate courtroom when the brawl broke out. Deputies were diverted to the brawl after a panic button was hit ... and once they left, the suspect managed to get out of his shackles and escape.
"He just walked out," said Harris County Sheriff's Office Major Lynette Anderson.; a manhunt for Combs is currently underway.