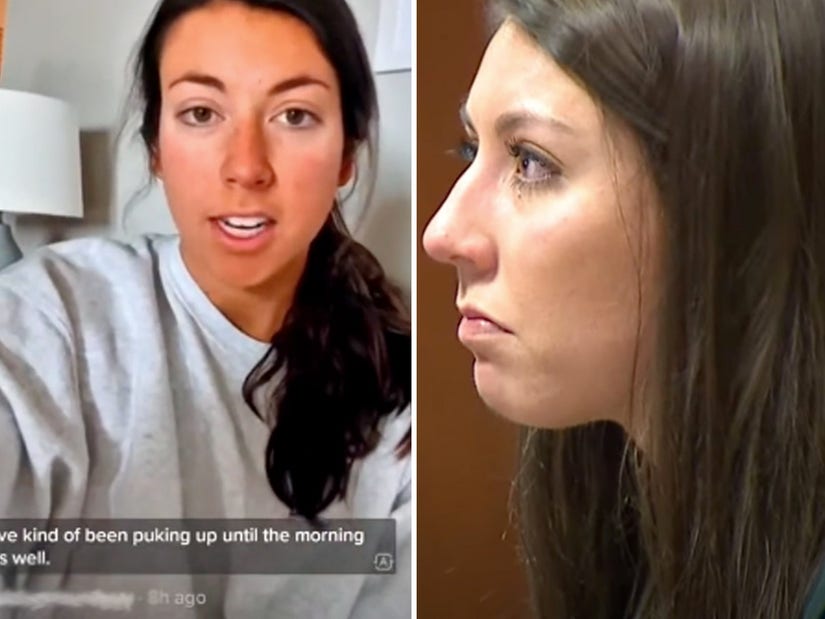 TikTok/WQAD
20-year-old Madison Russo was arrested back in January after scamming $39,000 from donors by detailing her nonexistent chemo treatment in videos and stealing photos from actual cancer patients to pass off as her own.
Madison Russo says a scheme to reunite her family "snowballed" out of control, leading to her defraud good-intentioned donors who hoped to support her during her battle with cancer -- which she never actually had.
The Iowa 20-year-old was sentenced on Friday, after she pleaded guilty to first-degree theft back in June. As part of her 10-year suspended sentence, she was ordered to pay $39,000 in restitution as well as a $1,730 fine and 100 hours of community service. She'll remain out of prison if she completes three years of probation without incident.
The $39,000 in restitution had already been paid by Russo and was being held by a bank until sentencing, while GoFundMe already refunded the donors.
Before her arrest, Russo starting posting videos to TikTok detailing her supposed treatment for stage 2 pancreatic cancer, acute lymphoblastic leukemia and a tumor she said was "the size of a football" which was "wrapped around her spine." In some of the videos, she described the "pain and discomfort" she experienced while going through chemotherapy and expressed her fears about losing her hair ... all while never actually getting any sort of actual treatment for anything.
She was arrested after an anonymous tipster reportedly contacted the Eldridge Police Department and "pointed out the many medical discrepancies found on her pictures posted on her social media site," after she had collected $39,000 from 439 donors. Some of the photos she claimed were her own were allegedly taken from social media posts of actual cancer patients. After police subpoenaed her medical records, they found no cancer diagnosis and she was arrested.
Russo gave a statement before her sentencing, addressing the judge while explaining her reasoning for doing what she did.
"This experience has been by far one of the most difficult things to navigate in my life. I fully acknowledge what I did was wrong. And I'm incredibly sorry. If there was anything I could do to take it back I would. The reality is that I can't," she told the judge. "The only thing I can do is correct it, learn from it and move forward."
"A lot of people have made speculation as to why I did this and how somebody who looked like they had everything together could have such a mess. I didn't do this for money or greed. I didn't do this for attention. I did this as an attempt to try and get my family back together," she continued. "I come from an extremely broken and separated family ever since I was 2 years old. Over the years, it has gotten steadily worse and a lot has happened internally to our family. A family is supposed to be one that's drawn together, not drift further and further apart. I was always told I was 'the only one who could fix it' and I tried for years. Nothing was working and I kept pulling for everybody not be a normal, functioning, loving, supportive family. I thought if I said what I said, it would make everybody pull together. It didn't work and it only got worse."
Saying the situation "snowballed quickly and hard," she expressed regret that she didn't seek out help "before making this immature decision." Russo added, "I was 18 years old and I was a freshman in college when it took place. I'm young and I don't know it all. I was not being rational."
She said she has since learned it's "not a sign of weakness to ask for help," before addressing those she affected with her lies.
"I also pray for all those that were hurt by my irrational decision. I pray for the damage that has resulted for my actions and any harm or disrespect I caused or showed to anyone battling cancer, touched by cancer or fighting to help people with cancer or other medical issues," she said. "Your honor, I'm a good kid. I know I am still a good person. I would do anything to take back what I did. Again, I am so terribly sorry. This is something I will have to live with for the rest of my life when I look at myself in the mirror, but I know it doesn't define me."
Before accepting the plea agreement, the judge said it was "hard for me to fathom what was going through your mind when you were making yourself up and using a fake IV or fake bandages" to drum up support. While he said he initially believed her "lengthy course of deceit" was "motivated by greed or perhaps social media fame," he wasn't as confident about that after the trial and her statement - however, he felt her actions showed this wasn't "an isolated or momentary lapse in judgment."
He added that he doubted she would "ever commit a crime like this again," before citing her lack of a prior criminal record, her cooperation following her arrest, age, agreement to pay restitution and the fact she "suffered a very real and substantive punishment" due to coverage of her crime as reasons for accepting the plea deal and not taking the case to trial -- where she could have faced prison time.