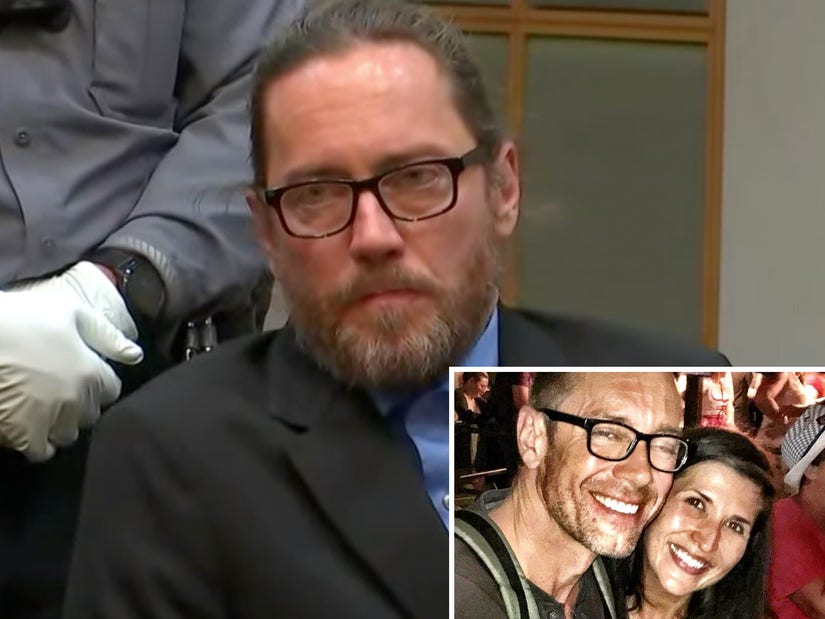 CourtTV/Facebook
Keith Ori, the host of A&E's Zombie House Flipping, testified the victim was "unhappy" when they met a week before her murder; police called her husband's account of her death "BS" during interrogations.
A man who claimed he found his wife dead in a bathtub has been found guilty of her murder, following alleged "tension" in their marriage over appearing on the A&E home renovation show Zombie House Flipping.
David Tronnes was found guilty of the first-degree murder of wife Shanti Cooper-Tronnes on Wednesday in Orlando, Florida and sentenced to life in prison.
According to the Orange-Osceola State Attorney's Office, Cooper-Tronnes was beaten and strangled to death in the couple's home on April 24, 2018 "after a dispute concerning home renovations." Prosecutors said Tronnes' hopes of appearing on the A&E show after spending "thousands of dollars on renovations," leading to the couple "experiencing problems in their marriage."
They claim it was Cooper-Tronnes' "refusal to appear on the show" that "upset Tronnes to the point that it led to her murder."
During the trial, prosecutors explained the two met online shortly after their respective divorces from other people. He soon moved to Florida to be close to her, buying a home that eventually fell into disrepair. "The plan was, he was going to purchase the house, they would live in the house and eventually do renovations as they lived there," said prosecutor Michael Smith. Smith claimed Tronnes stopped working completely after moving, making Cooper-Tronnes' the "sole bread winner."
The home's continued decline "caused an obvious tension in the relationship," said Smith, saying the pair would "argue and bicker about the home" and eventually getting to a point where they lived in two separate wings of the house for "a long period of time."
Tronnes then reached out to producers for Zombie House Flipping and while they weren't interested while checking out the property the first time, they thought it had potential when they later saw how bad it had deteriorated during a second visit. Smith said Tronnes viewed the show as "sort of a lifeline," as they could improve the value of the home and get "upgrades to the construction" by agreeing to appear on the show. The only problem, said Smith, was that in order to be on the show, they had to halt their current renovation plans and leave the house "in a demolished stated" for months until they could film.
This, he said, "led to further frustration."
The show's host, Keith Ori, testified about a meeting he had with the couple about a week before her murder. He said he had a hard time locking down a time to see them both in person, but said their appearance on the show depended on it -- wanting to make sure they wouldn't back out.
"She was unhappy to be there and it was a tense state. We laid everything out, she said she was fully on board with the renovation and then she left," said Ori on the stand. "It was obvious she was unhappy with something. She was only there as long as she absolutely had to be and then left."
"She was tense. Appeared to be mildly upset, annoyed, frustrated at something," he added. "I had no idea what the reason might have been. But she didn't want to be there, at that meeting."
While he had no further interaction with the victim, he said he did receive a text message from her killer the day after her death. "I expressed I don't know what's going on and I don't want anything to do with it," said Ori.
"This home show, this Zombie House Flipping, was the lifeline out of this mess with this house," said the prosecutor, "and she, at that point, a week before her murder, was not into it."
Per the State Attorney's Office, evidence in the trial showed Cooper-Tronnes was killed in the bedroom, while Tronnes claimed he found her in the bathtub after spending the day cleaning and walking his dogs. "The medical examiner testified that facial injuries, blood evidence and bruises on the victim's eyes told a different story," they wrote, saying evidence also showed "Tronnes attempted to clean up prior to police arriving on scene."
During interrogation, Tronnes was accused by investigators of showing "little remorse" and didn't "shed a tear over his wife's death."
Video from the interrogation showed one detective flat out telling Tronnes his story was "B.S." -- adding, "Nobody is going to believe that. Nobody. If you maintain that, you're going to look like a fool. It's complete hogwash."
After five hours of deliberation, the jury came back with a guilty verdict. Before Tronnes was sentenced, Cooper-Tronnes' son from her pervious marriage, Jackson, read an impact statement to the court.
"My mother was the best person I ever knew ... it's like a hole in my heart that I can't fill or fix," he said, breaking down into tears almost immediately. "She didn't die peacefully, she did not deserve anything that happened to her that night."
"My family and I have been waiting about five years for justice. I miss her so much," he continued. "I would have never thought the day before would be the last time I would see my mother alive. She was the best mom I could ever ask for. That's it."
Tronnes reportedly has 30 days to appeal the judge's decision.