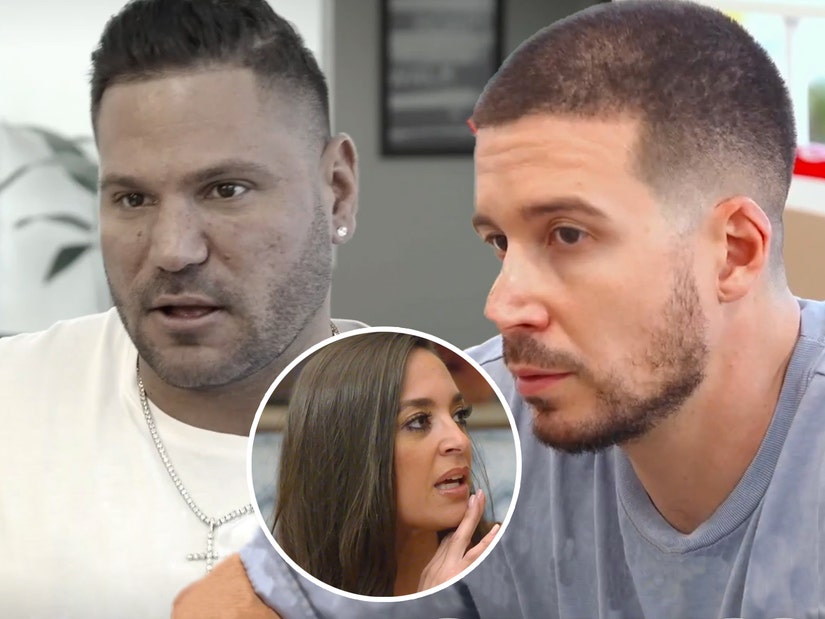 MTV
Vinny reacts after Pauly suggests the two have "beef," Sammi reveals she could "coexist" with her ex and the group reacts to Ron's apology after he leaves.
On the previous two episodes, Ron popped up at the gang's Florida trip and took accountability for how his actions -- including a string of legal problems and accusations of domestic violence -- and apologized for how they affected everyone else.
"You seem like you're doing really good, so just keep at it. You're a good dad, you're a good person," Nicole "Snooki" Polizzi told him, as he admitted to making "bad decisions." As he prepared to leave, she added in a confessional, "I definitely feel like for all of us, it's gonna be a long road to accept Ron back. There's a lot of work to be done, he has to prove he's changed" -- before agreeing to meet with him the next morning for breakfast before he took off.
"Seeing Ron in person definitely gave me a wave of emotions. And it made me remember all the great times we had with Ron. This is someone that was in our life for so long and seeing someone hit rock bottom and not be in a good place, it was sad to see," said Deena Nicole Cortese in her own confessional, before Ronnie said the visit gave him "hope" about the future.
"When Ron came in, my emotions changed. Just seeing him, it was like a ghost. And he had his little note, he was shaking," said Deena.
Nicole then shared that when she had some one-on-one time with him, Ron told her that while he felt everyone was "Really nice to me," he felt a different energy from Vin. "He goes, 'Vinny has an issue with me.' I go, 'No, do you forget that Vinny's miserable?'" claimed Snooki, who added Ron began laughing after that.
"Maybe they got beef," suggested Pauly, as Vin explained he didn't have any beef the rest of them weren't also holding onto.
"I don't have any different beef than everybody. I wanna see [Ron], for years, go on the right path," he continued, saying the visit was a good way for Ron to "remember what he's fighting for." He concluded, "You gotta experience it for a day, what it felt like to just laugh with people," as Pauly added, "And see what kind of support system you have."
Mike thought the whole visit could be the thing that "sparked him to continue to go in the right direction," adding that while these kinds of conversations "don't always go right," theirs did.
After Ron took off for the day, Samantha "Sammi Sweetheart" Giancola returned to the hotel, where she asked her costars how everything went between them and her ex while she was gone. Deena relayed that he "took complete accountability" for everything, before sharing she also asked Ron how he would feel about seeing Sam again.
"I can coexist," she said, despite making it clear in previous episodes she really didn't have any intention of seeing him. She continued, telling them, "I'm in a different place in my life. His s--tshow isn't my s--tshow anymore. He's a part of this group, I understand that. I don't feel awkward if you're friends."
The following day, Snooki did meet up with Ron, after not having "a real conversation" with each other for over two years.
"Ron is on a good path with us, but I mean we're still not there," she said before grabbing breakfast with him. "There's so many hurdles to get over to get to where we were. But I also feel like I have to talk to him about Sam. Sam has gotten over so much and I'm so glad that she's back and I don't want to lose her."
After he said he felt like a big "relief" to finally say all he needed to say to the rest of the group, Nicole asked what his reaction would be to seeing Sam, should that opportunity arise.
"I don't know. I hope we can have a normal conversation," he said, as Nicole said she felt Sam would be "down for that." She added, "You went with something with her, you loved her, you were in a relationship. When you see someone like that, things can be brought up again."
"I'm ready for it," he said, adding that she was "a big part of my life."
The episode ended there, but a preview for next week showed the conversation between them continues -- as he says he's ready to "fully come back" and Nicole adds she's "excited for the Ron and Sam moment."
With only two episodes to go, it's feeling less and less likely we'll see that moment happen this season ... but stay tuned! Jersey Shore Family Vacation airs Thursdays on MTV.