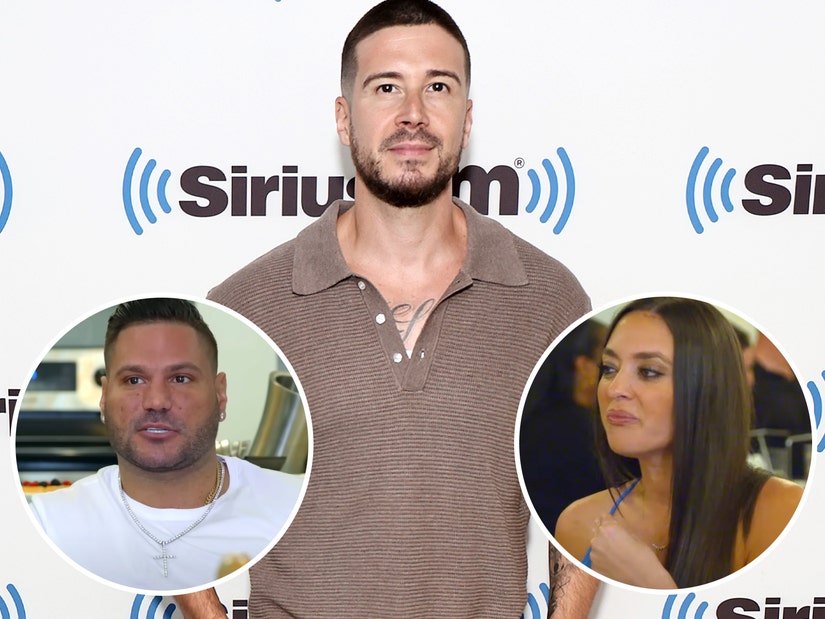 Getty / MTV
The reality star also opens up to TooFab about how he and his male costars, Mike "The Situation" Sorrentino and DJ Pauly D, react when the ladies get into yet another heated fight, including who is "usually with popcorn, screaming on a megaphone somewhere."
While promoting Season 2 of All Star Shore with TooFab, the reality star shared if he believes Samantha "Sammi Sweetheart" Giancola and Ronnie will become permanent cast members after they returned to the franchise this season.
Vinny said -- without a doubt -- Sammi isn't going anywhere. However, the 35-year-old noted that Ronnie's future on the show is still unclear, but his costars would love for him to be back full-time ... and possibly with Sam as well.
"Sam is back, like, full effect back, for as many seasons as MTV wants to do with us," Vinny told TooFab.
"Ronnie, we've been trying to -- you can see on the show -- we try to slowly bring him back into the mix, but it's gonna take him figuring out his personal issues," he continued. "I think those decisions aren't up to me or anything, but from a personal, just friendship level, we want him to just be ... back in the day, things were crazy. It was constant toxic relationship stuff, ups and downs, always a new news article coming out. It got [to be] too much."
"So once he's out of that, then we would like to have him back, and then yeah, Sammi's back," he said, jokingly adding, "So I guess they'd be together then. That's the goal!"
Sammi returned for Season 7 of Jersey Shore Family Vacation after being away from the franchise for over a decade. Ronnie, meanwhile, left the show in 2021 to seek treatment for mental health issues -- a decision that came after a string of legal problems -- and has been itching to make amends since.
Earlier this week, Ronnie opened up to TMZ about his status on the series, sharing that he hopes to be able to return to the show permanently.
"Mike tries to mediate, but it's funny because usually he tries to mediate something that he started," he said with a laugh. "So Mike will start it. Mike stirs the whole pot, full circle. He [will] stir it. He [will] bring it back."
Jersey Shore fans -- especially those tuned into the current season -- can confirm Vinny's not wrong. (To get the details about the ongoing drama, click here.)
As for Vinny, he said he tries to give his "two cents from a rational point of view."
"I don't really have a dog in the race," he told TooFab. "I think they can all trust me if I even say like, 'Hey, like, you know, I think that I can see where she's coming from here.'"
"I'm real as f--k too. I'll just call it how I see it," he added. "I don't care what anyone thinks. I do it while I'm live tweeting. I'll be like, 'Oh, you're being messy.'" ... Not because I'm trying to get anyone's back, I'm just literally just seeing what I see."
When it comes to Pauly, Vinny said his costar is "just usually with popcorn, screaming on a megaphone somewhere."
While the fights can get super heated, Vinny jokingly admitted that it's ultimately good for the show. However, he said it would be nice to start a vacation drama-free.
"It's fun," he said. "It's what makes the show entertaining and have drama, so we can't complain about it. But also at the same time, it's annoying that every time you have to go on vacation, the whole first day consists of trying to get the girls to make up with each other, or first week, or first month... usually we're settling the last fight."
Jersey Shore Family Vacation airs Thursdays on MTV.