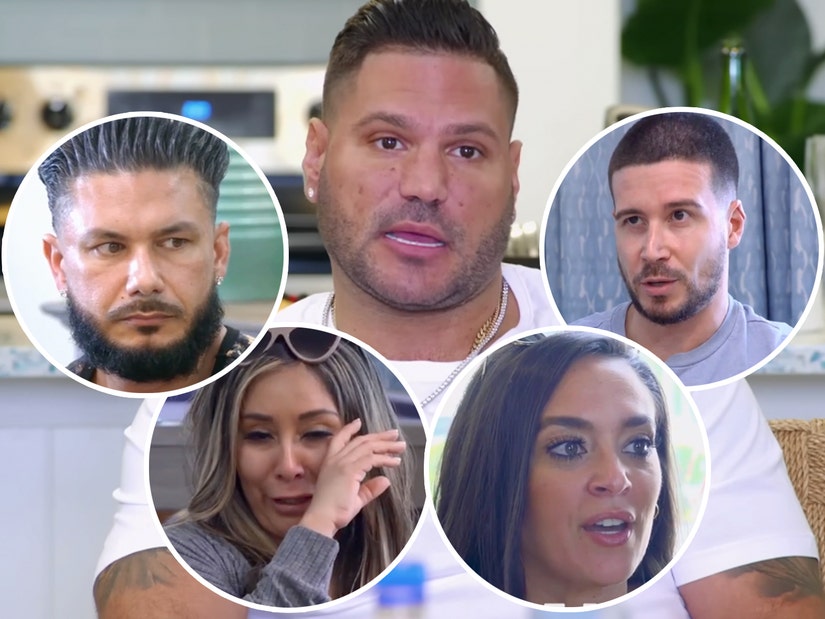 MTV
Following his apology, Ron's costars told him how his actions affected them -- saying they feared he'd "wind up dead" and explaining why his "scary" behavior made them "take a step back" from him.
Last week on Jersey Shore Family Vacation, Ronnie Ortiz-Magro returned and gave a lengthy speech to his former roommates in an attempt to make amends. This week, it was their turn to talk, as they informed him on how his past behavior -- including a string of legal problems and accusations of domestic violence -- affected them.
The hour opened with Ron opening the floor to his costars, which Mike "The Situation" Sorrentino acknowledged in a confessional would probably be "the most delicate conversation we will probably ever have at the Jersey Shore."
Nicole "Snooki" Polizzi went first, saying that while they wanted to support Ron after his first incident, it quickly became "multiple incidents and we were like, 'What the f--k?'" Added Deena Nicole Cortese: "It was like, I just have to remove myself from that person. We all love you Ron, but you turned into a person we had no idea who you were anymore."
Though Jenni "JWoww" Farley said none of them wanted to see him hit rock bottom, they distanced themselves because they needed to "protect ourselves." She continued, saying that while he's always "great" with them while they're filming, he goes off the rails whenever he's outside the house -- leading them to wonder, every day, "Are we gonna wake one day and see you on TMZ again?"
Nicole also said they worried that he would "wind up dead one day," as both Jenni and Deena said that was something they were truly preparing themselves to hear. With that revelation, Snooki broke down in tears, adding that it was just "emotional seeing him" knowing how close they once were.
"It's hard hearing what my roommates have to say. It sucks that I made them feel this way. I have to take accountability for my actions and hope that we can move forward," Ron said in a confessional, before Pauly D then spoke up.
"The time that you stepped away, I think that was good. I thought, 'This guy's gonna step away and clear his head, come back.' But there were more incidents like that," the DJ explained. "It was scary for us because we couldn't go anywhere they wouldn't mention that. It was like, damn, I hope this guy realizes it's not just him, it affects a lot of people."
He added that he didn't want to sound selfish or minimize what Ron was going through personally, before calling his amends a good first step. In a confessional, however, Pauly expressed a little more hesitation about accepting Ron's words at face value. "Ronnie still has a long road ahead of him, we don't fully trust him," he said, adding, "He's moving in the right direction, now you need to prove yourself to us and it's gonna take time."
After Ron admitted his behavior was "not respectable," Mike also told him this was just the first step. He added that he hopes Ron doesn't revert back to his old ways, telling him that if that happens, "I don't think that anyone would be welcoming going forward."
Up next was Vinny Guadagnino, who admitted to taking "a step back" from Ron when he stepped away from the show. He likened the situation to one he previously had with Mike, who had his own substance abuse and legal issues, saying the two didn't speak "for years" until he saw Sorrentino had truly put in the work "for a long period of time."
"So if you ever see any distance from me, it's not because I want to be in this position," Vin told Ron. "It's because I'm probably waiting for a lot of proof and I wish that for you because I hate what you're going through."
In a confessional, he added, "It's gonna take more than a month of being behaved for me to come back around. Admitting the problem is the first step and Ronnie does have a new self awareness. Hopefully, he can take that and turn it into recovery for real."
After Deena added that she "detached" herself from Ron because she also didn't want her two young boys to be around that kind of influence, Mike told Ortiz-Magro he appreciated the apology and reiterated everything won't just go back to the way it was "overnight." Ron acknowledged this was "the first step in moving forward," before they all finally did a group confessional together.
"I'm ready to prove to everyone I'm consistent and I'm not going to make the same mistakes I've made," he said, before Mike added, "Don't give up on yourself and we don't give up on you."
From there, a more relaxed mood took over the episode, as Ron caught up with a number of his former roommates in separate conversations. Speaking with the girls, who brought up that his ex Samantha "Sammi Sweetheart" Giancola had been filming with them, he expressed a desire to speak with her, saying "I feel like it's something that needs to be done."
When Jenni noted that she might not want to speak with him, he said he would be okay with that as well. "Whatever's gonna make her feel more comfortable," he told her, adding that he was happy she found someone would could give her everything he couldn't in Justin.
At one point, Sam actually called Snooki, who started to fill her in on his olive branch. "He looks put together, he said what he did wrong, I was crying," she told her, before the call came to an abrupt end when Ron came back into the room.
"I have nothing to say to Ron. That was just some guy I dated in my 20s at this point," Sammi said in a confessional, making it clear she has no intention of catching up with him. "If Ron's bettering himself, that's great for him, but there's nothing more to say to him."
She also said she thought it was "great" that the rest of the roomies "want to work out their issues," saying that Ron's "relationship with them doesn't affect my relationship with them." She concluded, "I have nothing to say to Ron, so I just want to enjoy the day with my man."
As Ron caught up with the boys and bonded over being fathers -- with Pauly telling him to keep his daughter Ariana in mind as "motivation" to stay on track -- the girls revealed how they felt about his apology with one another.
"My issue isn't what happens here, it's always when he's home," said Jenni, who felt he was still "half-truthing" when it came to his behavior now. In a confessional, she added, "I was unexpectedly happy to see Ron today. I think his speech was fine. For me, it's a wait and see."
Deena, meanwhile, admitted to letting her emotions take over when she saw him, thinking back on good times, instead of holding him to the fire more about his actions.
"Yes, he's f--ked up in his life, I'm not giving him a pass at all. None of us are perfect, but I gotta give Ron a lot of credit here for coming in and talking to us today," added Angelina Pivarnick, adding that she believes she "have to give him a chance." Snooki agreed, exclaiming, "We're not assholes."
The hour ended with Ron once again talking with the girls, with Snooki wondering what his relationship was like with ex Jen Harley -- with whom he shares his daughter -- following all their past drama. When asked whether he ever considered getting back with her, he responded "absolutely not," adding that they were good coparents and "at that point where it's you live your life, I live my life, as long as you're being a parent, that's what matters."
He added he'll like be "single Ronnie for a very long time."
A preview for next week's episode showed Ron isn't going anywhere just yet -- as they all talk about whether or not he'll actually meet up with Sam during his visit. We're not holding our breath, but find out when Jersey Shore Family Vacation airs next Thursday on MTV.