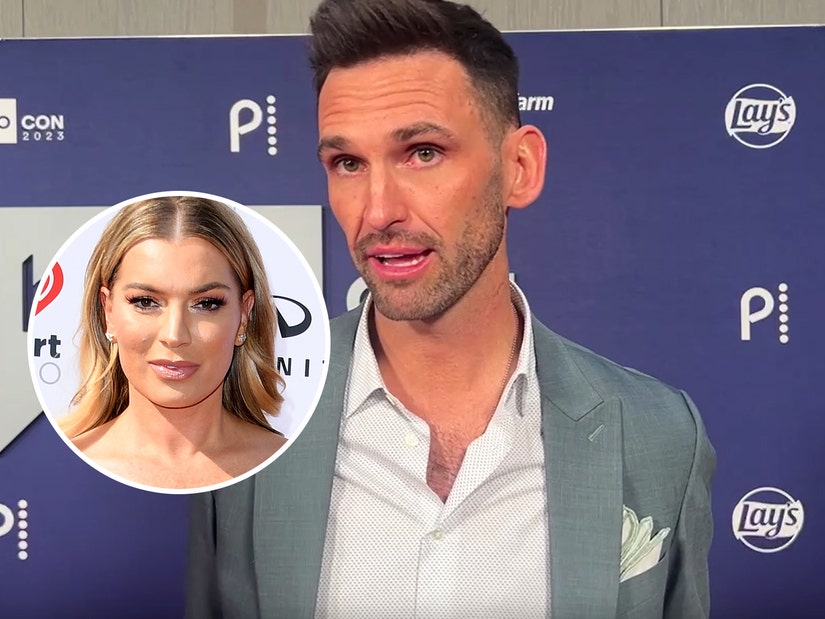 TooFab / Getty
Carl Radke and Lindsay Hubbard were set to tie the knot on November 17, but those plans went down the drain after the 'Summer House' star called off their engagement.
Carl Radke is trying to hold his head high following his "hard" split from Summer House co-star and ex-fiancé, Lindsay Hubbard.
TooFab spoke to Radke at BravoCon Friday, where he shared what things have been like in the aftermath of their breakup, and what he hopes to achieve by attending the network's annual conference in Las Vegas this weekend.
"It's hard. Not gonna lie, there's been a lot going on the last two months -- not only this past week," Radke said. "So, I'm trying to hold my head high. I'm incredibly anxious and nervous because it's been a very emotional period of time. And I'm trying to move forward with respect, and handle things in the right way."
Radke, who has yet to speak out about their breakup till now, said it's because it's been "that difficult" and "that emotional" for the reality star, who dated Hubbard for two years before going their separate ways in August.
The two were set to tie the knot on November 17, but those plans went down the drain after Radke called off their engagement.
As for his decision to come to BravoCon and face the fans -- and his ex -- Radke said he's receiving an overwhelmingly "positive" response.
"I absolutely love Bravo. I'm so proud to be a part of Summer House. I love our show. Been on since the beginning and I felt it was important to be here to support the fans, the network," Radke shared. "I've gotten a lot of energy in the last 24-hours already, just from other Bravo talent, production, the fans. It's actually been overwhelmingly surprising and positive response."
He added, "So, that's been really welcoming. It's emotional. I just want to move forward, and I think this is a great weekend to finally do that."
Radke's comments come after Hubbard slammed her ex in an interview with Us Weekly Thursday, in which she accused him of getting production to pick up filming after the season was over so that their breakup could be caught on camera.
"It was absolutely humiliating. It would've been one thing if this conversation happened over the summer during the normal filming schedule. But for [Carl] to call up producers and then set up cameras and manipulate me into sitting down [so he could break up with me] after we'd already wrapped is scary," she told the outlet. "The whole world found out within 30 minutes of me."
"I was completely blindsided," she continued, claiming Radke "blew up my entire life" without even giving her a real explanation why. "I was crying, I was angry, and I had to find closure on my own. Now I'm at a place where I feel really good about moving on."
Radke is also hopeful to move on and feel vindicated amid Hubbard's recent claims, telling TooFab, "Out of anything that I've been through on this show, I do believe that this is a situation where people really need to watch the season."
He continued, "I stand true on what I experienced this summer, and I do believe people will watch it and understand how it came about."
When it comes to working together in the future, Radke said he's hopeful he and and Hubbard can get to a place where that's possible.
"I would love to think so at some point, but I think we've got some time to work through here after the season will air, and provide a lot of clarity and answers -- I hope," he said of the season, which has since wrapped filming. "Maybe after the end of the season we'll get to some understanding that makes more sense."
Hubbard, meanwhile, told US that she "would not would not feel comfortable sharing a house with him after he did" and feels she "can never trust him again."
She added, "The way that he called the producers and set up the cameras -- [he] blindsided me and humiliated me in such a public way. I'm not comfortable at this point in time."
The two are both set to appear at BravoCon over the weekend, with a panel scheduled for the show's entire cast on Friday afternoon.