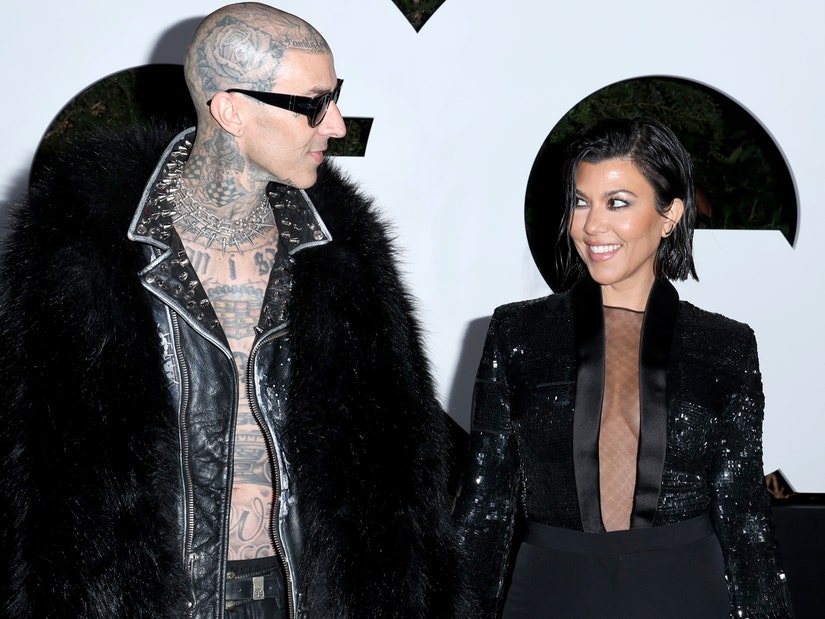 Getty
While the baby boy -- likely named Rocky Barker -- marks the first child for the couple, Kourt also shares three children with ex Scott Disick, and Travis is dad to three kids from his marriage to ex-wife Shanna Moakler.
This comes just one day after TMZ reported on Friday morning that they had growing evidence the happy couple had already welcomed their son Rocky into the world ... after they obtained pictures of Travis, 47, and Kylie Jenner arriving at Cedars-Sinai Medical Center in L.A. on Thursday.
The site said they had been receiving tips about Kourtney, 44, at Cedars since Monday, but once they got those photos the narrative started to become more solid. Previously, sources close to the family told TMZ Kourtney's labor was going to be induced. Additionally, they were told the couple wanted a Halloween birth. So everything sort of fits together with the spooky holiday having just occurred on Tuesday.
While this is the couple's first child together, they were both already parents. Kourtney shares Mason, 13, Penelope, 10, and Reign, 8, with ex-partner Scott Disick, while Travis is dad to Alabama, 17, Landon, 19, and stepdaughter Atiana De La Hoya, 24, from his marriage to ex-wife Shanna Moakler.
The pair, who have been open about their struggles with infertility, first shared their sweet baby news earlier this year, with Kourtney making the big announcement at Travis' Blink-182 concert in June.
While Kourtney and Travis faced some health scares along the way, including Kourtney reportedly being put on bed rest towards the end of her pregnancy, the happy couple have managed to celebrate, throwing a rock show-themed gender reveal party and a Disney-clad baby shower for the little one as they anxiously await his arrival.
During an appearance on the One Life One Chance podcast, Travis revealed his and Kourt's plans to name their baby boy Rocky XIII, sharing the meaning behind the moniker.
"Rocky 13 Barker," the musician shared, before making a nod to Rocky Balboa, the boxer famously played by Sylvester Stallone in the Rocky saga. "I was like, 'He's gonna come out of my wife's vagina like, doing front kicks and pushups."
The name was first thrown into the running back in July, while sharing his top name ideas with daughter Alabama Barker.
"I like Rocky Thirteen," Travis explained on the July 19 episode of Complex's Goat Talk series. "That's this name that's been going through my head lately."
Travis' reasoning? "Rocky George played guitar for Suicidal Tendencies," he explained. "And 13 is just the greatest number of all time."
Kourtney and Travis tied the knot in May 2022.