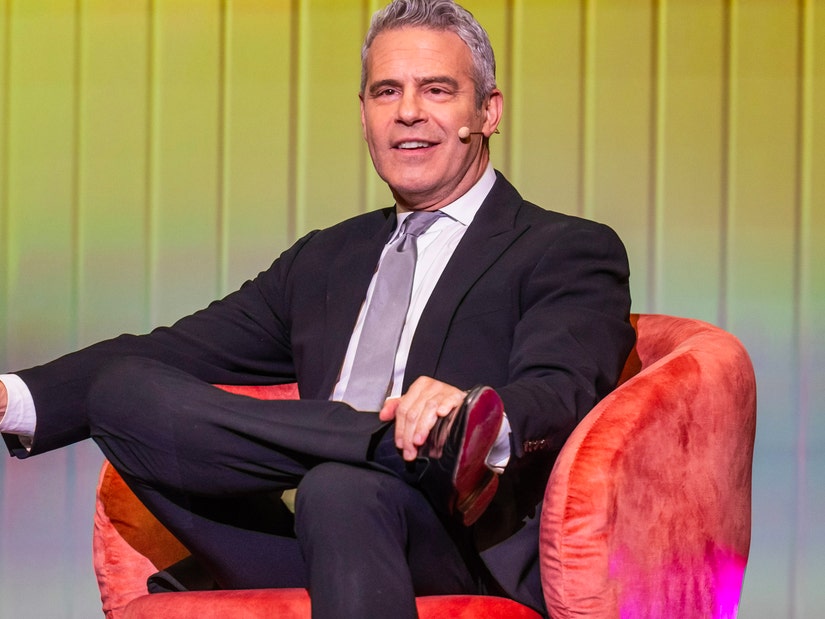 Getty
"I'm a gay dude of a certain age in New York City. I have some miles on me," the WWHL host said while appearing on stage at Call Her Daddy host Alex Cooper's Unwell Tour stop in New York City
No pleading the fifth, here -- Watch What Happens Live host Andy Cohen is spilling all the tea about his sex life.
While making a surprise appearance at Call Her Daddy host Alex Cooper's Unwell Tour in New York City on Wednesday, the 55-year-old television personality revealed details about what he's like in the bedroom.
"I'm a daddy in the bedroom. I'm a daddy from when I open my eyes to when I close my eyes," Cohen, who is a father to son Benjamin, 4, and daughter Lucy, 1, said, per Us Weekly, adding that he's a "take control kind of guy,"
He noted that he's "not a big d--k pic guy," but is all for being sent photos from fans. "Straight guys want me to validate their d--k," he quipped.
Cohen went on to get candid about his love life, sharing that he is single and is "easy to find" as he's on multiple dating apps.
When asked about his type the Bravo producer said, "Physically, I'm like the UN -- I'm pretty open. Personality wise, I like strong, funny, driven -- funny's very big. If I connect with you that way, it means a lot."
Meanwhile, Cohen participated in a round of "Never Have I Ever," sharing more secrets about his love life, including that he once slept with two men in the same night.
"I'm a gay dude of a certain age in New York City," he said. "I have some miles on me."
The SirirusXM host also revealed that considers making out to be his number one skill in the bedroom, noting that his kisses are "legendary." Cohen said he once won a "long tongue contest" in Miami.
However, he also confessed that he's made some "mistakes" in the past, admitting that he's cheated on a ex and had sex in a hot tub.
"Isn't that what hot tubs are for?" he joked.