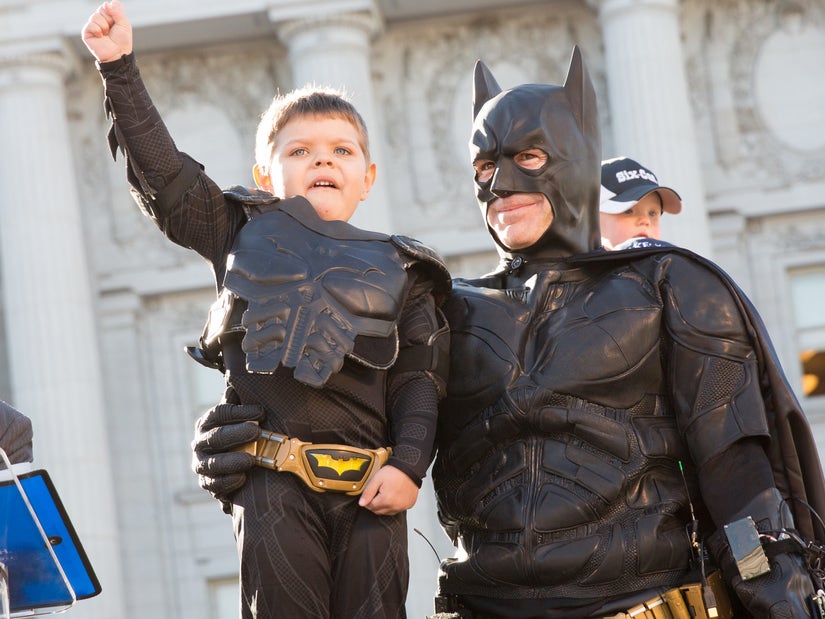 Make-a-Wish
Now a teen, Miles Scott is still in remission -- and his mom is now a volunteer wish granter for Make-a-Wish to help others.
10 years ago today, Miles Scott stepped into The Dark Knight's shoes and became Batman for a day, thanks to the Make-a-Wish Foundation.
At the time, back in 2013, Batkid took over the internet, as he ran around San Francisco in his own Batmobile with an adult Batman by his side to thwart evil villains like The Riddler and The Penguin.
The entire city came out to watch the then-5-year-old kid -- who was in remission from leukemia at the time and continues to be to this day -- transform into his favorite superhero.
On the 10-year anniversary of that epic day, Make-a-Wish celebrated the occasion by getting back in touch with Scott and giving everyone an update on what he and his family are up to now.
"I feel normal, but every time I think about it, it's like, 'Wow, that actually happened,'" said Miles in a video shared by the Greater Bay Area chapter of the organization. "I'm doing amazing. I would love to just say, I'm fine."
The teenager is currently a sophomore at an Oregon high school, plays quarterback for the JV football team and is also the catcher for his baseball team. He said he still gets called Batkid when he's wearing his catcher's gear, saying it's his armor these days.
Reflecting on their son's headline-making day back in 2013, his parents said it was a moment of "closure" and "celebration" for them. His mother, Natalie, is now a volunteer wish granter for Make-A-Wish Greater Bay Area and helps grant wishes for other children who need them in the community.
"For Miles' wish, I feel like it was the ending of a chapter in our family, so that we could move on and continue," she said. "I just wanted to be able to help other kids and their families have some sort of positive ending to their story or to start their new beginning."
And then there's this: the costume Miles wore back in 2013? Well, his younger brother Ben -- who wasn't even alive when the initial event occurred -- wore it last Halloween.
Revisit Miles' big day as Batkid in the gallery below!