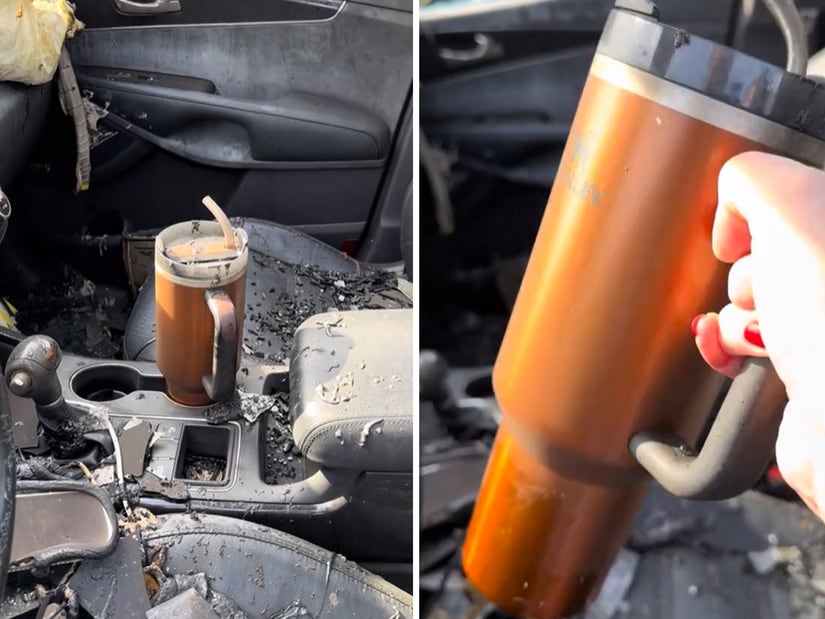 TikTok
"It really shows how our Stanleys are built for life," Stanley's president said, stitching the viral TikTok, which revealed the woman's tumbler not only survived, but still had ice in it.
For those who weren't already a "stan" of Stanley drinkware, get ready to become one.
A woman has gone viral on TikTok after she shared a video that showed how her Stanley tumbler apparently survived a disastrous car fire -- and, on an even more shocking note, the cup was still full of ice!
In the recent TikTok video, the woman named Danielle -- who goes by the username @danimarielettering on the app -- revealed jaw-dropping footage of the interior of her red Kia after it was almost completely destroyed by a fire. She then showed how her Stanley burnt (no pun intended) orange tumbler -- which is insulated -- was seemingly left intact in the cup holder.
"Everybody is so concerned about if the Stanley spills but what if it melts?" Danielle said over the video, before shaking her cup, and the ice clinked. "It was in a fire yesterday, and it still has ice in it."
She captioned the video, "Thirsty after you catch on fire? @Stanley 1913 is like no problem i gotchu."
As of Friday afternoon, the video has over 33.5 million views, 3.9 million likes, and over 34,000 comments.
TikTok users flooded the comments section, with some fans joking that Stanley should make cars, while many suggested that the drinkware brand should send Danielle some free cups or even replace her new car after her "advertisement" went viral.
And Stanley's response has likely gained them many new customers.
On Thursday evening, the company posted a clip to its TikTok profile, with Stanley's global president, Terence Reilly, stitching Danielle's video.
"We've all seen your video. Wow, what an ordeal, and we're all really glad you're safe. Thanks for sharing the video, because wow, it really shows how Stanleys are built for life, 'cause what it went through with you, I couldn't think of a better example of our product's quality."
After again noting that they're happy to hear Danielle was safe, Reilly said, "I've seen a lot of comments that we should send you some Stanleys."
"Well, we're gonna send you some Stanleys," he continued, "but there's one more thing, and we've never done this before, and we'll probably never do it again, but we'd love to replace your vehicle… yeah, all of us at Stanley we'd really like to replace your vehicle."
Reilly signed off by telling Danielle to check her DMs.
The next morning, Danielle posted a TikTok video, in which she reacted to Stanley's incredible act of generosity, and how the world responded to her viral video.
"Wow, hi. Where to start? Oh, I have seen the president of Stanley's video. I almost passed out. That is crazy," she began. "I cannot believe that they're gonna buy me a car! I mean, the Stanley was the only thing that survived the car fire. I'm not drinking out of it, don't worry, guys. It's in the garage, I'm going to save it as a memento."
"I'm so so grateful for Stanely for doing this," Danielle added. "I feel blessed beyond belief. Nothing like this has ever happened to me before."
She went on to thank the TikTok community for their thousands of comments on her video, including encouraging Stanley to give her a new car.
"Thank you to you for taking time out of your day to write on a stranger's TikTok in support of me getting a new vehicle," Danielle said, adding that she "can't believe that thousands of people would show up for me like that."
The video later took a slightly emotional turn as Danielle continued to express her gratitude, and share how much everyone's response meant to her.
"As a person that has gone most of their life feeling invisible, you have made me feel incredible, and I can't thank you enough," she said. "And I just want to say to anybody that maybe feels like that -- like you're not seen or heard -- just give it 15 seconds, everything might change."
Last year, Stanley cups became extremely popular after the brand's "Quencher" tumblers, in particular, blew up on social media, specifically TikTok.
Not only are the millennial beloved tumblers cute, functional, and will keep your drinks cold, but they also apparently are almost completely indestructible.