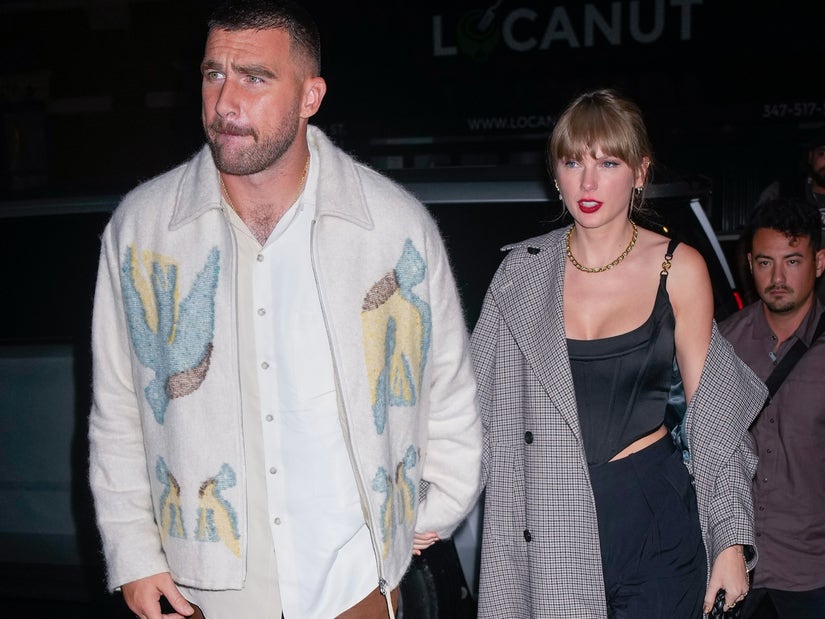 Getty
The NFL star and Swift took their relationship public in September, which began after Kelce reached out to the singer following a failed meet-up during the Kansas City stop of her Eras Tour over the summer.
Taylor Swift has the kind of fame that's unavoidable -- a litany of paparazzi following the singer's every move, and it's something her new boo, Travis Kelce, isn't running away from.
While that kind of attention could be intimidating for some, in a cover story for WSJ. Magazine, the Kansas City Chiefs Tight End said Swift has an "aura" about her that allows her to enjoy all of life's little moments, despite the constant noise that surrounds her.
"[I've] never dated anyone with that kind of aura about them" Kelce gushed.
"I've never dealt with it," he said, touching on Swift's immense fame. "But at the same time, I'm not running away from any of it... The scrutiny she gets, how much she has a magnifying glass on her, every single day, paparazzi outside her house, outside every restaurant she goes to, after every flight she gets off, and she's just living, enjoying life."
Kelce added, "When she acts like that I better not be the one acting all strange."
Waiting for your permission to load the Instagram Media.
The NFL star also touched on the pair's shared outlook on family and work.
"Everybody knows I'm a family guy," he said. "Her team is her family. Her family does a lot of stuff in terms of the tour, the marketing, being around, so I think she has a lot of those values as well, which is right up my alley."
While just about everyone knows how their love story started -- with Kelce reaching out to Swift following a failed meet-up during her Kansas City Eras Tour stop -- according to the pro athlete, things actually went a little differently.
In fact, Kelce revealed he had a "cupid" working for him on Swift's team.
"I don't know if I want to get into all of it," Kelce said during the interview, before ultimately reflecting on his unsuccessful first attempt to meet the musician at her Eras Tour show in July.
"There were definitely people she knew that knew who I was, in her corner [who said]: 'Yo! Did you know he was coming?' I had somebody playing Cupid," he continued, adding that he eventually found that out from Swift when she contacted him directly.
"She told me exactly what was going on and how I got lucky enough to get her to reach out," Kelce shared.
A few members of the Swift family even assisted in helping him get her attention.
"She'll probably hate me for saying this, but ... when she came to Arrowhead, they gave her the big locker room as a dressing room, and her little cousins were taking pictures ... in front of my locker," he said.
As for their first time meeting, Kelce said he was hopeful.
"When I met her in New York, we had already kind of been talking, so I knew we could have a nice dinner and, like, a conversation, and what goes from there will go from there," he added.
The couple have been pretty loved-up ever since, with Swift attending a handful Kelce's football games and the football star traveling all the way to Argentina to see Swift perform.
Check out the full interview WSJ. Magazine's December/January issue hits newsstands December 9.