Rihanna and Kim Kardashian are among the rush of stars speaking out this week against our justice system regarding the case of child sex trafficking victim Cyntoia Brown.
In 2004, then-16-year-old Brown shot and killed a man who had hired her for sex. Brown, who suffered through childhood trauma including physical and sexual abuse, was tried as an adult and convicted, and is now serving life in prison. She is now 29, but won't be eligible for parole until she is 69 years old.
The hashtag #FreeCyntoiaBrown and the image (below) began trending on social media earlier this week, and it caught the attention of some of Hollywood's most influential people.
"Did we somehow change the definition of #JUSTICE along the way??" Rihanna captioned the photo on Instagram. "Something is horribly wrong when the system enables these rapists and the victim is thrown away for life! To each of you responsible for this child's sentence I hope to God you don't have children, because this could be your daughter being punished for punishing already!"
Kim shared her message on Twitter, adding that she had contacted her attorneys "to see what can be done to fix this."
"The system has failed," Kardashian wrote. "It's heart breaking to see a young girl sex trafficked then when she has the courage to fight back is jailed for life! We have to do better & do what's right. I've called my attorneys yesterday to see what can be done to fix this. #FreeCyntoiaBrown."
Cara Delevingne also shared the photo and story on Instagram, which Ty Dolla $ign reposted on Twitter, writing, "On god!!!!! free Cynthia Brown free TC."
T.I. also got in on the call to action, posting, "Free da GOAT #IGotSomethingOnTheApeal."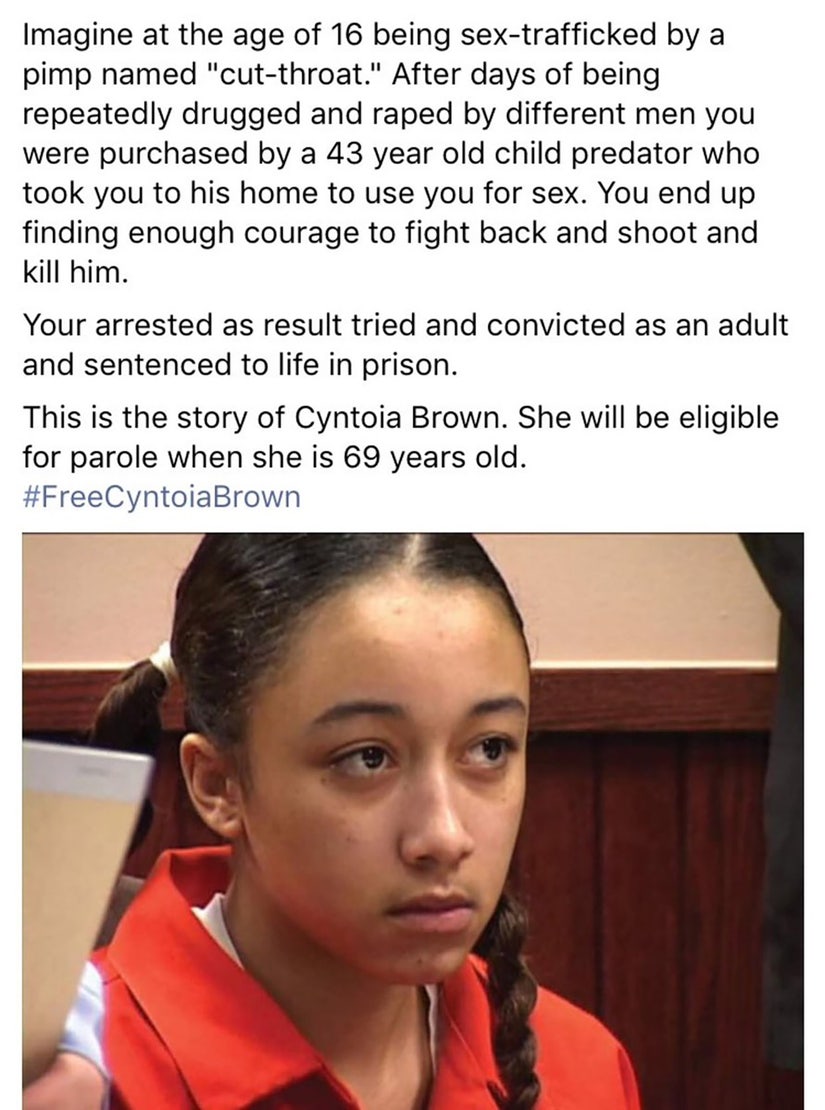 Twitter