Despite the Thompson cheating scandal that rocked the world in April -- right before they welcomed baby True -- it seemed that Khloe and the NBA player were trying to make it work. However, now it looks that she might not have been as forgiving as we thought.
The reality star has been posting messages throughout the week that sure seem like they could be directed at her beau and their unique situation. "You can be a good person, with a beautiful spirit, and still possess the authority to tell someone: 'You got me f-cked up,'" she posted to her Instagram stories on Saturday.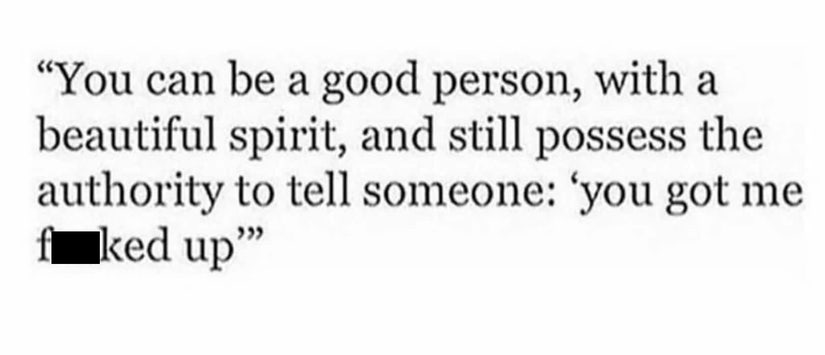 Instagram
"Something you've been praying for is about to happen for you," she wrote in another story Thursday. "You've had enough lessons. You've been patient long enough. You've remained strong through many trials and challenges. Nothing broke you. You're still here standing strong. Now is the time for you to start receiving."
"Your mind will always believe everything you tell it," Khloe wrote in yet another message earlier in the week. "Feed it faith. Feed it truth. Feed it with love."
There have been other signs at some rough waters in the relationship, too.
On Kim and Kanye's wedding anniversary on Friday, Kim shared a picture of the card her sister sent on Instagram. "Happy anniversary Kimye. Love always wins!!" Khloe wrote, before signing it "Love Koko and True."
That's not the only place were Tristan left out. Khloe also shared a brand new photo of her with the couple's newborn baby girl on Saturday, no baby daddy in sight. "Mommy's Little Love," she captioned the snap.
Waiting for your permission to load the Instagram Media.
Though Khloe and Tristan were spotted on a couple outings together and she attended one of his Cavaliers games earlier this month, they haven't been spotted out since the 8th.
"Khloe's doing, honestly, she's so focused on her baby. The baby is gorgeous. She's so happy," Kim said about her sister on "Live with Kelly and Ryan" on May 11.
"Is there any part of you, and I know you'll be honest for this answer, is there any part of you that roots for Khloe and Tristan?" Seacrest asked at the time. "I mean ... last time I went on TV and answered some questions about her, I got blocked on social media," Kim answered, likely referring to Tristan unfollowing her on Twitter after she called the situation "so f-cked up" on "Ellen" last month.
"So I'm going to, yes I'm always rooting for her, for love. I'm always rooting for families," she added.
What do you think is going on here? Sound off below!