But instead of coming right out and slamming the new (and we mean new) couple directly, Cazzie David and Carly Aquilino did what any hurt millennial would do in their situation -- they appeared to mope on social media.
Cazzie, daughter of "Seinfeld" creator Larry David, took to Instagram to share what seems to be her response to the news.
"Came to wine country a person, leaving a human bottle of wine," the 24-year-old writer captioned a photo of herself holding a glass of red wine.
Waiting for your permission to load the Instagram Media.
Cazzie previously shaded the relationship on Instagram when Grande and the "Saturday Night Live" star first went public with their romance, captioning a vacation photo, "Been in Africa, what'd I miss??"
Carly, who you probably recognize from MTV's "Girl Code," was also a bit cryptic with her response to the engagement, sharing the below screenshot to her Instagram Story.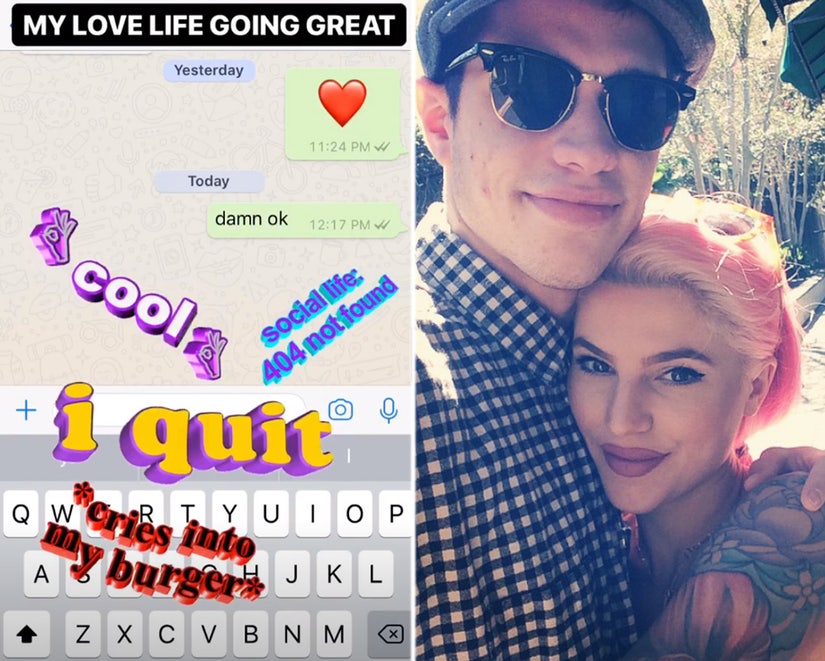 Instagram
It's unclear who Carly was messaging, but it's evident her heart emoji was left on read, which prompted the dreaded double-text: "damn ok." Carly also took advantage of Instagram's fairly new GIF feature, decorating the screenshot with "cool," "social file: 404 not found," "i quit" and "cries into my burger."
The news of Grande and Davidson's engagement comes after both recently split from their exes -- Ariana from rapper Mac Miller and Davidson from Cazzie, who he dated on and off for 2 years.
Davidson also got two Grande-inspired tattoos earlier this month: one of Grande's "Dangerous Woman" bunny ears; the of the letters "AG."