Did Younes Bendjima not get the memo? When you mess with one Kardashian, you mess with them all.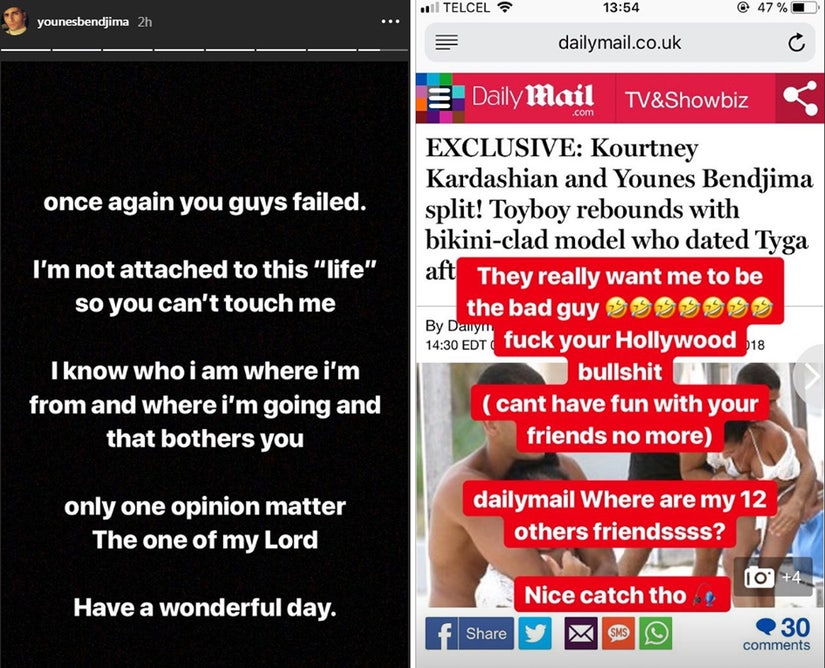 Instagram
Younes denied that the girl in the photos was anything more than a friend, posting a screenshot to his Instagram Story of an article published by The Daily Mail, writing, "They really want me to be the bad guy. F--k your Hollywood bullshit. Can't have fun with your friends no more. Daily Mail, where are my 12 other friends? Nice catch, though."
The Shade Room posted the screenshot of Younes' Instagram Story, which prompted Khloe to comment, "Alexa, play 'Heard It All Before' by Sunshine Anderson."
Waiting for your permission to load the Instagram Media.
For starters, Khloe's comment is clearly indicative of some sort of wrongdoing on Younes' part. But secondly, her comment also suggests she's well aware of the trolling going on on her own Instagram page.
Earlier in the day, the new mom captioned a selfie, "Can Dru Hill make another album?? I miss R&B music." Khloe's famously unfaithful baby daddy, Tristan Thompson, replied, "Baby, I'll get in the studio right now, throw some autotune on my voice and sing to you whatever you want."
Naturally, fans savagely came for Tristan, flooding Khloe's comments section with replies including, "Alexa, play 'Love the Way You Lie' by Eminem" and "Alexa, play 'We Are Never Ever Getting Back Together' by Taylor Swift."
Shortly after Khloe commented on the post, Younes posted another Instagram Story, writing, "Once again, you guys failed. I'm not attached to this 'life,' so you cant touch me. I know who I am, where I'm from and where I'm going, and that bothers you. Only one opinion matters -- the one of my Lord. Have a wonderful day."
When The Shade Room posted that screenshot, Kim commented, "Nice pics from your 'boys trip.'" She even used the emoji with the Pinocchio-like nose.
Waiting for your permission to load the Instagram Media.