During Friday night's episode of "Mama June: From Not to Hot," June was faced with an unwanted surprise when Jennifer and Sugar Bear invaded her Las Vegas getaway for Pumpkin and Josh's wedding.
When June took Alana for a dip in the pool at Planet Hollywood, she was shocked as she saw her ex Sugar Bear sitting on a lounge chair next to Jennifer.
"What the f--k are y'all doing in Vegas?" June asked them.
Sugar Bear replied that since he had some "vacation time" he decided to finally take Jennifer on their honeymoon.
But that answer wasn't good enough for June and she wanted to know the real reason they were there.
"So y'all just decided to just throw your honeymoon the same weekend that we're at here for a family vacation?" June said.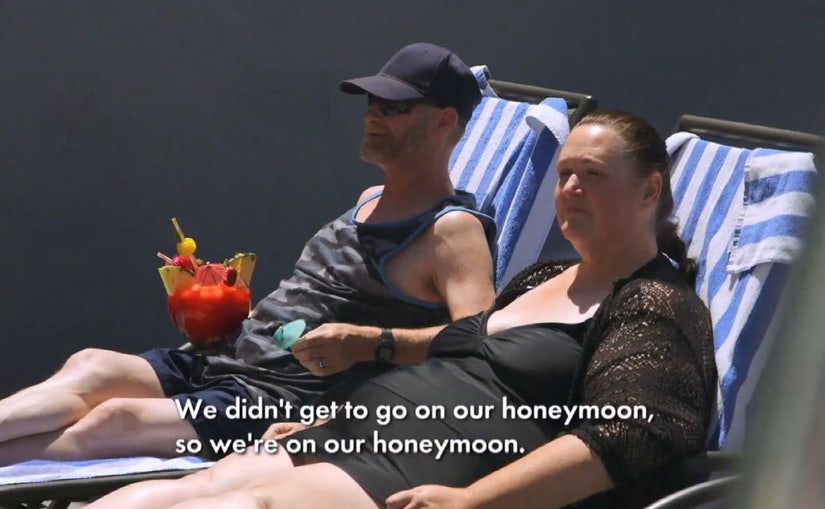 WEtv
This was when Alana piped up and admitted that she invited them to Vegas.
"I invited them Mama," Alana said innocently. "They are staying in Big Mike's room."
At that point, June still couldn't let it go and was convinced that her boyfriend Geno -- who had gotten closer to Jennifer lately -- was behind their unexpected invite.
Read on for more crazy moments from "Mama June: From Not to Hot."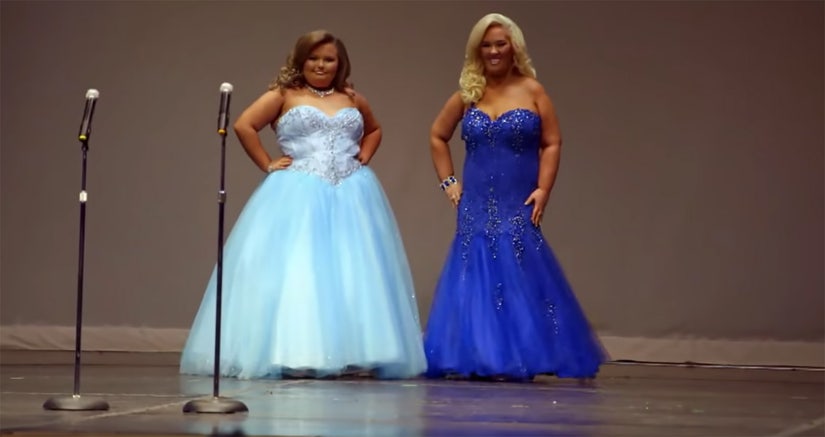 WEtv
In last Friday's episode, Mama June and Alana embarked on their Dynamic Duo mother-daughter pageant that they had been preparing for. The previous episode had left us on a nail biting cliffhanger as the duo were about to perform their talent: a country western dance. However, while both June and Alana were extremely nervous, they seemed to pull it off. They definitely missed some steps but made up for it in the interview portion of the competition.
During the interviews, Alana spoke about the negative affects of being bullied, something that she has experienced first hand. June talked about her weight loss journey and how everyone needs to love themselves, no matter what they look like. The audience and judges alike were touched by their words. Because of this, Mama June and Alana won first-runner up and their coach J.J. Smith was so proud of them.
Also during last week's episode, Alana's friend Lacey was sick backstage. Like a good friend, Alana ran for the medic. In result, seen in this episode, Alana was awarded Miss Congeniality for thinking of others before herself. We're not going to lie, we teared up a little too.
From botched spray tans and weight problems, it's been a rough pageant road for Mama June and Alana. Although they were "frustrating," J.J. said in a confessional that he would "absolutely" be their coach again and it was "a joy" to work with the mother-daughter duo. J.J. is one of the greatest parts of this show, so we really hope he sticks around.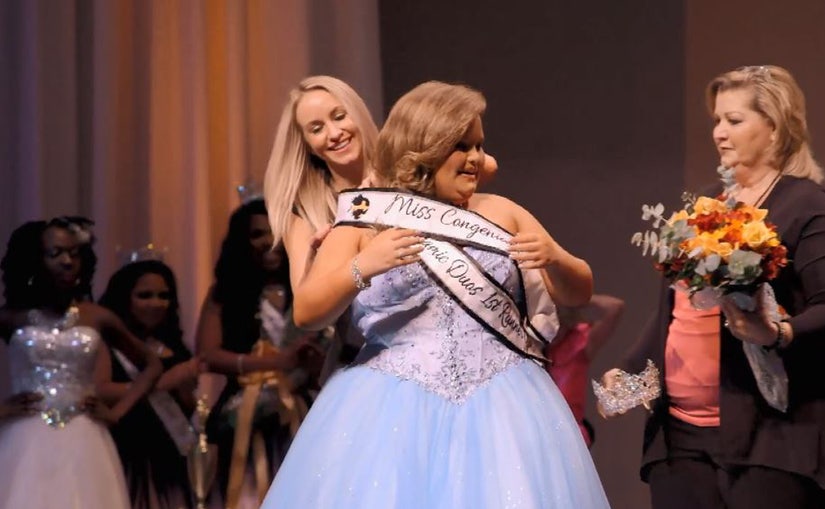 WEtv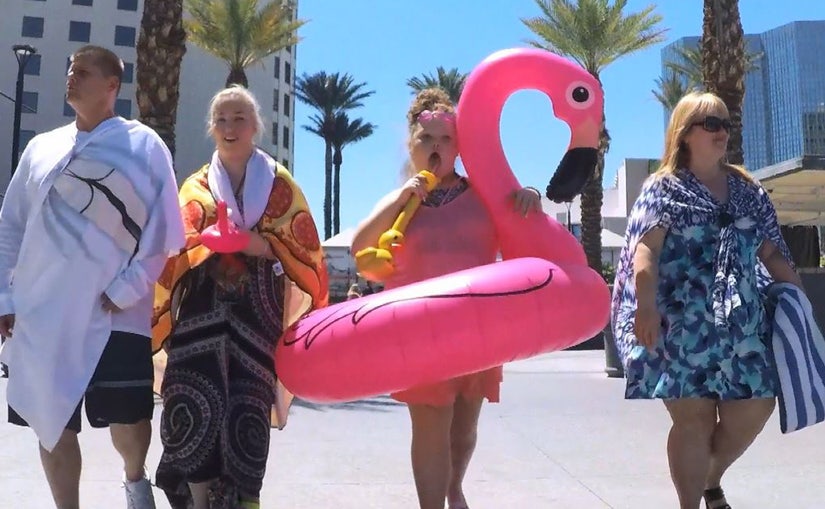 WEtv
After the pageant, the family headed to Sin City for Pumpkin's wedding and for June's launch party for her treat subscription boxes called "Mama June's Southern Treats."
Although June was angry that Alana had invited Sugar Bear and Jennifer, she attempted to be civil for her daughter's sake.
There's no doubt that Jennifer and June have an ongoing rivalry, but June allowed Alana to hang out with her dad at the pool as long as she could see what was happening. At the same time, Jennifer who recently went through the same weight-loss surgery as June, said in a confessional that she hadn't been in a bathing suit for 30 years. Sugar Bear and Alana wanted her to get in the water and take off her cover up, but she still felt uncomfortable.
Jennifer put their feud aside and took a bit of advice from June, when she spoke about loving yourself during the pageant.
"I never thought I would say this in a million years, but I'm going to take some advice from June," Jennifer said in a confessional. "It's still hard getting in the pool because you see people looking and you see them judging you on their face, but I'm going to love me as I am. What can I say? The bobble head inspired me."
Alana Drinks "Butt Water"
One thing that Alana loved about Las Vegas was the amount of sweets and treats that were in their Planet Hollywood suite. While in the room, Alana was living her best life munching on all of the candy, including gummy bears and piles of chocolate truffles.
Geno told Alana that she didn't "need" anymore sweets, because she's so "damn high" on sugar she "can't even think."
But Alana, who was already mid-bite, didn't have a second to take in Geno's advice as the chocolate she bit into is "f--king hot."
"Who put chilies in chocolate?" Alana screamed. "Oh my god, it's too hot!"
Alana ran to the bathroom searching for water and found what she thought was a water "fountain" to quench her thirst.
"Did you guys know there's a fountain in your bathroom?" Alana happily squealed.
June and Geno looked at each other, knowing that Alana didn't find a water fountain, but a bidet.
"Alana, that's not a fountain," June informed her. "That's what you wash your butt with."
"That is butt water," Geno added.
"So you're saying I just put butt water on my face?" Alana said incredulously.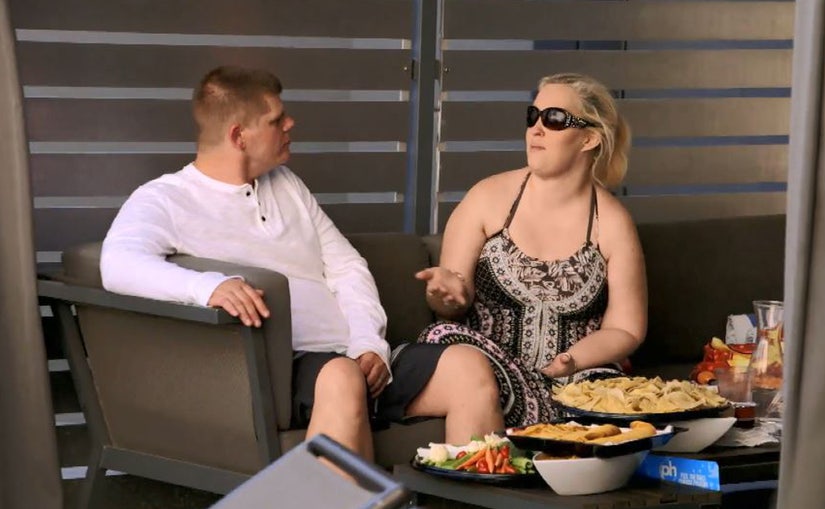 WEtv
While in Vegas, June was very stressed. Although her and Geno were still fighting, she still wanted to shock him with a surprise marriage -- even though he never technically said yes to her proposal. In addition, June was nervous about her launch party, which was in collaboration with Robert Earl, owner of Planet Hollywood. Geno was anxious as well, but only because he said he hates formal events.
The main problem was Geno and June still hadn't had any alone time to talk about the whole Jennifer-phone-call-Geno-running-away-fiasco. At the pool, they started to talk it out and it got ugly. June was so angry that Geno seemed to be taking Sugar Bear and Jennifer's side, when she stressed that he needed to be on her team.
Geno, who still hasn't told June that he never said yes to her proposal, was so frustrated that he explained in a confessional that he was contemplating leaving Vegas.
"I've just about had it with June," he said. "I'm ready to get my next ticket out of here."
"Mama June: From Not to Hot" airs Friday nights at 9 pm EST on WeTV"