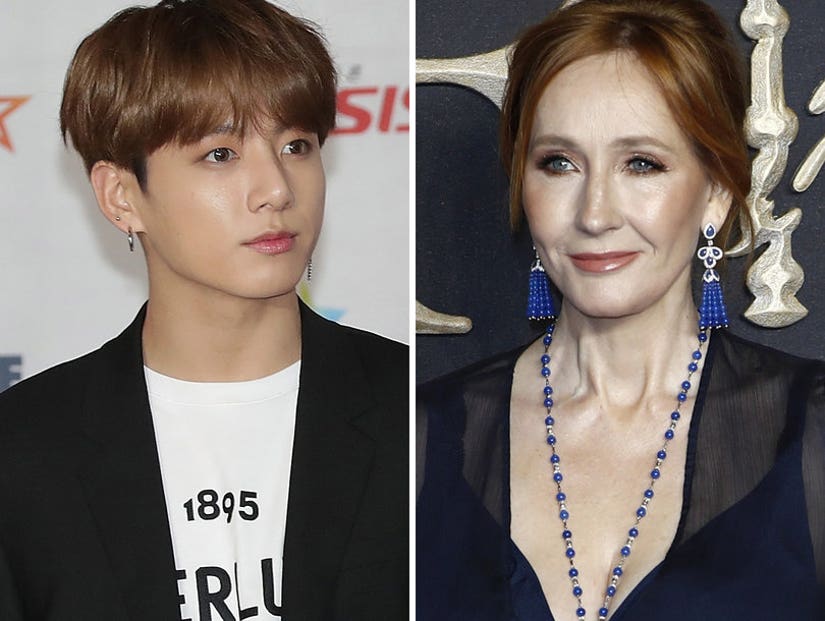 Getty
"Don't hate me but... at first I thought... Jungkook was growling."
Forget the Death Eaters — Harry Potter devotees have gone to war with K-Pop fans on Twitter over who is more famous: JK Rowling or Jungkook.
The bizarre battle began when the Potter author began trending on Twitter on Thursday after 9Gag kicked off a meme that had absolutely nothing to do with the BTS lead singer.
It challenged followers to type "JK Rowling Reveals that you" in their phones and continue to tap the center predictive word until it formed a sentence, with predictably weird results.
Within hours the tweet was liked almost 10,000 times, and almost as many tried it out for themselves and shared their phone's wacky suggestions.
But then things took an even weirder turn, as BTS fans began wondering why Jungkook — who goes by the nickname JK — was trending... and what the hell a "Rowling" was.
Reaction was as fervent as it was varied. Some Jungkook fans saw the funny side of the confusion. Many Potter fans were furious people would even pretend they didn't know who JK Rowling was.
However a good portion were just trying to figure out the connection between a 53-year-old Scottish author and a 21-year-old Korean popstar.
"Don't hate me but... at first I thought... Jungkook was growling,' one fan confessed.
"The fact that people are thinking JK Rowling is trending because of a person named jungkook??? This next generation is a load of Muggles..." a Potter fan cursed.
"You're all children on the internet, you know who JK Rowling is. Her books are the only literature you compare things to," another pointed out.
"You know army basically own twitter right? I mean I feel like we trend stuff by accident everyday," one BTS devotee shot back. "So ofc some of us are gonna mistake jk Rowling as jungkook because of JK so stop acting like your an edge lord and different from the other girlies and that you don't fit in."
See the two armies — Dumbledore's Vs Adorable Representative MC for Youth — go to war below:
There's more tweets thinking JK Rowling is trending because it's Jungkook rather than actually JK Rowling😂😂

@mimagicshop
The fact that people are thinking JK Rowling is trending because of a person named jungkook???

This next generation is a load of Muggles...

@DaustinNews
why are armys thinking the reason why "jk rowling" was trending because of jungkook like Does it not occur to u that she's a famous author . i-

@JINSAINTLAURENT
Why are all these k-pop fans lying that they thought "JK Rowling" was about Jungkook or whatever?

You're all children on the internet, you know who JK Rowling is. Her books are the only literature you compare things to.

@Karn_YT
JK Rowling is a Queen in a world called Wizarding World cause' she created that world. She's best known for writing Harry Potter series & Fantastic Beast screenplay

Now SHUT UP
JK Rowling is not Jungkook

I thought JK rowling trending worldwide cause' she reveals abt new FB film

@AaaaaLestrange
@ all the ARMYs who thought the JK Rowling tag was related to Jungkook,
1) How.
2) No.
3) Stop.
Sincerely,
People with brain cells.

@pineapplekooks
You know army basically own twitter right? I mean I feel like we trend stuff by accident everyday. So ofc some of us are gonna mistake jk Rowling as jungkook because of JK so stop acting like your an edge lord and different from the other girlies and that you don't fit in 🤡

@CripplingTae