Kardashian gives the mag a tour of her "minimal monastery," with special appearances from North, Saint, Chicago and Kanye.
Kim Kardashian shared the spotlight with her family as Vogue grilled her for the publication's viral "73 Questions" series.
For the uninitiated, the videos usually show the magazine's cover star giving a tour of their home, as they answer a number of personal and/or totally random questions from an unseen interviewer.
Right off the bat, Kim's video was a little different than those who have done it beforehand, as she didn't even answer the door when the magazine arrived. Nope, instead Kanye West did the honor, before Kim told him to get out of her shot.
Kardashian's whole family was home as she did her interview, with Kanye and kids North, Chicago and Saint all popping up for some hilarious commentary throughout the tour of their "minimal monastery."
Among the tidbits we learned about Kanye and the kids: Saint loves "Paw Patrol," North West said she really wants to meet Bill Nye and West wants to get in on the sisters' group chat so he can impart parenting advice on them all.
Kardashian also revealed they're "not ready" for their fourth kid yet, adding that Saint wants them to name the baby "Sainty 2."
About West, Kardashian said she loves how he's "always himself" and thanked him for teaching her "major confidence." While she applauded herself for giving him "good financial advice on saving," West interjected by saying, "You give me advice but I don't listen to it." He also said he knew she was the one when he first saw her in a paparazzi photo with Paris Hilton.
After breaking away from her family and continuing the tour, Kardashian was asked to reveal one thing she wished more people "focused on." Her answer: "I wish they would not focus on my ass all the time."
Other answers of note: Kim's hidden talent is "being able to smell when someone has a cavity," she hopes to be remembered for her "many talents" and said the craziest rumor she's ever heard about herself is that she "killed a raccoon with my high heels."
The interview ended with the interviewer asking Kim to hook him up with some Yeezys ... it didn't go well.
Kim's Vogue cover hits newsstands nationwide on April 23.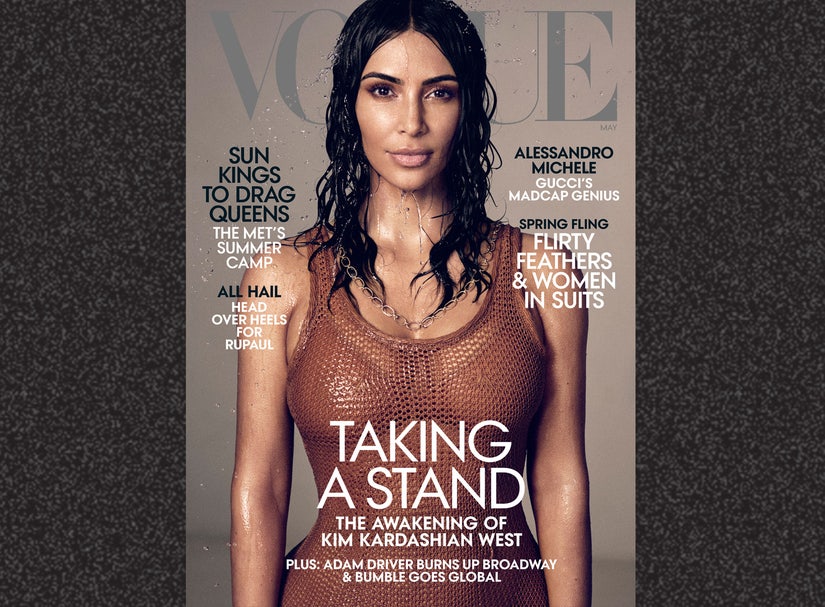 Mikael Jansson/Vogue