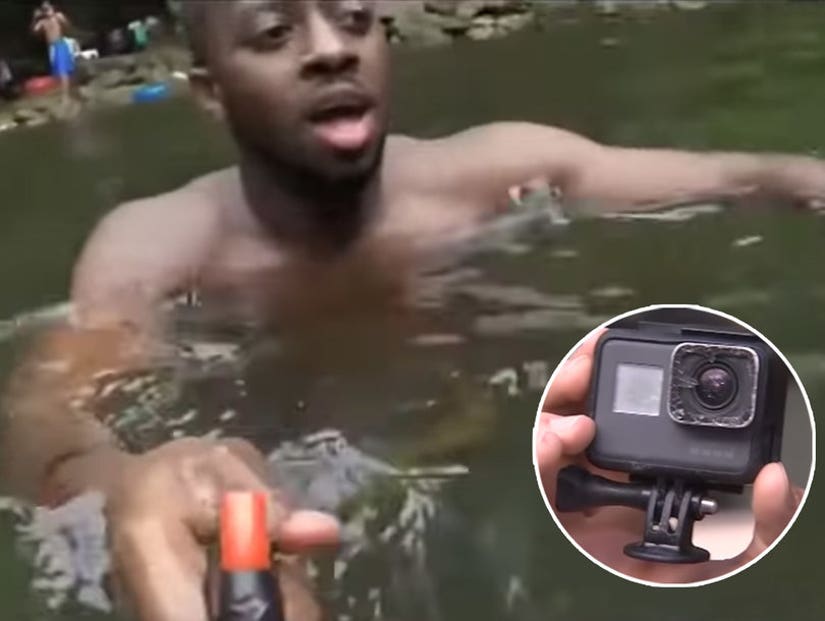 YouTube / GoPro
"I was going through the footage and I said, 'Oh my God, this is the guy.'"
Footage of a man who drowned two years ago has been discovered at the bottom of a waterfall.
The family of Richard Ragland were brought some closure after a treasure hunting YouTuber found the intact GoPro he used to film his final moments.
Rich Aloha captured the moment he found the camera buried in mud at the bottom of the lake.
"I strongly believe that God led me to this GoPro because the only thing I saw was the end tip of the thumb screw and everything else was just covered in muck," he told WSB-TV.
Ragland died on June 4, 2017 — just days before his 23rd birthday — after he and a group of friends went swimming at Foster Falls in Tennessee. The footage shows the 22-year-old laughing and playing in the water, in no apparent difficulty.
"This is what life is all about," Ragland says in the heartbreaking footage, standing in waist deep water with his pals. "Being with brothers and sisters, we living life. We made a decision to live a lifestyle that most people don't live. This is only the beginning... this is only the beginning."
But at some stage he went under water and never came up.
Two years later, his parents received a call from Aloha. After being told about the accident by park rangers, the vlogger tracked down Ragland's mother and father online, and sent them the camera with the intact SD card, which contained their son's final moments.
"I was going through the footage and I said, 'Oh my God, this is the guy,'" Aloha recalls of his astonishing discovery.
"I'm glad I found it, personally, because I try to do the right thing and get the item back to the rightful owner," he said.
Praising Aloha for his efforts, Ragland's mother Robin said watching the footage was like an "out of body experience" — although they hadn't yet been able to bring themselves to watch the entire thing yet.
His mother also revealed that not long after her son's death, the park ranger sent a package to her that was supposed to contain footage someone else had videoed of her son on the day he drowned; when she opened it she found that thumb drive had been stolen.
"He was an amazing young man. We miss him dearly with all of our hearts," she said.