"Unfollow me if you don't like what I post," urges the 25-year-old singer.
Justin Bieber is sick and tired of his followers telling him what to do on his own Instagram page.
On Thursday night, the 25-year-old singer shared a photo of wife Hailey Bieber, sans-makeup. Noting that the 22-year-old model was fresh-faced in the shot, Hailey's doting husband added two weeping emojis and two heart-eye emojis. "Like what??" he wrote in disbelief of her beauty.
While several of Justin's followers praised him for always celebrating his other half on Instagram, one dude in particular thought it was phony.
"You don't need to do this," he commented. "If you really love each other, just live and enjoy it without trying to presume to appear or force someone else to see that 'YOU'RE IN LOVE.'"
"Honouring your wife publicly is actually such an amazing respectful thing to do," JB replied. "It's not only reassuring to her it's also a way of giving people something to look forward to."
But that wasn't all the singer had to say.
"I'm not forcing it down anyone's throat, YOU follow ME," he added. "Should I not make songs about loving my wife or being in love or is that shoving down my love for her down your throat too. This is my life. Unfollow me if you don't like what I post."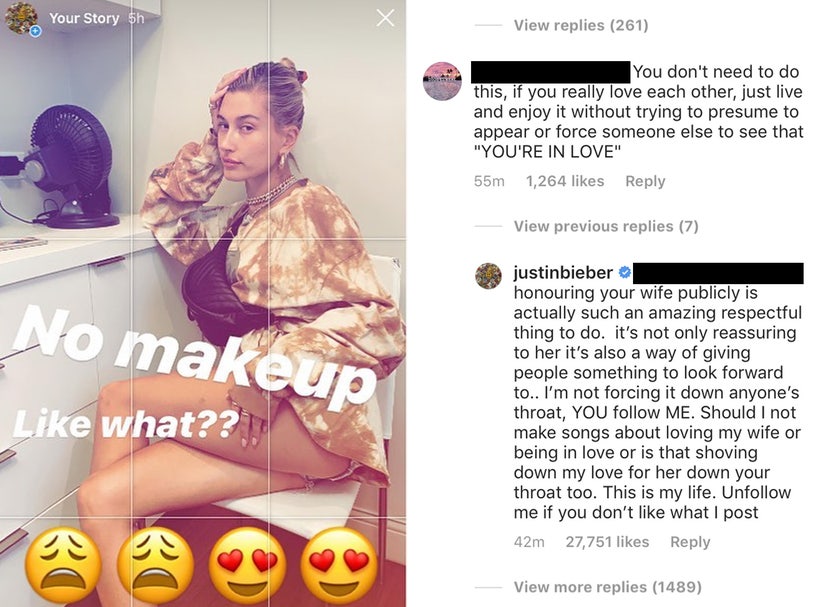 Instagram
It appears the couple has this whole clap-back-for-your-spouse thing down pat.
Back in July, Consequence of Sound posted a story on Twitter with the caption, "It's official: Justin Bieber is a Tool fan," prompting the rock band's frontman, Maynard James Keenan, to reply, "Bummer."
Soon after, Hailey rushed to her hubby's defense.
"He expressed he was a fan of your music. Grew up listening to your music," she fired back. "You must be unhappy with yourself that you want to make people feel small who express their admiration for you. Very childish and hurtful thing to do. I hope u find security within yourself. Sad place to be."
In March, it was Justin's turn to have Hailey's back publicly -- only this time, it was against claims he was still in love with his ex, Selena Gomez.
"You are NOT in love with Hailey! You only married her to get back at SG," a fan account dedicated to trolling the singer's relationship with Hailey commented on a sexy shot he had shared of her lounging in bed. "Plus Hailey sleeps with men like @shawnmendes for fame and she's racist."
"Ur immature the fact that you have an account dedicated to dissing my wife and I is absolutely absurd," he replied. "Why would I dedicate my whole life to someone in marriage to get back at an ex?"
The Biebs went on to say that anyone who believes the claim is "mean spirited or 10 years old," adding, "A logical person doesn't talk or think this way u should be ashamed of yourself really."
Justin then touched on the topic of his former love. Fans were heartbroken when the two officially split last year after a very public, on-again, off-again relationship. And while Justin says he still has love for SelGo, he maintains he's in love with his wife.
"I absolutely loved and love Selena," he wrote. "She will always hold a place in my heart, but I am head over heals in love with my wife and she is absolutely the BEST THING that has ever happened to me period."
The rest of JB's lengthy response urged the person running the fan account to be better. He also told anyone still hung up on his past relationship with Gomez to kick rocks.
"Hailey is my Bride period," he concluded. "If you don't like that or support that that means you don't support me and if you don't support me your not a fan or a good person."
"Jelena" was last seen together at Justin's father's Bahamian wedding in February 2018. By the fall, he was married to Hailey.