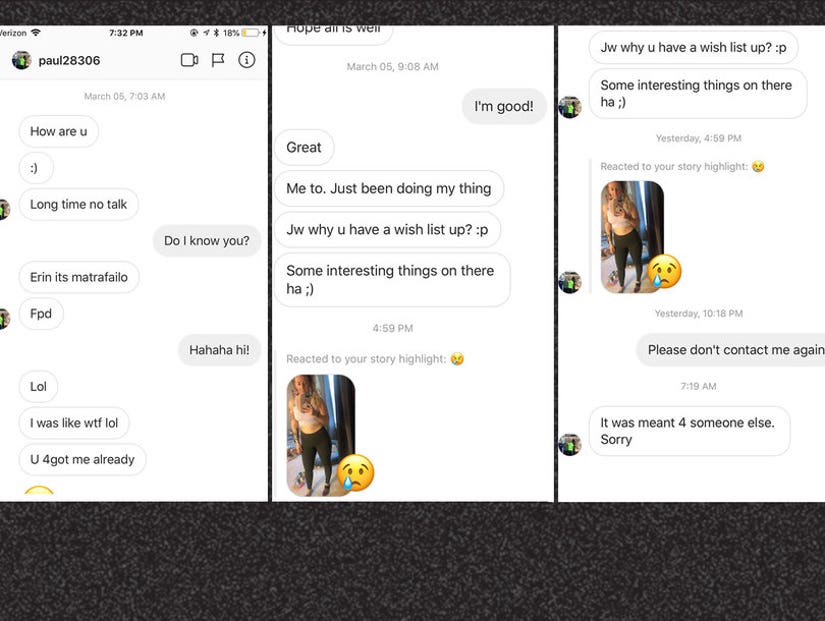 Erin Scanlon
TooFab spoke to one of the victims, who showed us screenshots of the grotesquely inappropriate messages she claims the officer sent her.
An SVU detective has been fired after allegedly hitting on several rape victims from cases he investigated.
Paul G. Matrafailo III was dismissed by North Carolina's Fayetteville Police Department in May, according to a dismissal letter obtained by the Fayetteville Observer.
US Army Captain Erin Scanlon, who was the victim in a rape case in 2016, told TooFab that six months after the trial, she received an Instagram DM from an unknown person.
The screenshot messages Erin provided to TooFab, show her asking who he was, and he apparently replied "Erin its matrafailo" "Fpd".
"Lol" "I was like wtf lol" "U 4got me already" the alleged DMs from Matrafailo continued, followed by a crying laughing emoji.
Matrafailo, Scanlon told TooFab, was the same detective who investigated her rape case in 2016. "He was the SVU Detective for my rape case," she said, adding that he was the one who took her statement. "He seen the same (rape testing) kit, pictures... everything."
In the DM screenshots provided by Scanlon, Matrafailo then pointed out lingerie that was being sold on an Amazon link in her account, asking "Jw why u have a wish list up?" with a tongue emoji, and "Some interesting things on there ha" with a winking emoji.
Erin reported what had happened to a rape case advocate; it soon emerged that she was not the only person this had happened to.
According to Deanne Gerdes, executive director of the Rape Crisis Volunteers of Cumberland County, two more women came to her with similar stories.
Erin Myers said Matrafailo would randomly text her and ask how she was doing, and things got even weirder when he learned she was in nursing school.
"He was like, 'Oh, are you going to be in a nursing outfit?'" she told the Observer, adding that she didn't understand what he was doing, and even contemplated whether he was testing to see how flirtatious she was as it related to her rape case.
She tried to ignore him, until she said she got another message on her graduation day. "'Hey, how are you doing? Are you still mad at me?'"
Not recognizing the number immediately, she asked who it was, and he allegedly replied. "Don't play me. You know who this is." When she said she couldn't talk because she was with her family on her graduation day, she said he replied: "Oh you graduated. Let me take you out. I care for you."
While the two Erins gave up their anonymity to tell their story, the third victim did not want to. But according to Gerdes, these three are likely just the tip of the iceberg.
"I was disgusted," she said. "We work really well with this police department and to have a member of our team do this? We were all disgusted by it. We were all sad for the victims for being re-victimized by their own detective."
The details have been sent to the DA Billy West, who is considering what charges could be brought. Gerdes suggested cyberstalking, harassment, and misuse of police records - but insisted it was up to the community leadership to figure it out, and not the victims.
Erin Scanlon told TooFab that Matrafailo's actions were "a betrayal."
"It's shocking and it's just disappointing to think, is no-one taking me seriously? Can I talk to anyone without being sexualized?" she asked. "This is supposed to be a detective that looked at me as a witness in a crime... not someone to hit on."
"I hope he doesn't interact with victims ever again," she added. "I can handle it, but I don't know about another girl whose rape wounds are more fresh... I don't know how it would affect them."
According to the Observer, Matrafailo's dismissal letter read: "The grounds for the Consideration of Dismissal were based on your actions outside of duty hours which diminished your ability to fulfill your responsibilities as a police officer and which could bring discredit upon the city and the Fayetteville Police Department."
It stated he had been given a written reprimand in May of last year for "unbecoming conduct for sending inappropriate and offensive comments and sharing video of a case to someone not working on the case."
TooFab has reached out to Fayetteville Police Department for comment.