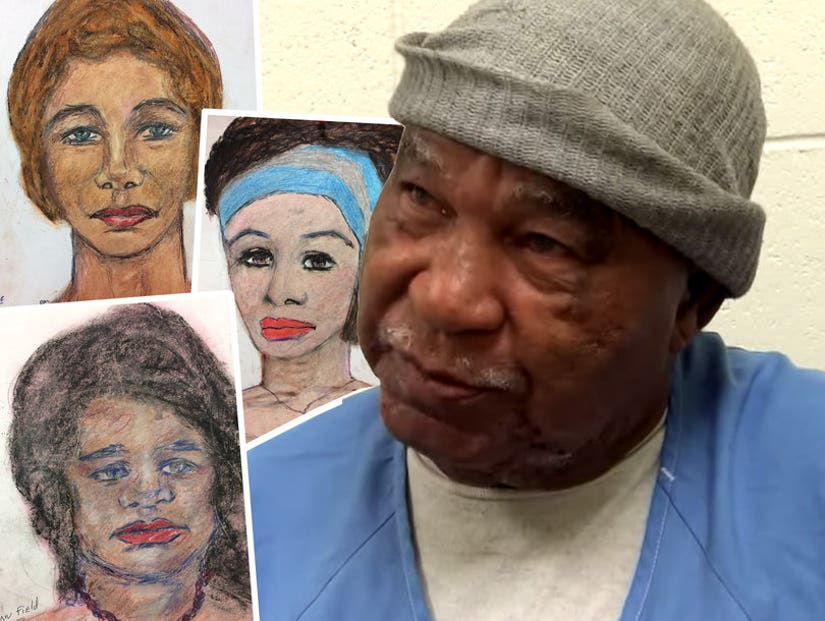 FBI
A talented artist with a photographic memory, his victims are preserved in an eerie gallery of his sketches.
update 12/31/2020 8:30 Am
The California Department of Corrections and Rehabilitation has confirmed that the convicted serial killer passed away on Wednesday at the age of 80.
The murderer was suffering from heart and other health issues; there was no sign of foul play, although the official cause of death is yet to be determined by a coroner.
He goes to the grave with only 60 of his claimed 93 kills confirmed, as the FBI continue their search for his victims.
update 10/7/2019 10:08 AM
Samuel Little claims to have killed 93 women -- and has photographic recollection of almost every murder.
He is the most prolific serial killer in US history — and the FBI is seeking the public's help identifying half of his alleged 93 victims.
On Sunday, the Bureau published several videos of Samuel Little describing his killings in detail. The 79-year-old, who is believed to have a photographic memory, can recite details of his murders from up to half a century ago, down to their exact year, where they happened, the victim's weight, height, and what they were wearing.
The convicted murderer has even provided detailed drawings of several of his victims, which the FBI has published on its site.
While Little has been arrested, charged and released dozens of times throughout his life for theft, assault, attempted rape and fraud, he was only linked to a murder as recently as 2012, when DNA evidence connected him to three killings in Los Angeles in 1987.
A Texas Ranger named James Holland had a hunch Little might be involved in more murders; he subsequently confessed to killing 93 women across 19 states over 50 years.
The FBI has since confirmed 50 of the cold cases, and fully believes Little's remaining 43 confessions; they are now seeking the public's help in identifying the other victims. Many of the deaths were originally ruled overdoses or attributed to accidental or undetermined causes. Some bodies were never found.
"For many years, Samuel Little believed he would not be caught because he thought no one was accounting for his victims," said FBI Violent Criminal Apprehension Program Analyst Christie Palazzolo. "Even though he is already in prison, the FBI believes it is important to seek justice for each victim — to close every case possible."
On Sunday night, "60 Minutes" highlighted the FBI's investigation.
"I got away with numerous murders of women in my life, over a span of 50 years," Little tells the camera.
"Why are we doing this? I very rarely speak to the media," Holland said. "This was important to us because we are at the end of this investigation; we believe that if Samuel Little described the victims, where he met the victims, where he left the victim's bodies, in his own words, it may help a family member, it may help a retired detective, a newspaper reporter, someone who lived in the area, to come forward and provide us with information."
Indeed, the strategy has already proved successful in the past; after posting one of Little's sketches in the Chicago Tribune, a man contacted the FBI to identify the victim as his mother — even though he was only five years old at the time of her killing.
As for why Little is taking part, he admits there are probably numerous people who have been wrongly convicted for crimes he committed in the past.
"If I can help get somebody out of jail, you know, God might smile a little bit more on me," he said.