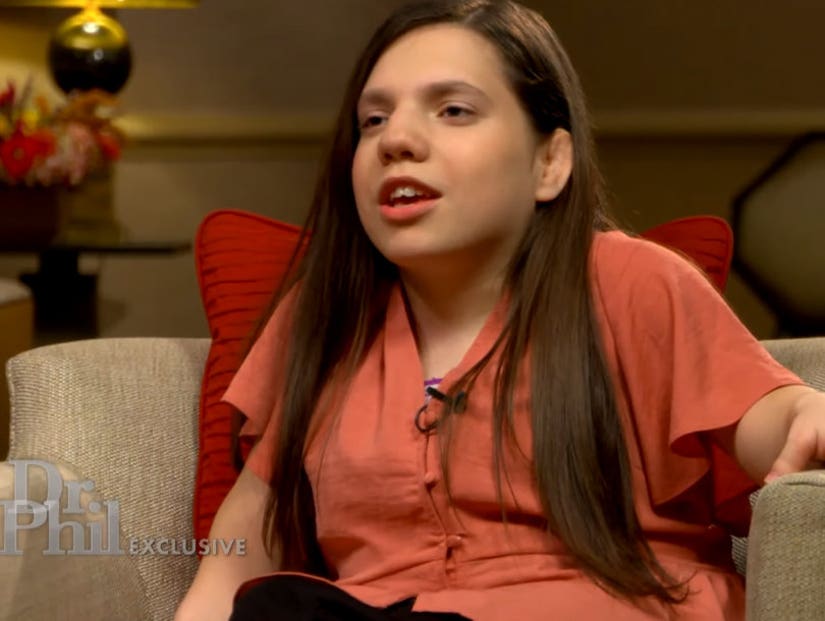 Dr. Phil / YouTube
"I don't want people to be scared to say hi to me," she confessed on "Dr. Phil."
The Ukrainian orphan caught in the middle of a bizarre adoption scandal is denying all allegations that she is a mentally disturbed adult hellbent on killing her adoptive parents.
Natalia Grace -- who has a rare form of dwarfism that makes it difficult to gauge her age -- was abandoned by Michael and Kristine Barnett in 2013 after they said she was far older than she claimed and attempted to murder them on more than one occasion, according to The Daily Mail.
During an appearance on Thursday's "Dr. Phil", Natalia, alongside the couple she currently resides with, Antwon and Cynthia Mans, said she is 16-years-old and all assertions by the Barnetts -- who have since divorced and were arrested and charged on two counts of felony child neglect -- are "not true at all."
"To me it doesn't matter how old you are," said Dr. Phil. "You're a human being who needs love and caring. So I guess it comes down to whether or not you are an evil psychopath demon child that's come over here to murder everybody."
Natalia gave a quick laugh and shook her head in denial.
The Barnetts reported Natalia came to them through an adoption agency in 2010 and was thought to be between six and eight years old. But in June 2012, the Barnetts legally changed the girl's birth record to indicate she was born in 1989, making her 22 at the time, according to USA Today.
After they were arrested for leaving Grace in Indiana while they moved their family -- including three sons -- to Canada, the Barnetts claimed Grace was a "sociopath" and a "con-artist" with plans to murder them after Kristine caught Natalia allegedlypouring household cleaner into her coffee. They said they took Natalia to a stress center after the event.
"While at the stress center, she was documenting, she was telling doctors, she was telling therapists, she was writing down on her notepad. Not only am I trying to kill Kristine, but I'm going to kill the brothers, too. Here's how I'm going to do it. Here's what I'm going to do with their bodies," Michael said on a recent episode of "Dr. Oz."
After being abandoned, Natalia lived on her own in an apartment before the Mans befriended her and took her in to their own home, the Mans told Dr. Phil -- who, however, did find it hard to believe Natalia was on her own for so long.
The TV host asked what Natalia wanted the public to know after Kristine "painted you as an evil psychopath, some evil dwarf that's gonna pop up and poison their coffee or stab them in their sleep."
"I don't want people to see me as what they have been saying I am. I want them to see my personality. I want them to see me. I don't want people to be scared to say hi to me," Natalie confessed.
"I think you're taking a giant step in that direction today," Dr. Phil told her.