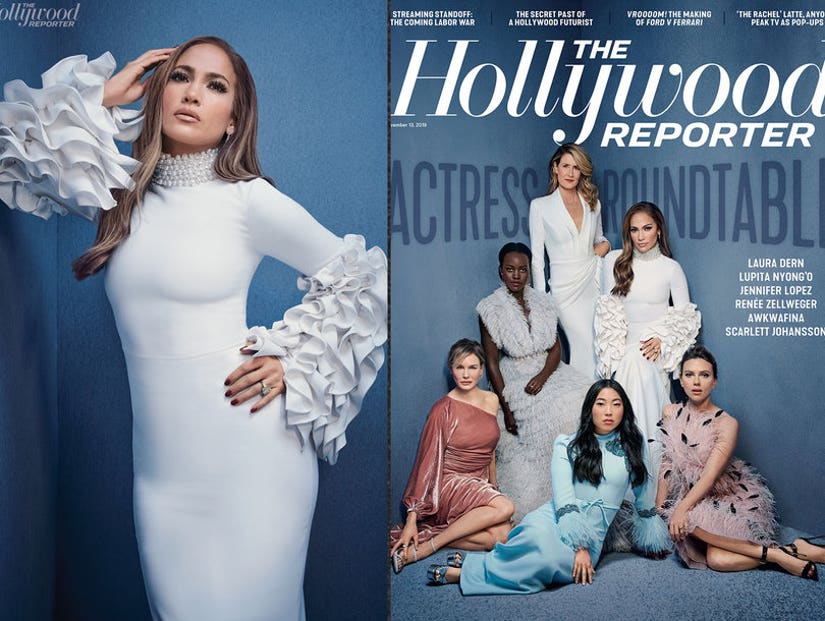 Kwaku Alston/THR
"It afforded an opportunity to be inappropriate if you were so inclined," said Renee Zellweger of hotel room auditions.
The leading ladies of Tinseltown came together for an Actress Roundtable to discuss how they navigate Hollywood in the latest issue of The Hollywood Reporter,
"I started auditioning at 10, 11 years old. I listen to the next generation, saying, 'People used to have auditions in hotel rooms?' I'm like, 'Yeah, every single time, waiting in the lobby of a hotel and the director is waiting for you in the room to have a chemistry read,'" explained Dern.
Lopez said that "it didn't seem weird" at the time, but Awkwafina -- relatively new on the scene -- was taken by surprise. Lopez assured her, "Sometimes it was not inappropriate at all. It was totally professional. So it's not like you can put everybody in that category."
Zellweger jumped in to make a distinction, however, as she said, "No, it just kind of afforded an opportunity to be inappropriate if you were so inclined."
The conversation reflected how the #MeToo and Time's Up movement began in light of the Harvey Weinstein scandal. The mega-producer was accused of sexual misconduct by over eighty women in the film industry after a 2017 article in The New York Times reported he allegedly paid off accusers for years. A number of the accounts allege the misconduct took place in hotel rooms, under the guise of business meetings.
Lopez recalled a meeting with a director -- albeit in a fitting room, not a hotel room -- who asked her to take her top off before they even began shooting the film.
"Because I was supposed to do nudity in the movie," Lopez began. "He wanted to see my boobs. And I was like, 'We're not on set.' And I said no, I stood up for myself. And by the way, there was a costume designer in the room with me. So there was another woman in the room and he says this and I said no. Luckily a little bit of the Bronx came out, and I was like, 'I don't have to show you my — No. On the set, you see them.'"
Johansson said, "Thankfully you were like that, because not everybody would feel that way."
"And because I put up a little boundary right there and said no, he laid off and then later on apologized. But the minute he walked out of the room the costume designer was like, 'I'm so sorry, I'm so sorry that just happened,'" Lopez explained.
But the actresses all agreed that the climate has shifted for the better since the conversations regarding systematic abuse and inequality have become part of the zeitgeist.
"It's easier to tell when something is inappropriate," claimed Nyong'o. "A little more empowered," agreed Lopez.
"I hear the conversations and I've been in professional partnerships with men who make different choices now, even if it's just to be clear about what their intentions are," pointed out Zellweger.
"Yeah, they keep the door open. Or I had one gentleman say, 'I don't meet with women alone. I always make sure that there's somebody else in here because I don't want anything to be misconstrued or misunderstood and I want her to be comfortable.' So you see that there are different choices being made," she added.
The actresses are proud of how they've made a difference, not only by calling out the injustices, but by being proactive and advocating for greater inclusivity in Hollywood.
"We've stood up and said, 'Hey, we don't want this to be going on and it's been going on a long time and it's enough.'" explained Lopez, adding, "On a more positive note, we have movies like "Hustlers" and "Little Women" and all these other movies where there's women at the forefront, and we're producing and we're directing, we're writing it, we're editing it."
Nyong'o agreed, hoping it is the new normal.
"This is a time where there is a concerted effort to consider diversity and inclusion. What I really want is for it to not be a fad, not be a trend. Right now it's really dope and cool and on trend to work with women and underrepresented groups, but the moment of maturity in the industry is when it is just the norm, you know?"