"We were up late at night in the kitchen together when everyone else was passed out," the former Housewife tells TooFab.
UPDATE 11/15/19 1:27 p.m.
Aaron Carter has responded to Alexis Bellino's comments regarding their fallout.
"Who?" the singer tweeted alongside this article, adding in another tweet, "My mom I curios with this artyicle Alexis. And I'm keeping my cool. I have some serious personal issues and we were never friends in the first place. Don't even try it HOMEGIRL. I ain't the one."
In a third post, Carter wrote, "I was in the hospital and my mom blocked all my calls so I could recover. That's not how you treat someone when they're sick."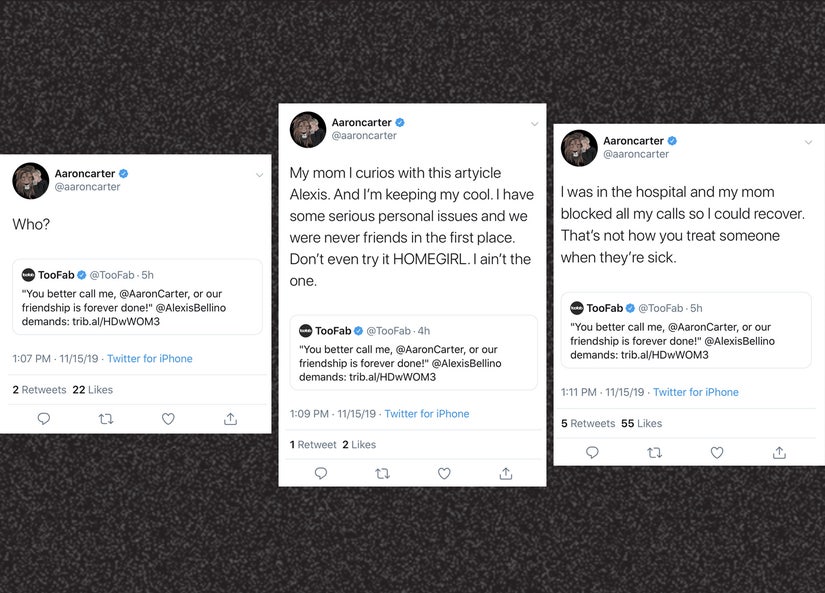 Twitter
ORIGINAL STORY 11/15/19 8:04 a.m.
During a recent interview with TooFab, we asked Alexis if she kept in touch with her fellow boot campers. "Oh, yes, all of them!" she replied excitedly. "We were all really good friends." That's when she paused and interrupted her own train of thought to declare just how mad she was at the singer.
"He changed his cellphone, and he took my number at the end of the premiere party and goes -- this is how phony he is, okay? -- he goes, 'Alexis!' He comes over to me at the end of the premiere party, he knew [my boyfriend] Drew [Bohn] and I were leaving, and he's like, 'Hey! Hey! Gimme your cellphone! You're the only boot camper I keep in touch with! Gimme your cellphone!' Gave him my cellphone," Bellino recalled. "He never texted. He never called."
"Lo and behold," she continued, "the episodes start coming out, and he's like totally reaming me! And I'm like, 'Dude! We were like bros in the house!' He had a girlfriend, and I was dating somebody, and we were up late at night in the kitchen together when everyone else was passed out. We were up at 2 a.m. and we just bro'd. Then I see it air, and I'm like, 'You're calling me phony, but you're bagging me [in your confessionals] when I'm your friend in the house?'"
"You better call me, Aaron, or our friendship is forever done!" she added. "Or text me or something, 'cause I am so pissed off."
In the first few episodes of this season, Drs. Ish and V openly expressed frustration over the fact that this group of participants was simply too nice. The doctors wanted the boot campers to be open and honest with themselves and others during certain exercises so that they could identify their issues and help them heal. Alexis told us she wishes Aaron would've taken advantage of his time in the house to tell her to her face how he was really feeling.
"He had 17 days to tell me he thought I was acting a certain way or doing this or doing that," she said. "He called me fake and phony and annoying, all in behind-the-scenes interviews!"
As for why being called fake is such a trigger for the reality star, she explained it goes back to her "Housewives" days.
"People think that the Alexis that they meet and see is fake and phony, but I'm just a caretaker," explained the mom of four. "I don't know why. I put everyone else before myself, and I don't know if it's because of my upbringing or what, but people think I'm phony or I'm just trying to kiss butt or make a friend... I just love people, and I love to have everyone around me be good and happy, and then I'm okay. And then I feel good."
"But then like Dr. Ish pointed out, he's like, 'But Alexis, it's because you're masking what is going on with you,'" she recalled. "I went to bed that night, and I was like, 'Holy crap, he's so right. I wanna fix everyone else because I'm so messed up.'"
Despite the fact that she wanted to quit early on into filming, Alexis feels "Boot Camp" could not have come at a better time for her. She was newly divorced from ex-husband Jim Bellino, away from her kids for an extended period of time for the first time ever, and reluctantly facing the codependent mother-daughter relationship she had grown to resent.
"I cried for two or three years before our divorce, but I didn't cry going through it very much," she told us. "And then I cried so much in that house because I think I was just needing to release and not have to be so strong for everyone all the time. It was huge for me. I'm so thankful for 'Marriage Boot Camp.'"
Alexis participated in "Marriage Boot Camp: Family Edition" with her mom, as did Aaron.
In TooFab's exclusive sneak peek of Friday's new episode, Alexis walks into the dining room, where Aaron and mom Jane are "talking shit." Though unclear who exactly the Carters are speaking about, the next scene shows Alexis approaching fellow boot camper Corey Feldman to inform him that "some people in there are saying that you are not taking full advantage."
"They're feeding that into their brains!" an upset Corey replies. "And that's making me a punching bag."
"Marriage Boot Camp: Family Edition" airs Fridays at 10 p.m. on WEtv.