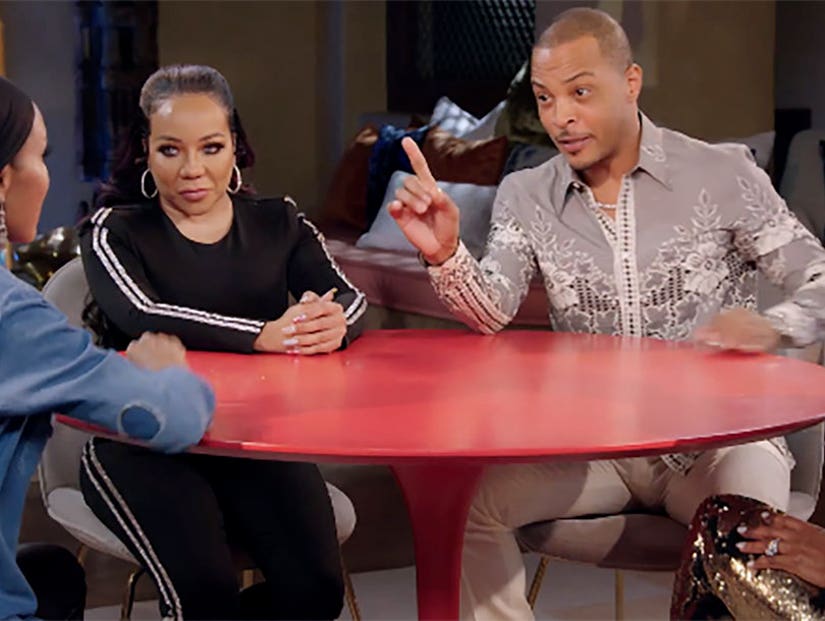 Facebook Watch
"She did have a problem with me talking about it," the rapper says of his daughter.
T.I. came to "Red Table Talk" on Monday to attempt to set the record straight about his controversial comments about his daughter.
The rapper made headlines after, in a podcast interview, he said he annually accompanies his now-18-year-old daughter Deyjah to the gynecologist's office to ensure she's still a virgin.
Before sitting down with Jada Pinkett Smith, Adrienne Banfield-Jones and his own wife Tiny, Will Smith stopped in to say hello real quick, before telling him "Good luck brother" and disappearing.
Waiting for your permission to load the Facebook Video.
Calling the issue "Hymen-gate," Harris said his comments were made in a conversation he was having "in a very joking manner," but admitted they did come "from a place of truth." He added, "I began to embellish and exaggerate and I think a lot of people took it extremely literal. I honestly thought people knew me better than that."
"My intentions have been terribly misconstrued and misconceived," he continued, before addressing some reports head on. "I never said I was in any exam room, that is an assumption, that is a falsity. I never said it was being done present day, as an 18-year-old. And I never said that her mother wasn't present. Her mom was present. This false narrative has just been sensationalized."
He claimed that both Deyjah and her mother "welcomed" his presence.
"She did have a problem with me talking about it and I am incredibly apologetic to her about it," he continued. "She understands my intention, she knows who I am and who I've always been. The outside, the noise is distracting, it's confusing and it's hurtful and embarrassing."
The rapper claimed that he didn't speak out to defend himself sooner because his daughter told him to "just let it go" and not say anything. But then she gave him "different directives," saying he could "go ahead, make it stop, clear it up." He added that he "would not be here today had I not had those different directives."
Jada said that, with Will, she told him, "Love your daughter, let me teach her." She added, "There's certain sensitivities you might not understand or have."
Jada also revealed that she and Willow do their best to educate Will so he comes across respectful of women.
"He says the craziest stuff. We educate that joker before he leave the house," she explained. "He's one of those that likes to tell stories and sometimes goes too far. Willow has gone at her dad several times for very insensitive comments, whether it was around mensuration, or 'You must be PMS-ing.' She's like, 'That right there, we're not gonna do that!'
When TI said he was "so sorry Willow couldn't make it" to his discussion, Smith added, "You know what TIP, I think you might be happy in the long run" she didn't.
As the conversation continued, he said "I'm not there to protect virginity, I just know that is a big move, once you make that move there are things that happen that follow, you have to be equipped and I don't know if you're equipped. Awareness is my first line of defense."
"That's different, that's education," Jada told him. "You only have so much control."
Smith then made sure he was aware that hymens can be broken by "riding a horse," or a sexually active woman could still have hers intact. He was not. Adrienne also said she believed it would be different had he learned his son was sexually active instead of his daughter.
"If my son goes out and gets a girl pregnant, how is the household changed for those nine months? My household is not necessarily changed those 9 months," he explained. "Whereas, if my daughter comes home, my household is changed immediately. So the stakes are higher."
Speaking to Nazanin Mandi and Nadia Moham on their podcast Ladies Like Us, TI was asked if he has had the "sex talk" with his daughter yet.
"Have I? This is the thing: Deyjah's 18, just graduated high school now and she's attending her first year of college, figuring it out for herself," he said. "And yes, not only have we had the conversation, we have yearly trips to the gynecologist to check her hymen."
He said he even goes into the appointment with her to hear the results for himself, insisting his daughter sign a release. "I will say as of her 18th birthday, her hymen is still intact," he proudly declared.