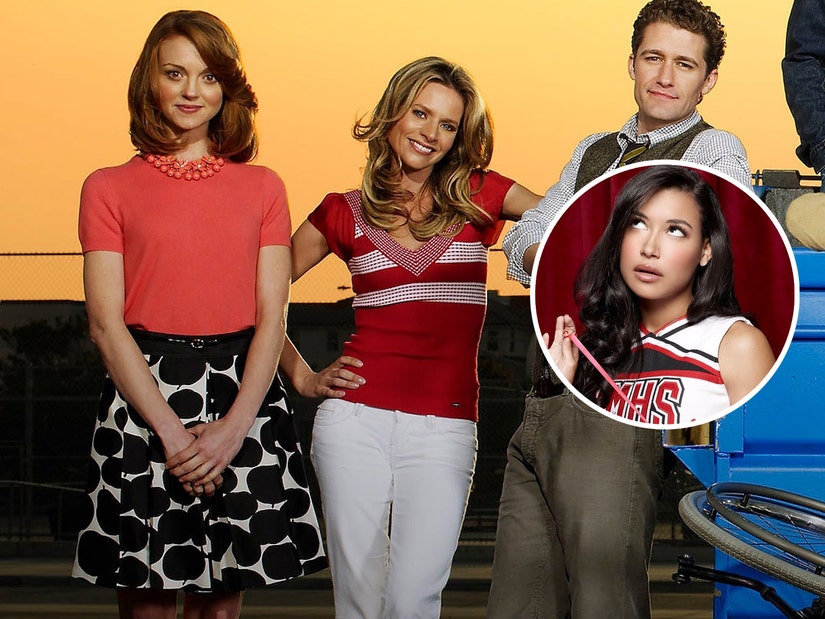 Getty
The actress also looks back at her arc on "Nip/Tuck."
Taking part in the tribute were a handful of show alums who'd all worked alongside Rivera at one time or another during the show's run -- including Jacob Artist, Chris Colfer, Darren Criss, Dot Marie-Jones, Vanessa Lengies, Jane Lynch, Kevin McHale, Heather Morris, Matthew Morrison, Alex Newell, Lauren Potter, Amber Riley, Harry Shum Jr., Becca Tobin and Jenna Ushkowitz.
"I was so honored to be invited, to be a part of that," Gilsig told TooFab after the tribute aired. "Naya made such a meaningful contribution to our culture, and when you look at that show and you think of the journey we've gone on as a country, you can link a lot of it back to when that show started and the conversations that it started and the space it created for young people to finally be able to live in their authentic selves."
"It just goes without saying, it's a horrible, horrible, horrible accident, it's haunting if I'm honest," she said of Rivera's tragic death, "but that being said, I think it's a testament to that cast. That event, Jenna was the one who brought that event together. They are really remarkable young adults now and they make a difference in the world. I'm not nearly as famous or as known as they are, but the fact that they even included me in that story, I was really honored to be a part of it."
Of her costars, she added that "Everybody's path is different and everyone's going to have different experiences and move at different paces, but there's something very grounded about them. They've experienced an incredible amount of success together, but they've also experienced tragedy in a way that only they can relate to, and it's nice to see that it's brought them closer."
Even before Rivera's death, "Glee" had become somewhat of a viral sensation on social media in recent years -- with old clips being recreated on TikTok, show moments becoming memes and, in the past year, people doing full rewatches during the pandemic. The newfound popularity is something Gilsig has noticed firsthand.
"It's crazy. It felt like it came up as this very quiet wave. I think once it moved to Netflix, and then what happened was also a whole new generation of kids who were just born when 'Glee' came out, they were discovering it," she said. "I will also say that I feel in this second wave of 'Glee,' my character Terri Schuester is getting a better perception."
When we noted a lot of people on social media do not care for Mr. Schu, played by Matthew Morrison, she exclaimed, "It's 'cause he's a cheater!"
"It's a little bit of a difficult character to play because she was considered this villain and nobody liked her and she was a liar," Gilsig continued, "and I always thought, look this woman -- as misguided as she is -- is completely generated by a desperate desire to save her marriage and keep her man, but obviously with terrible motives."
Recently, though, the actress says people have reached out to her saying, "You know what, now that I look back, you know that Emma, that guy was married. Why was she hanging around him? And why isn't he going home after 'Glee' rehearsal, why was he hanging around?'"
She added that she's felt "a little bit of redemption" for her character thanks to the resurgence.
We also quickly asked her about her time on another one of Ryan Murphy's shows, "Nip/Tuck," where she played Christian Troy's drug and sex addict, sometimes-girlfriend Gina Russo.
Saying the show was "so ahead of its time" with what it was able to do on FX, she remarked that it's "not so crazy" by today's standards.
"Somebody asked me once if I ever said 'No' on that show, did I ever say, 'That's too far, I'm not gonna do that,'" she recalled, "and it's interesting, it never crossed my mind."
"It's not because I'm somebody who doesn't have boundaries. I think it's because I felt that that character, she was such an amazing character and I had such love for her," she continued. "I had a specific person that I know in mind. You know when you have this friend that just keeps running this same pattern, but is expecting a new result? You love them, but you are also thinking, 'How many times are you going to reinsert yourself?' And that's who Gina was."
"Especially back then, I don't think that people were writing such complex characters for women, so I felt very protective of her," she added. "And I thought it was plausible that she would put herself in these ridiculous situations in hope of getting a new result each time."
When we brought the idea of seeing her on Ryan Murphy's "American Horror Story," she exclaimed, "There's been like 30 seasons. How many is it gonna take for me to get over there?!"
She added, "We'll see you know? Just let Ryan do his thing. The man's got a plan. We know that for sure."
For now, Gilsig stars on Disney+'s new show "Big Shot," with new episodes every Friday.