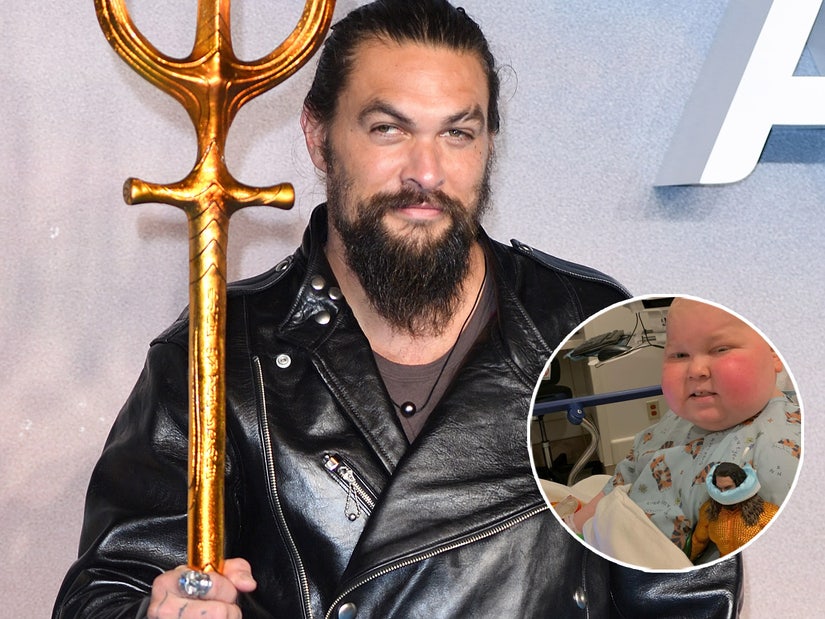 Getty/Instagram
"You will live in my heart"
Jason Momoa took to Instagram today to mourn the death of one of his youngest super fans. Danny Sheehan was eight years old and tragically lost his battle to a rare and aggressive form of brain cancer called Pineoblastoma.
The Aquaman actor wrote, "Just found out this heartbreaking news. All my Aloha to this beautiful Ohana, love u baby boy rest in peace, you will live in my heart."
Waiting for your permission to load the Instagram Media.
Momoa also vowed to dedicate the upcoming "Aquaman 2" to little Danny, who he had previously connected with via FaceTime after Danny posted a viral video of him enthusiastically opening an Aquaman toy last December.
The call was posted to the Aquaman star's Instagram where Sheehan excitedly greeted, "Hi Aquaman! I'm so excited!"
"Hi beautiful boy!" Momoa responded, "I'm excited, I've been hearing about you from all over from all of my friends and I wanted to call you and say hi and see how you're doing."
Danny later shared a secret with the actor and admitted to the fact that he's never seen or ridden on a dolphin and Momoa suggested they should ride dolphins together one day.
Waiting for your permission to load the Instagram Media.
Sheehan's family posted the news of his heartbreaking passing to their FaceBook account "4TheLoveofDanny".
The FaceBook post shared, "Just after midnight, while in our arms, Danny took his last sweet small warm breaths and took flight. An Angel in Heaven. Instead of here on earth. Surreal and utter heartbreak can't even begin to describe this feeling inside."
Celebrity friends and fans flocked to Momoa's post to show their support and sorrow for the 8-year-old and his family.
Waiting for your permission to load the Facebook Post.
The Suicide Squad's David Dastmalchian shared his solidarity with a series of emojis and actor Timothy V. Murphy said, "So sorry to hear this…at least you brought a smile to his face for a while."
Another user commented, "Thank You for making Danny feel so special during your call to him. The Community of Marshfield Massachusetts and the surrounding Towns will surely miss this little boy. We all loved Danny."
Personally dedicated to little Danny, the Aquaman sequel will be out in 2022.