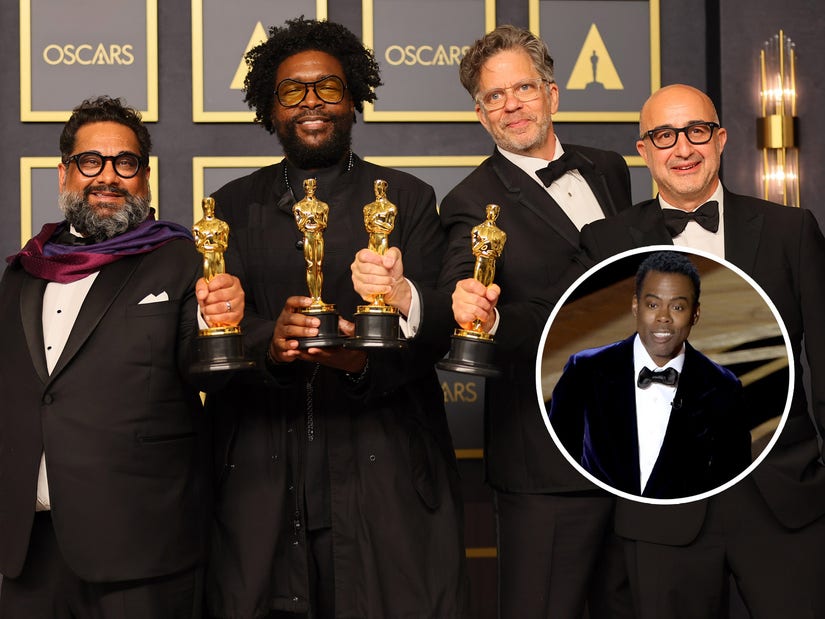 Getty
"What both Will AND Chris did really stained what should have been a beautiful moment for us," says the Summer of Soul producer.
While a lot of heat has been thrown in Will Smith's direction following the slap seen 'round the world during the Oscars, one winner from Sunday's ceremony is calling out Chris Rock for disrespect as well.
Though many viewers were, uh, distracted and quickly took to Twitter to sound off on what they had just witnessed, the show went on for Rock, who then presented the award for Best Documentary. The trophy went to "Summer of Soul," with Questlove (real name Ahmir Thompson) accepting the honor alongside Robert Fyvolent, David Dinerstein, and Joseph Patel (left, above).
But Rock ticked off at least one of those winners by referring to them as "Ahmir Thompson and four white guys" when announcing the award.
"The reason that makes me SO SO VERY ANGRY is because I was so proud to be one of a handful of South Asians to have ever won an Oscar in the history of the award," tweeted Patel, who is Indian-American, on Wednesday. "I was ecstatic that I was the 3RD South Asian to win that night," he added, referring to earlier wins for Riz Ahmed and Aneil Karina for Best Live Action Short. "Three South Asians winning on the same night – that's never happened before! And it's meaningful! It's history!"
"I'm a big boy — I can take a joke. Comedians make jokes. But not in that moment," he added. "What a s----y, disrespectful thing to do. I got back home to New York last night and saw the ceremony on my DVR and didn't have the stomach to watch it. I probably never will."
"Thank you, Chris – You absolute f---ing dick," he continued.
Patel was also frustrated that Smith's slap "robbed" them of their moment in the sun.
"I think what Will did was selfish. It robbed the category of its moment. It robbed the other excellent and amazing films of their moment to be acknowledged in what was a STRONG year for docs," he continued. "And it robbed Summer of Soul and our team of our moment. Of a loud, enthusiastic cheer for a celebrated film."
"I never need a statue to tell me how nice I am – but it sure helps," he added. "And what both Will AND Chris did really stained what should have been a beautiful moment for us. Also it goes without saying I speak for me and me alone. Not Ahmir and not our coproducers."
Patel later deleted his tweets because, as he put it, "we reached the unproductive portion of the viral Twitter thread." He added, "I said what I needed to say and feel at peace with it. Some of y'all are weirdos."
Smith did issue a public mea culpa on Instagram following the ceremony, saying he "reacted emotionally" to "a joke about Jada's medical condition" and apologized to Rock for his "out of line" actions.
"I would also like to apologize to the Academy, the producers of the show, all the attendees and everyone watching around the world," he added.
See how Hollywood has been reacting to the moment below: