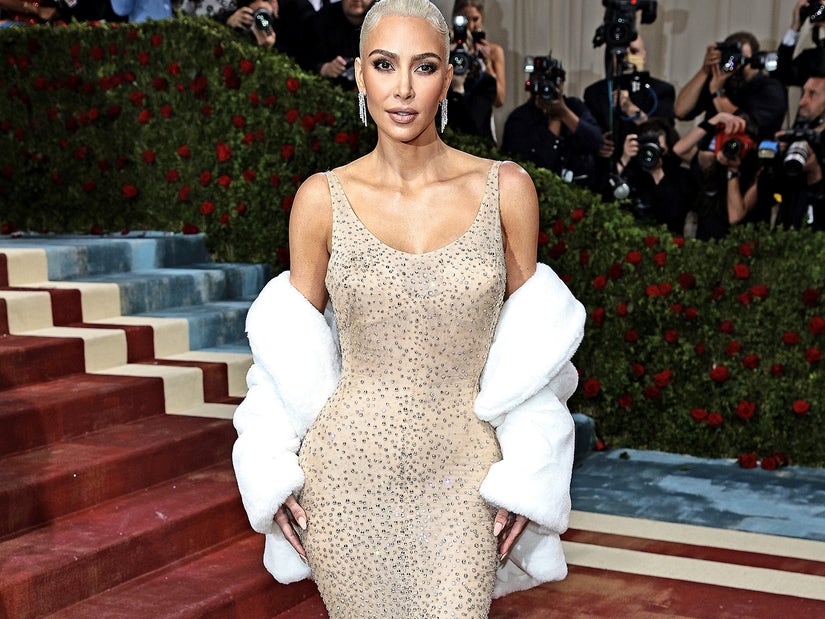 Getty
The reality star wore the iconic gown, which Monroe wore when she sang "Happy birthday, Mr. President" to John F. Kennedy in 1962, just long enough to cross the Met Gala red carpet.
We've seen what actors and actresses will put their bodies through for a film or television role, but how about for a few minutes as you walk a red carpet?
According to Kim Kardashian, she put herself on the strictest diet in the three weeks leading up to the 2022 Met Gala event on Monday night because she was determined to fit into one of the most iconic dresses in Hollywood history.
Marilyn Monroe became a meme long before such things even existed when she sang in her sultriest voice to John F. Kennedy in 1962, "Happy birthday, Mr. President." The moment would go down in history, as would the dress she was wearing.
And now, 60 years later, it went down the red carpet at the 2022 Met Gala adorning one of the modern era's most famous figures, as confirmed by Vogue. In the spirit of the original, Kardashian even sported blonde hair for the event.
Thank you Ripley's Believe It or Not! for giving me the opportunity to debut this evocative piece of fashion history for the first time since the late Marilyn Monroe wore it. I am forever grateful for this moment. ✨🕊 pic.twitter.com/XiXNclCEgB

— Kim Kardashian (@KimKardashian) May 3, 2022 @KimKardashian
It was her first Met Gala on the arm of her beau, "Saturday Night Live" star Pete Davidson, who looked as dapper as his lady in a very sharp tuxedo. Together, they were stunning -- but it took some work to get this way.
"I tried it on and it didn't fit me," Kardashian told Vogue at the event. "I said, 'Give me three weeks.'" She then revealed that in that span she'd lost 16 pounds in order to get the dress fully over her figure.
"It was such a challenge. It was like a [film] role," she said. "I was determined to fit [in] it. I haven't had carbs or sugar in about three weeks. We're having pizza and donut party back at the hotel [after]."
Kardashian's troubles aren't exactly unprecedented, though, with People noting that Monroe was reportedly sewn into the dress for her presidential serenade. Kardashian picked it up from Ripley's Believe It or Not! museum in Orlando, who spent $4.81 million on it back in 2016.
It wasn't an exact match to the "In America: An Anthology of Fashion," theme, which was described as gilded glamour and white tie harkening back to the late 1800s, but it was definitely glamorous.
It was also extremely short-lived, with Vogue further detailing that Kardashian slipped into the dress in a special dressing room adjacent to the red carpet, carefully shuffled down it on Davidson's arm, and then promptly switched into a replica for the event itself and the parties to follow.