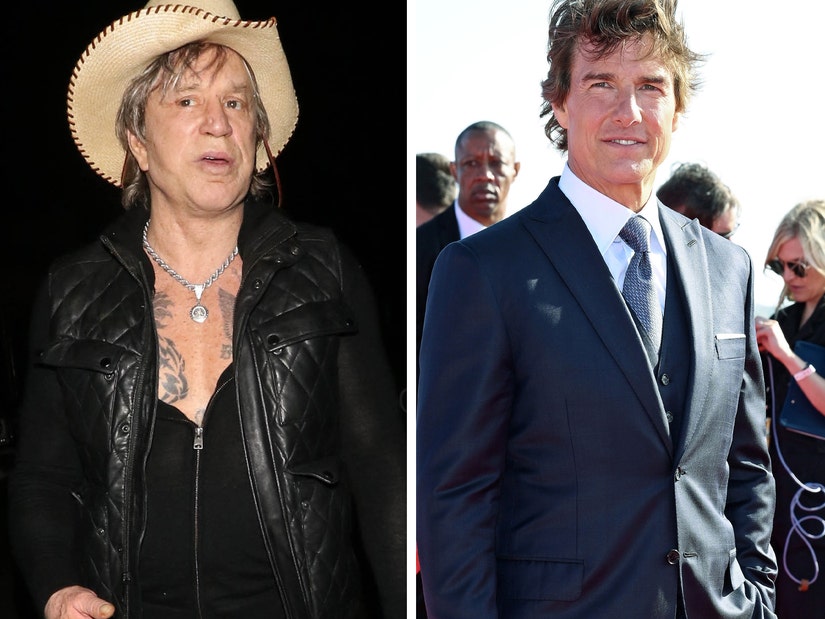 Getty
"The guy's been doing the same effing part for 35 years, you know?"
While appearing on Monday's episode of "Piers Morgan Uncensored," the Academy Award nominee shared his thoughts on Cruise's career and the success of the "Top Gun" sequel, which is currently the highest-grossing film of 2022 both domestically and worldwide.
But, according to Rourke, Cruise is "irrelevant."
"That doesn't mean s--- to me. The guy's been doing the same effing part for 35 years, you know?" Rourke, 69, told Piers Morgan after he noted how "Top Gun: Maverick" has grossed over $1 billion worldwide over 35 years following the first film. "I got no respect for that. ... Really, brother."
He continued, "I don't care about money and power. I care about when I watch Al Pacino work, and Chris Walken, and [Robert] De Niro's early work, and Richard Harris' work, and Ray Winstone's work -- that's the kind of actor I want to be, like Monty Clift, and, you know, [Marlon] Brando back in the day. A lot of guys that just tried to stretch as actors."
Morgan then asked Rourke: "You don't think Tom Cruise is a good actor?" to which the "Wrestler" star replied, "I think he's irrelevant, in my world."
"Fascinating," Morgan simply said in response.
Following its release in May, "Top Gun: Maverick" has continued to break records.
The sequel became the biggest Memorial Day weekend debut ever with a $160.5 million opening, becoming Cruise's biggest debut at the box office over his 40-year career in the process.
"Maverick" has earned $597.4 million domestically and $587.9 million at the foreign box office, bringing its total worldwide earnings to nearly $1.2 billion -- and counting!
Not only has the film been a box office success, but it was praised by critics and audiences alike. "Top Gun: Maverick" has a whopping 97% on Rotten Tomatoes, with an audience score of 99%.