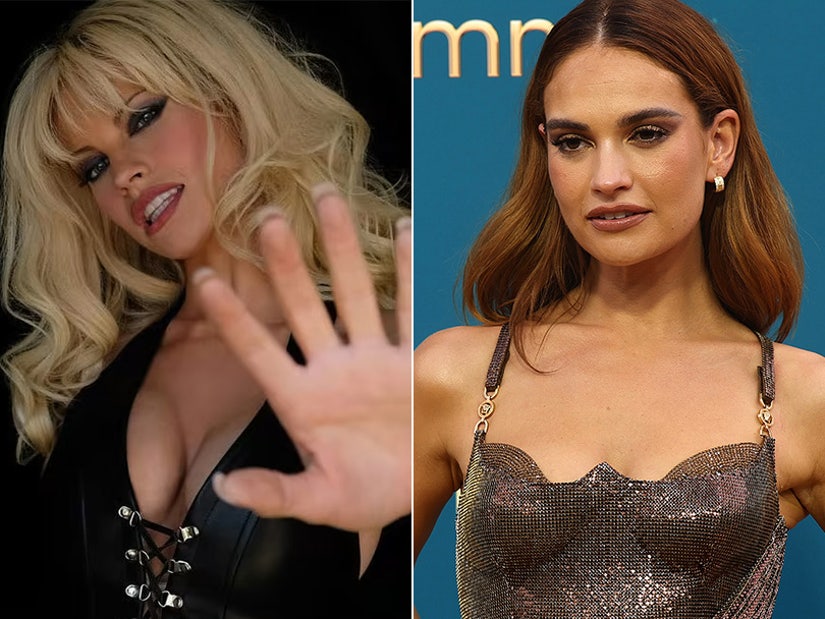 Hulu/Getty
James received critical acclaim for her portrayal of the "Baywatch" beauty opposite Sebastian Stan in Hulu's "Pam & Tommy" mini-series.
Lily James immersed herself so deeply into the character of Pamela Anderson for Hulu's "Pam & Tommy" mini-series that she says it left her "shot to s---" and " a real wreck."
The actress, who was nearly unrecognizable as herself in platinum blonde wig, life-like prosthetic breasts, dentures and even a forehead prosthetic, told the Mirror she never entirely left the character during filming, even using her Pamela voice to stalk with her mother.
"The difference from me to her was too extreme to go back and forth," James explained. "So, I had to stay in this middle no man's land of like Lily/Pamela most of the time."
She even said she would wear the wig to hold onto the character a bit, and occasionally "would totally slip into her voice."
James described it as "such a screwed-up process," saying, "You just have to be patient with yourself. The hours are so long and you feel really burnt out. Your nervous system is just like, shot to s---. I felt like a real wreck at the end of it."
It hasn't been easy to shake, either, with James saying she would catch herself ordering at restaurants in that voice and American accent. She even thinks she's lost jobs "because I keep speaking like Pamela in any audition."
James had previously talked about the four hour process each day on set to transform her into the blonde bombshell. "It's just insane to look in a mirror and really not see yourself anymore," she told Vanity Fair in June.
"It just meant that I felt so much braver. I had less of my own self-inflicted boundaries of what I am and how I perceived myself," James continued. "And this was just like, all gloves are off. I could just be anything."
For her performance, James' transformation was lauded by critics and audiences, and she picked up an Emmy nomination. The series picked up ten total nominations, including additional acting nominations for James' fellow leads Sebastian Stan and Seth Rogen.
"Pam & Tommy" stars Lily James and Sebastian Stan and chronicles their tumultuous whirlwind relationship and the infamous sex tape that derailed her career. It is currently streaming on Hulu.