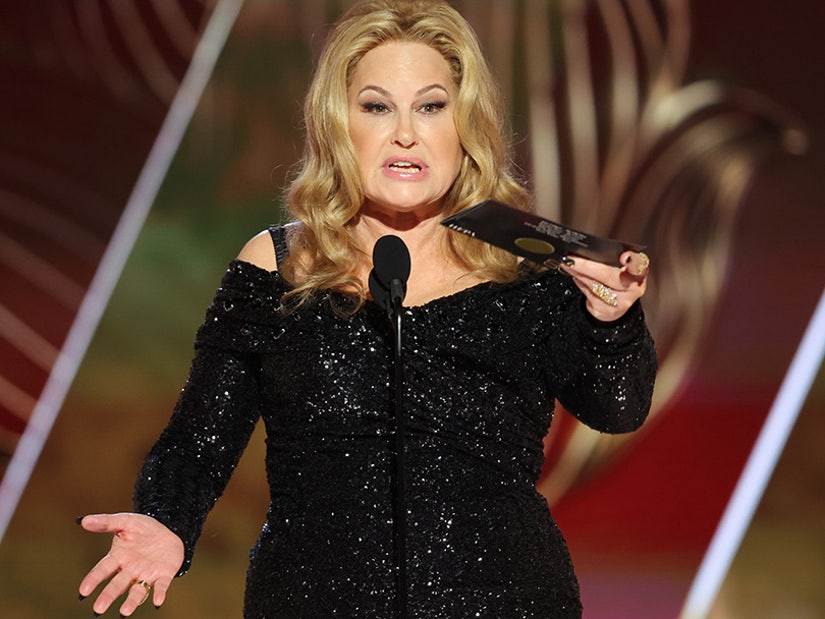 Getty
From the waxed floors to the speed of the teleprompter, "The White Lotus" star gives every reason possible why she tried to get out of presenting.
As always, Jennifer Coolidge steals every show she's a part of, and "The White Lotus" star was at it again, delighting Twitter with her long explanation of why she didn't want to present at the Golden Globes -- right before she presented.
The actress, who only further solidified herself as an American treasure, was cracking everyone up as she lamented about all the reasons she was second-guessing agreeing to take part in the "80th Golden Globes" on Tuesday.
Her first fear was that she would slip and "breaker her skull" on the "over-waxed floor." When it was suggested to her she could wear a pair of Crocs, she replied, "Are you kidding me? With my Dolce & Gabana dress? All those crazy Italians would lose their minds!"
Coolidge went on to express her anxieties about trying to keep up with the "ticker tape thing," which she said went wrong at a prior event. This time, the solution was a producer holding massive cue cards for her.
"The show would be over before I could find the guy with the sign," Coolidge replied. From there, she moved on to her next fear, which was name pronunciation, sharing a story of her anxieties trying to introduce Bill Nighy and Kaley Cuoco to people.
She then kind of backed up her stories by stumbling over the name of the category she was there to present, pausing to tell us all, "You see, I'm not lying about this s---!"
Later in the broadcast, Coolidge was back on stage to essentially pick up where she left off while picking up her win for Best Supporting Actress in "The White Lotus."
Right away, she put her award on the floor next to her, quipping that she doesn't work out and she can't hold it that long. From there, it was off to the races with another delightfully daffy stream of consciousness speech.
She got emotional talking about the directors and showrunners who worked with her through some of the lean years in her career before she finally broke big in more recent years.
She laughed about the "American Pie" franchise, which she said she "milked to the bone," and even noted that she'd be down to be a part of it again, but saved most of her appreciation for "White Lotus" creator Mike White.
She said he gave her hope again in her career, and a new beginning -- "even though you killed me off." "My neighbors are speaking to me," she joked. "I was never invited to one party on the hill, now everybody's inviting me!"