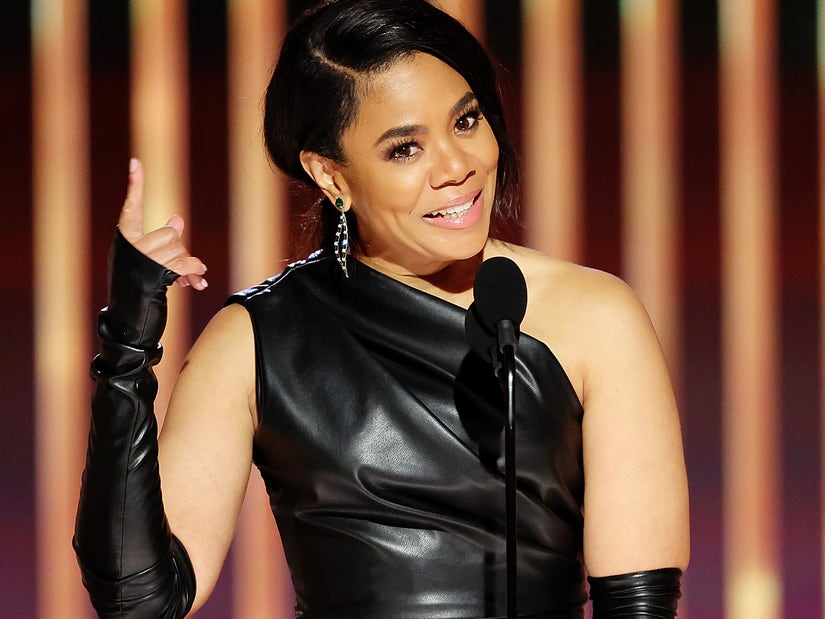 Getty
The "Girls Trip" star trended on Twitter for laughing uncontrollably while trying to read the teleprompter and accept on Costner's behalf.
It was a beautifully unscripted moment of genuine laughter that left the audience both chuckling and shifting uncomfortable in their seats. Even the "Girls Trip" star knew she was treading on shaky water with this one, but once the laughs start, they can be hard to shake.
She started off on solid enough ground, coming out to present the award for Best Actor in a Television Series Drama with a pretty funny scripted joke.
The actress joked that she was introduced wrong as Regina Hall. "I think they got my name wrong," she said. "t's Mrs. Pitt. Brad is right here; I'm so sorry, honey." As the camera cut to Pitt in the audience, she added, "No really, that was really disrespectful. He's angry, look at him."
But things got even funnier after she announced that Kevin Costner had won the award for his work on "Yellowstone" and she simply tried to read the scripted lines for accepting the award on his behalf.
She got as far as "He so much wanted to--" before she lost it. "I always like how they write this," she interrupted herself, struggling over and over to get through it.
When she got to the reason, though, she lost it completely. Apparently, Costner was unable to attend because he has to "shelter in place in Santa Barbara" due to "the unprecedented weather and flooding."
She did quip that "it's been raining," but it seemed the fact he was sheltering in Santa Barbara hit her as the funniest thing. "No, this is a sad story," she laughed through tears as the audience looked on uncomfortably. "He's stuck in Santa Bar-- let's pray everyone."
She did finally control herself and talk more sincerely about the tragic flooding that has hit the extremely affluent California county after an unprecedented rainfall.
Twitter had an absolute field day with the unscripted moment of unexpected laughter, getting Hall's name trending alongside Costner's. In fact, some were ready for a buddy comedy movie with Hall and Jennifer Coolidge, who cracked the audience up twice on the night (as a presenter and recipient).
omg regina hall can't read her pre-written teleprompter excuse for kevin costner not being there with a straight face... screaming

— Anna Menta (@annalikestweets) January 11, 2023 @annalikestweets
REGINA HALL, EVERYBODY. one of the best comedians of this generation. hands down. she was just off the cuff killing us all. a legend! #goldenglobes

— Kathleen Newman-Bremang (@KathleenNB) January 11, 2023 @KathleenNB
officially starting the Regina Hall Emmy nomination campaign for her performance in "accepting Kevin Costner's Golden Globe for Actor in a Drama Series"

— Katie Rayford (@katie_rayford) January 11, 2023 @katie_rayford
I want Regina Hall to host every award show and for Jennifer Coolidge to accept the awards on behalf of all the winners

— Bernardo Sim (@simbernardo) January 11, 2023 @simbernardo