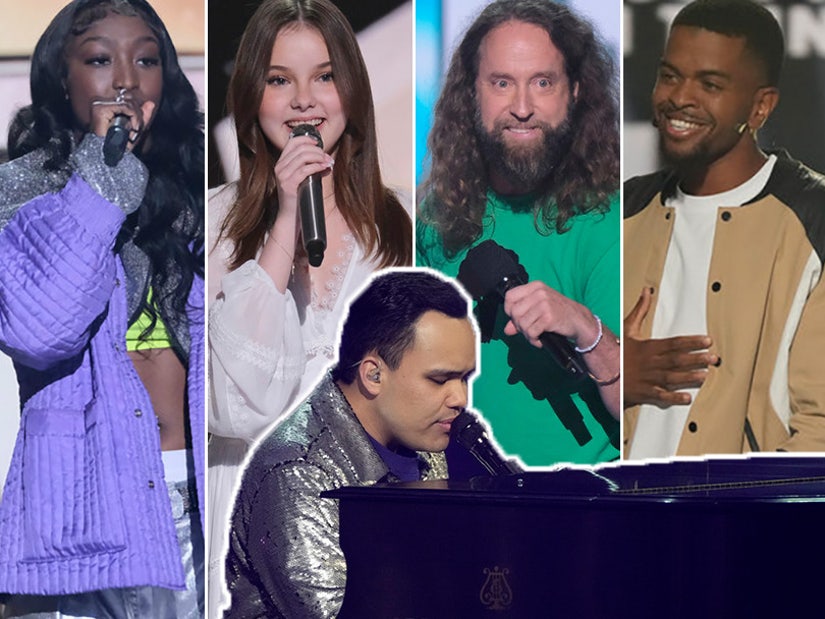 NBC
The returns of a fan-favorite magician, rapper, choir, dog act and stand-up comic -- can any of them take that final spot from two former winners?
The stakes couldn't have been higher for the last ten acts fighting for a spot in the "America's Got Talent: All-Stars" finale because for some reason, only one of them was getting through.
Each of the previous audition nights has included a Golden Buzzer of some sort, whether for one of the judges, Terry Crews or the group buzzer last week. So this batch just gets screwed out of that second chance to advance? How did this happen?
We could only assume it was because they were planning a Wild Card contestant to round out the finale Top 10 and that this person would come from all six nights of auditions. But it's still pretty lame for this batch of ten that they had to fight over one spot rather than two. As if the stakes weren't high enough already!
To make it even worse, they had to go up against two of the most dominant performers in recent memory in Kodi Lee and Brandon Leake. The musician and poet, respectively, were joined this week by magician Eric Chien, rapper Flau'Jae, dog trainer Lukas & Falco, singer Daneliya, comedian Josh Blue, danger act Brett Loudermilk, Voices of Hope Choir … … … and Sethward.
The only claim to fame Sethward has is that he's appeared on "AGT" more than anyone else has and he's been buzzed more than anyone else has. And if the censor bars are to be believed, he's exposed himself to more "AGT" audiences than anyone else has. We hope that's not true, because that makes his act offensive in a whole different way. As it stands, it's just stupid.
We were kind of hoping for a last-minute twist with a surprise Golden Buzzer being revealed, but that wasn't the case. Only one act advanced. Was it the right one? Certainly there was some very, very tough competition at the top. Could any of the other acts rise to the former winners' levels?
There's only one way to find out.
Fair warning, since I'm safe at home, I'm probably going to be a little harsher than my colleagues Howie Mandel, Heidi Klum, and Simon Cowell. But I might be nicer, too. Maybe.
And just for fun, I'm gonna rank them from worst to first to see how my favorites do and then we can see how you did -- i.e., if you agreed with me.
(we have no idea - AGT:S16 quarter-finalist) We've said it before (seasons 13, 14, 16 and 17) and we'll say it again. No. Please stop letting him on the show.
Voices of Hope Children's Choir
(singers - AGT:S13 semi-finalist) As they've matured a few years, this was a more sophisticated performance, and an uplifting message, but we're not sure it was as dynamic or exciting as many other choirs we've seen on this show. For a group of 72 kids, we'll praise the harmonies and their focus, dedication and hard work to put something like this together. But while this was sweet, it wasn't nearly enough to compete at this level. Howie was the only judge critical of them their first time around, this time he was terrified when the streamers shot out. He wasn't won over by this performance, either.
(danger/magician - AGT:S15 semi-finalist) Always an oddball act, Brett might have been even odder this time. He popped a balloon by swallowing it and tucking it into his cheek and wasted Heidi. The only element of the act that was any fun was him swallowing a larger marker and then being able to correctly identify Terry's animal by having it written on what was left of the balloon. That part was pretty good, but it got swallowed up (ahem) in the messiness of the overall presentation. There's something we like about his manic energy, but the act itself needed to be more dynamic.
(dog trainer - AGT:S14 semi-finalist) Five years later, Falco is 13 years old and can't do all the tricks he could the first time around, or when he won German's "Das Supertalent" Season 7. So this time, Lukas surprised the audience by bringing out his younger brothers for some tricks at the end. Before that, though, Falco was as adorable as ever with the stunts he did do. There were some fun stuff we haven't seen a lot of, and plenty that we have, but one thing this act has is how disciplined the dogs are and how much charisma and chemistry they all share. Howie didn't remember buzzing them, but liked the act this time around. Simon, however, wasn't as enamored.
(singer - AGT:S15 finalist) A very classy performance, our only concern was that the 16 year old didn't have a lot of bells and whistles or big soaring notes in this performance. What she did have, though, was a lot of character in her voice, a gorgeous vibrato and an unmistakable and always surprising maturity in her voice and performance. Until you look at her face and see her youth, you'd never guess this performer was so very young, a testament to her talent and poise on stage. She's got the goods, but was this enough to stand out?
(poet - AGT:S15 winner) Brandon felt he had something to prove after online trolls were criticizing him for winning the Covid season where there were no live audiences. Of course, spoken word poetry is meant to be performed live, so little do they know, he was just as eager to prove himself on this stage as they were convinced he couldn't do it. This piece didn't feel as personally connected for Brandon so it wasn't as palpable coming through the screen, but we still love the way he tells a story, turns a phrase and plays with language. We loved for him that he got this moment to show his craft in front of a live audience. He would be an incredible act to watch put on a full show live.
(magician - AGT:S14 semi-finalist) All respect to Eric for sticking to his closeup magic guns, bringing Heidi up for no reason other than to witness what he does from within just a couple of feet. As always, his sleight of hand and artistry is impeccable throughout the routine as objects appear and disappear and transform. He's mesmerizing to watch and we're not surprised he won "Asia's Got Talent" Season 3 and was a finalist for "China's Got Talent" Season 7. With the ethereal music playing and his showmanship, this is an act that could go for 30 minutes and we're not sure anyone would notice the time passing. Simon, of course, still wanted bigger.
(singer/pianist - AGT:S14 winner) Probably the biggest moment in the history of "AGT" was when audiences first met Kodi as he was such a revelation with the sheer breadth and depth of his talent. He's an inspiration, an amazing artist and such a sweet person. It was great seeing how much his confidence has grown when he's away from the piano, too. On it, though, he was just as magical as we remembered, even if it took him a little longer to really soar on this song. With only one act going through, you know the others were really sweating it when they saw that Kodi was one of the ten performing.
(comedian - AGT:S16 finalist) Josh didn't lean on his cerebral palsy as much this time around and in doing so proved that he can be incredibly funny with almost any material. It's not just that he's got a great delivery, it's that his jokes are beautifully crafted, well-written and very clever. The build-up from baby gates to "majestic" mountain goats scaling the Rocky Mountains was just perfect. He paints a picture with his words and it's funny every time. He's one of the funniest comedians they've ever had on the show.
(rapper - BGT:S13 quarter-finalist) It's amazing to think that she's still only 18 years old now (14 when she first appeared), as Flau'jae had so much poise in her first performance. On top of that, she's gone on to have an impressive basketball career, getting ranked Top 25 in the nation at one point. The first time she hit the stage, she was trying to fulfill her father's dreams, but this time she was telling her story. Both times she was incredible. We love her presence and her flow, but we really, really love her writing. She told her story brilliantly, reaching back to the earliest days of hip-hop when the message was always present on top of the beat. And she got so much better in the four years since we saw her last, she's ready.
Look, this week just wasn't even really fair. Had there been a Golden Buzzer, Kodi Lee would surely have gotten it and the rest of the acts (except for Sethward) could sweat it out for that final spot. But there wasn't one, so it was just going to go to Kodi. That audience response alone said it all.
The only thing left was the consolation prize of knowing you came in second or third -- and still didn't get to advance (unless there is a Wild Card twist coming). As for which acts would make up those slots, we had a feeling it would be Josh Blue and Flau'Jae. Not just because we put them in our Top 2 but because their acts really resonated with the crowd and were pretty damned phenomenal.
This week is another example of this format being frustrating, though, because Brandon Leake and Eric Chien and maybe even Daneliya all deserved a chance to go to another round. There just are no other rounds before the finals.
Terry started building this week's Top 3 with Brandon Leake. Even though we weren't as enamored with his poem this time around, Brandon is a class act and one of the most unique and impressive performers the show has ever seen. He definitely earned his win and it must feel good to get this validation.
He was quickly joined by Kodi Lee, which was exactly what everybody expected because -- well, because it's Kodi Lee. He is in a class of his own. Josh Blue rounded out the Top 3, which was disappointing for Flau'Jae because she really did bring one of the night's strongest moments.
Clearly America has a type this week as both previous winners were in this Top 3 and a Top 3 finalist joined them. Once again, Josh Blue had to settle for a third place finish, where he was followed by Brandon Leake, having to face elimination for the first time in his "AGT" career.
Of course it was all just the lead-up to Kodi Lee inevitably taking the win and advancing to the finals, where he could well win the whole show again. Yes, he is that impressive, but it must be so daunting for anyone to go up against him. It's almost a foregone conclusion.
"America's Got Talent: All-Stars" continues Mondays at 8 p.m. ET on NBC.