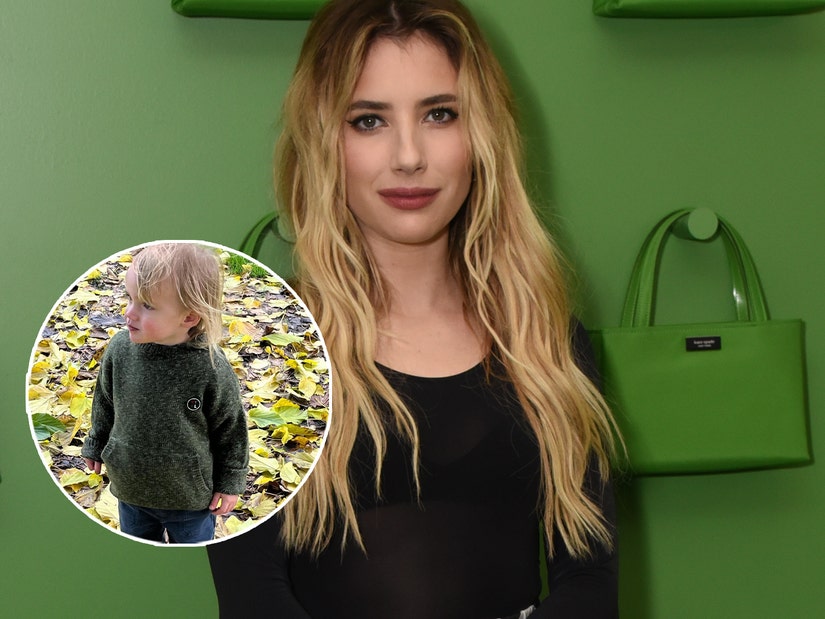 Getty / Instagram
Back in 2020, her mother also accidentally confirmed her pregnancy to fans on Instagram.
The 32-year-old "American Horror Story" alum took to Instagram to repost a picture her mother Kelly Cunningham shared of her son Rhodes, but not without chastising her for revealing his face "without asking."
"When your mom posts your son's face without asking but you love them both so whatever 💖," Roberts wrote alongside a snap of the two-year-old playing in the leaves.
Cunningham responded by poking fun at her faux pas, "The battle continues!!🤣🤣 I love you Q!! Touche'♥️."
This isn't the first time Cunningham has accidentally revealed private details about Roberts' son.
Waiting for your permission to load the Instagram Media.
During an October 2020 appearance on "Jimmy Kimmel Live!" , the "Scream Queens" star recalled how her mom unknowingly confirmed she was pregnant with her first child with Garrett Hedlund on Instagram.
"I was keeping my pregnancy pretty low key but unfortunately my mother has Instagram. Which, mothers and Instagram, it's a bad combination," said Roberts. "She definitely spilled the beans."
When Cunningham discovered direct messaging on the social media platform, she began responding to fans who were congratulating her on becoming a grandparent though Roberts' pregnancy was only speculation at the time.
"It was a disaster, and I found it all out on a plane," Roberts recalled. "So, I couldn't get to her. Like, I couldn't call her or attack her. I could just iMessage with her and DM her and ask her to please stop."
"She was like, 'Thank you so much for the well-wishes! We're so excited,'" she continued. "It was endless. My friends were sending me screengrabs."
"It was unbelievable. When I said to her, 'Mom, you revealed my pregnancy.' She goes, 'Emma, you announced it!' And I said, 'No I didn't. That was a tabloid.' She goes, 'Oh I didn't... that wasn't clear.'"
After her mom revealed the baby news, Roberts said, "We kind of laughed. We kind of got into a fight. I blocked her at one point. It was my only weapon."
The "Holidate" actress continued, "She texted me at 2:00 a.m., 'Queen, did you block me? Sad face.' I was like, 'Yes, I did block you.' Then I unblocked her."
"It's been an Instagram war with my mother that I never saw coming," she quipped. "A good story to tell the baby."