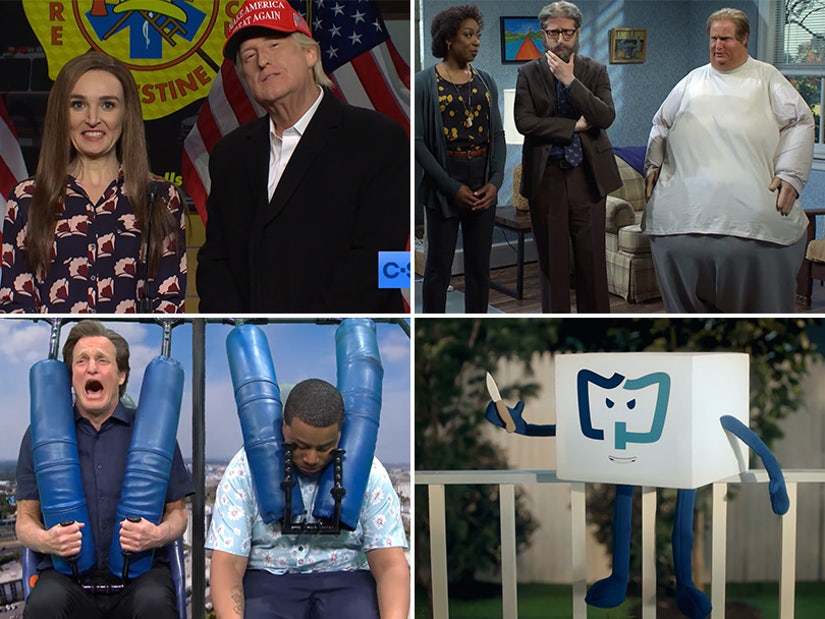 NBC
Woody Harrelson is one of the most dominant "SNL" hosts of the season on a night filled with huge laughs and head-scratching moments -- plus, the Five-Timers Club!
A very unusual and mixed episode of "Saturday Night Live" as Woody Harrelson brought his chameleonic charm to some of the season's funniest moments, and a few that left us scratching our heads.
This was also his fifth time hosting, and the Five-Timers Club was definitely addressed in the opening monologue -- which was easily one of the most jarring and bizarre portions of the whole night. Still, Woody proved himself game to take on anything, whether it was a spoof of "The Whale" or a Cologuard victim!
The episode took some time out to honor two men lost since the last episode. Before a still of production designer Eugene Lee, who died February 6, a very cool blueprint of the layout for Studio 8H was shown. Before the closing credits, a shot of Richard Belzer, who worked on the show back in the '70s, was also displayed.
We definitely appreciated "SNL" leaning more into the absurdity with this episode, so we can't be too mad that it was a little hit-or-miss. Plus, when it comes to weird humor, it's not for everyone, so your rankings may be very different from ours. We do have to wonder, though, why an episode reveling in the weird didn't feature more Sarah Sherman as that's kind of her whole thing!
As usual, we're ranking all the sketches from worst to first, including the Monologue, Cold Open, "Weekend Update" and any sketches that were cut for time but made their way online. We'll skip the musical guests, because they're not usually funny -- unless Ashlee Simpson shows up. We wrap up with a look at the cast-member who had the strongest week.
Monologue: Woody Harrelson
Wow, did Woody's entire political commentary concluding in him declaring himself purple fall completely flat with the audience. He definitely didn't make it clear that that was his punchline -- and it wasn't particular strong to begin with -- but what a yikes! Luckily, he quickly moved on to him joining the Five-Timers Club, with a cute moment where he didn't get a jacket. It's always a little disappointing when we have a five-timer moment and there's no pomp and ceremony. All in all, despite a few cute and humorous moments, Woody was not working well with this crowd.
He talked over their attempts to cheer at "True Detective" and just came across a little shouty throughout, which didn't put them at ease. He won them over putting the spotlight on his manager Jeremy, who purportedly transported his weed from LA to NY and almost completely lost them again with all of his asides and a rambling story that just would not end. Until it did and was that a thinly-veiled anti-fax rant? Pay attention to the movie script plot.
"So the movie goes like this," Harrelson explained. "The biggest drug cartels in the world get together and buy up all the media and all the politicians and force all the people in the world to stay locked in their homes. And people can only come out if they take the cartel's drugs and keep taking them over and over." The actor said he threw the script in the trash.
At the end, "Still no jacket." Yeah, Woody, we're disappointed, too. That would have made for a more enjoyable monologue. Stick around for the closing credits of this episode to see them close the loop on the Five-Timers situation (spoiler alert: a certain spouse of a certain Weekend Update news anchor finally comes through for Woody after Kenan awards a jacket to Jack White).
Cold Open: Trump Talks Train
It went on a little long, but we still always enjoy the random nonsense (pregnant RIhanna just waving her arms) that James Austin Johnson spews as Trump. They went super-topical not just in having him visit East Palestine, the location of that toxic train derailment, but trotting out Chloe Fineman as a deeply unhinged Emily Kohrs, clearly enjoying her moment in the spotlight. Kohrs was fun as the foreperson of the grand jury investigating Trump and it was nice to break up his nonsense, but JAJ was the highlight. The overall cold open dragged a bit, but we did get a few gems along the way, like, "What are you doing eating the dirt? Don't eat the dirt!" and, "They'll elect anyone. I started that," and, "You'd normally blame it on the dog, but they're all dead now."
The call and repeat aspect of this sketch was fun, but what a random way to play out this exploration of online polls leading to really, really stupid names for objects. You just can't trust the Internet to not bring out the worst in people -- or at the least, a total lack of taking things seriously. We did enjoy Woody Harrelson's shouts to his men asking all about how the submarine came to get the name "Mr. Dingleberry's Goochballoon asdfjkl; 6969," but we're still not sure if this was funny or just kind of odd. Maybe if someone yelled the question at us.
A weird response piece to Brendan Fraser's "The Whale" with Woody Harrelson as an actor who literally gained 450 pounds to take on the title role … only to have the film canceled by the studio almost immediately. We got a kick out of the other three actors trying to compare their frustrations at things like growing a beard or dying their hair to him having gained 450 pounds in six months. But we have to say, if people were outraged at Fraser putting on a "fat suit" for the real movie, we're not sure they're going to appreciate Woody's "fat suit" to make fun of it, as it digs in pretty hard about the repercussions of him having done that, like not seeing his penis and developing "triabetes."
"This gym is so classy it should be called a James." This was the 10-to-1 sketch and with good reason because it was so very strange. Woody Harrelson and Bowen Yang brought great characterization as two suited guys working out with gold weights in an absurdly designed upper-class gym that could in on way be effective. Their flirting was cute and completely out of tune with reality, but so was Sarah Sherman as Bowen's "gym crush" and a literal gym rat. The theme of this sketch was there's nothing bizarre that's too far. More weird than funny, it was nevertheless entertaining with good performance work from its leads.
Please Don't Destroy: The Stakeout
Great escalation on this piece as Ben Marshall tries to figure out why his writing partners Martin Herlihy and John Higgins keep bailing on him. Woody Harrelson's randomness in helping him with his stakeout (ready to kill them at one point, thinking it's 2015 at another) only adds to the daft charm. It did seem like they were going for a cheap laugh by having Martin and John kiss, but we did appreciate the idea of them having a whole secret life and family together they never told Ben about. The performances were well executed and the premise funny enough, we're just not sure how to feel about the two-men-kissing-for-a-laugh trope. We get there was a little more nuance to it in this piece, but it was still used for "shock" factor."
Yes, it's basically the same character Ego Nwodim seems to play all the time, but we loved her guard's interjections and talking over Woody Harrelson's inmate as he tried to talk on those jail phones with wife Chloe Bennett. After he promised to buy her a house, she lost it talking about how was he going to do that. Her rant actually made sense, but things dipped more into nonsense when we flipped to the other side and it was Kenan Thompson's guard going down a rabbit hole about Chucky (yes, the killer doll). The ending, though, was pretty funny as the guards just took over the phone call. It was a unique and fun premise that mostly worked, but lost a little of its humor with Kenan's half.
Colin Jost and Michael Che got in a pretty funny dig about Biden's response to the train derailment, comparing it to the Chinese balloon, but it was nothing to how much they skewered Trump for showing up in East Palestine and chucking Trump Water at people. The jokes were hit and miss as they explored all of this, and went into the Oscars "crisis team" (in case another slap happens). "I'm sure you wish [it would happen again] for ratings." We loved Jost's fake promos for the Oscars like it was a WWE lineup.
Another nonsense rambling character for James Austin Johnson, but we loved his manic energy as NBA commentator Bill Walton. He fully embraced the weirdness that sports fans have been … is enjoying the word? While it was funny that he was "live" calling a game from next Wednesday, it would have been stronger had his focus shifted to something else, maybe calling a game from the past or switching sports. Still, it was a strong debut for another great impression for James and a bonkers way to look at sports.
As always, Che loves it when he gets a good audience groan, and he got one simply for speaking the truth about how much lower the WNBA pays its players while talking about Britney Griner getting signed. That set him up to enjoy even more his next joke about the Brooklyn alligator. He even waved after that one. From here, the audience was fully warmed up for Michael Che's segment about Harvey Weinstein and R. Kelly, "What Did They Even Do Wrong?" The boys went even better when they touched on race later, with Che finally declaring, "I don't know, I love this audience. This is going great for me!" I'm not gonna lie, we love it when they ride the edge like this, too! "You're gonna get me killed!" Jost told Che at one point.
Well, this was a disturbing character. Heidi Gardner was a mom of five, four doctors and a very questionable son who may have robbed her and possible worse. The trope was that she loves her sons and puts up with her successful daughters, while putting them down all the time. Is this about how in society we value boys more than girls? Honestly, it's pretty effective in that regard -- until it went to an even weird place. Let's just say, be glad this isn't your mother whether you're a daughter or a son!
Kenan Thompson gave one of his strongest sketch performances in a long time; we were dying from the first moment he passed out on this ride. He was so funny coming in and out of consciousness on the extreme ride. We found ourselves laughing over and over again as he rode with Woody Harrelson, but when he went back up with his girl Ego Nwodim, it was the confessions paired with the passing out that pushed it up another notch. A simple premise made even better by a very strong performance.
The vagueness of this colon cancer screening product is perfect for an ad spoof, and Woody Harrelson is fantastic as the guy trying to figure it out. We loved the talking boxes tyring to convince him to "unleash" inside of them, making it weird and creepy and some kind of sexual perversion thing. Often, "SNL" blows it when they go for a twist ending, but this time they nailed the landing as the twist was possibly even funnier than everything that came before. Seriously, this was a delight from creepy start to creepy finish … made even stronger with how they ended it.
Woody is such a strong performer that this is the first time in a while we can say it genuinely felt like the host dominated the show. Several cast-members were reduced almost exclusively to smaller supporting roles (and if Punkie Johnson was in anything, we missed it). In fact, only Kenan Thompson and James Austin Johnson had more than one lead role on the night, so we had to look at strong supporting work.
Taking the whole night into account, this one is almost a no-brainer. Kenan had a renewed energy working alongside Woody, bringing out one of his funniest performances ever as a Slingshot rider who keeps passing out. It was subtle physical comedy, but nevertheless he was fantastic in it.
Add to that his solid work creeping us out as the very interested UPS driver in the Cologuard commercial, and his commitment to the role as a prison guard (even if we didn't love the content of his lines as much) and everything else he did, this was the kind of night that reminds us why he's such a reliable performer. He didn't break, he diversified what he does and he really felt like he was pushing himself as a performer.
"Saturday Night Live" returns February 25 with host Travis Kelce and musical guest Kelsea Ballerini.