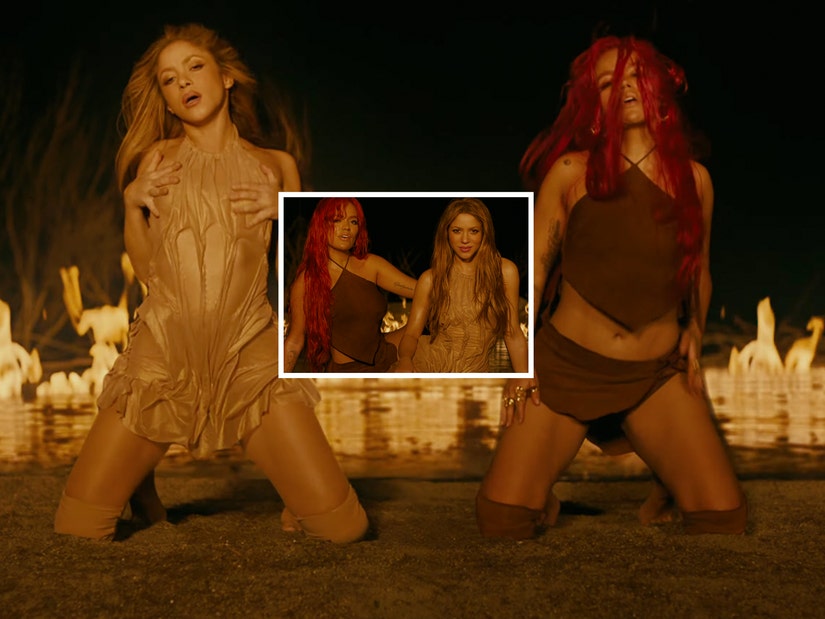 YouTube
The breakup anthem comes after the Colombian singers' breakups from Gerard Pique and Anuel AA.
Shakira and Karol G just set Twitter on fire with the release of their new collaboration, "TQG (Te Quedó Grande)", and its sizzling music video.
The two Colombian superstars teamed up for the breakup anthem, which Karol G wrote last year following a bad breakup. It's something the two have in common, as Karol split from rapper Anuel AA in 2021 and Shakira called it quits with soccer stud Gerard Pique in 2022.
In the single, the two sing about leaving their exes behind and not repeating past mistakes or competing for men. While they both make it sound like their former lovers have quickly moved on with other women, they also suggest their exes may want them back.
At one point, Shakira says seeing her ex "with the new one hurt," but adds, "You are no longer welcome here."
The two also say that since their splits they've gotten "Triple M: much hotter, much tougher, much lighter."
Speaking with Rolling Stone about the track, Karol said the song "had a personal meaning to me that evolved over time and though it doesn't represent things now, it was a particular moment in my life."
She said she reached out to Shakira about collaborating on the song after hearing Shakira's "Monotonía" -- another song about a breakup Karol felt was a great companion piece for "TQG."
"Listening to that story and where she was at, the song 'TQG' made a lot of sense. I sent it to her and she loved it," said Karol.
The collaboration is just the latest song featuring Shakira in which she appears to slam her ex. In January, she teamed up with DJ Bizarrap for "BZRP Music Sessions #53," which drags an unnamed ex and his new girlfriend.
The song came following Shakira's split from the soccer star in 2022 and reports he's dating 23-year-old Clara Chia Marti. Watch the video for that one below -- and get a breakdown of the lyrics here.