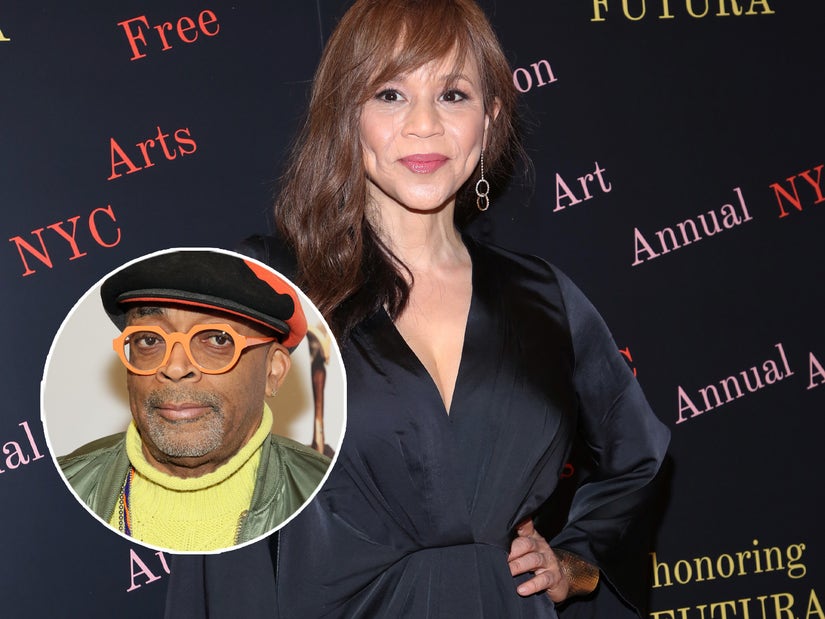 Getty
"For a man of his stature to say 'I'm sorry' is huge," the actress said of the filmmaker.
Rosie Perez is opening up about how she and Spike Lee made amends after she previously voiced discomfort over filming a controversial nude scene in their 1989 film, "Do the Right Thing."
Over 20 years ago, the actress participated in a roundtable with The New York Times. At the time, Perez detailed shooting the nude scene -- which starred herself and Lee -- describing the experience as "horrible". She also said her head wasn't featured in the shot because she was "crying."
"It was like, Now I'm the object, here's the shot," Perez said back in 2000. "And the reason why I cried was not so much because I felt violated as because I was angry at myself, because I wanted to say: ''Say something! Get up!'' So that's how I felt violated. I felt like I violated myself."
In a new interview with Variety, the Oscar set the record straight on the past speculation that there was beef between herself and Lee after they worked together on the film.
Perez said she and the filmmaker "made up" and "hugged it out," but have remained friends. She also noted that the response to her previous comments got "out of hand" and "too crazy," citing the reaction as to why she doesn't like discussing the topic.
"In our cancel culture, some people need to be canceled," Perez explained. "And when I was telling the story, people were ready to cancel Spike Lee and cancel me for saying something. And I was like, 'You know what? This is getting out of hand.'"
"Here's the thing. It happened. We discussed it, we made up, we hugged it out, and we're still friends to this day," she added. "And sometimes people need a chance to say, 'I'm sorry.' For a man of his stature to say 'I'm sorry' is huge. But that's why I don't like to talk about it -- because people get too crazy."
Waiting for your permission to load the Instagram Media.
Elsewhere in the conversation, in which she took a look back at her career, Perez said one of her former agents -- whom she didn't name -- encouraged her to get plastic surgery in order to get more roles.
"I don't want her to be canceled, but she told me that if I dyed my hair blond and got a nose job, 'I can get you more jobs. Because you're not Black,'" she told Variety. "I couldn't believe it. I was like, 'Oh, my goodness. Like, thank you, fired.'"
Meanwhile, also during the wide-ranging interview with Variety, the "White Man Can't Jump" star recalled her failed audition for the role of "Trinity" in "The Matrix," which ultimately went to Carrie-Ann Moss.
"I was horrible," she admitted. "As I was walking out, I was like, 'I know I didn't get the job. I really sucked,' and the Wachowskis were like, 'No,' and the casting director was trying not to laugh. And then finally I looked at her and I go, 'I really sucked,' and she just burst out laughing. We all were laughing. I just gave the Wachowskis a hug and I said, 'Well, good luck with this.'"